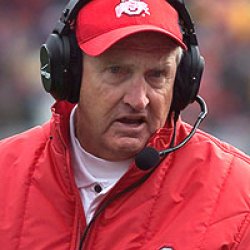 Bobo Buckeye
---
Member since 21 July 2014 | Blog
Recent Activity
I like that but I'd also accept "town and country" and "street"
I noticed that in lasts years game against the Blue. At first I was concerned, it looked to me like _ichigan was really motivated, and the Buckeyes were flat, boy was I wrong.
Thats who I was thinking of. Seriously, the white out only seems like a threat to a young QB.
Double Doh, I got that wrong he fumbled in Columbus!
I love that sign. Every time I drive through Aberdeen see that sign and feel warm inside!
I disagree. Carroll is an optimist, I think its important for his player to like playing for him, my sense is he makes it fun, and thats a part of his success. I don't get that same joy from Saban, and don't think its important to his teams.
From what I hear, Sark has less of a substance abuse problem, and more of a getting an undergraduate Husky pregnant and blowing up his marriage problem, but I'm sure we can all agree to dismiss those off the field distractions and Bow Down, or Fight On, or Roll Tide, or Roll Over, or Downward Dog or Cat Cow or whatever they do in the Carrol/Saban Championship Series.
This game really reminded me of the infamous 41:14 Florida Ohio State BCS game, so glad Michigan got to get a taste of that at home with their Harbaugh!
Anyone else around here remember when LSU would not let Miles go to Michigan?
I think PSU will win this game and win it with defense.
Does anyone else remember the JT who questions the day we learned Braxton was injured?
What an amazing time to be a Buckeye!
Dad always described Byars as the second coming of Jim Brown. Dad saw them both play live and was one of those Jim Brown was the the best ever guys, so that was high praise.
The measurement does not matter.. Ohio State and Michigan will sort this head to head!
I'd rather be Joe Burger than Jake Butt
I was at that game, and the Buckeyes were lucky to win. Only one goal post came down; based on that tacky incident felt Buckeye Nations dignity suffered more than Indiana did that day.
http://thelantern.com/1998/08/goal-post-downed-osu-billed/
But that only really happens when you truck some dude in Seattle, just saying.
Not that there is anything wrong with that....
Where does this leave Michigan?
"Misconception and trickery" Its a hell of gambit and they do it very well. They recognize they can't play based on fundamentals, so they don't try. Its exciting to watch when it works, but its hardly robust so when they face a power team, based on fundamental football - LIKE THE BUCKEYES - it collapses in spectacular fashion.
Since their defeat at the hands of Tress, they've made a great effort to get bigger on both sides of the line. They did a better job of being stubborn on the run than I thought, at least at the start, but its not just size they are still a D that needs a lead. Put them down 14, or 17 if their QB is really special, give them bad field position, take plenty of time and watch them burn!
I tried to make this point over at Addicted to Quack before the game, but they would not hear it. It became false equivocation. They felt we were the same team as them as far as speed and set. My point was always the Buckeyes did not get any smaller, and still play up the gut big ten ball, but somehow Urban made them fast as hell. He did not give up any of power when retooling the team.
!!!!!---NATIONAL CHAMPS---!!!!!
All doubters can SUCK MY ALABAMA NUTS!