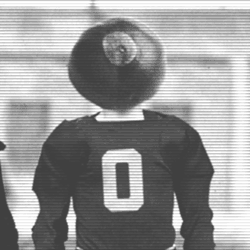 bobbyvcp
---
Kauai (via Cbus)
MEMBER SINCE February 02, 2015
Born in CBus and moved to Cali when I was 5, had no choice in the matter. Either way grew up always being a Buckeye fan and it was very hard in the land of UCLA and USC. Never miss a game and about as die hard a fan as you can get.
Favorites
SPORTS MOMENT: 2015 NC Bucks
COLLEGE FOOTBALL PLAYER: Eddie George
COLLEGE BASKETBALL PLAYER: Jim Jackson
NFL TEAM: NE Pats
NHL TEAM: LA Kings
NBA TEAM: LA Lakers
MLB TEAM: Cincinnati Reds
SOCCER TEAM: Barcelona and Galaxy
Recent Activity
Only record that matters is ZERO wins against OSU...
The only reason he is doing it is to weaken OSU...they don't get any players that would be good enough to go Pro after only 1 or 2 seasons. On the other hand the talent we have coming in will be. So he is hoping by changing the rule it will get some of the better players off our team and not face them for a minimum of 3 years.
Rod Stewart: Maggy May
Queen: Killer Queen
Aerosmith: Dream On
Jethro Tull: Aqua Lung
Billy Joel: Siagon
One thread I read over there I think it was "What are you looking forward to next season"
A bunch said hoping it was canceled so they would not lose to OSU again....
Pretty sad
I thought Morgan Stanley give financial advice, not medical?
6) Is the transfer protocol having a negative impact on recruiting
You think this is happening should we be more than 60 points higher from #2 in the current rankings.
Only reason we have Trey Sermon is because of our RB room be hit with injuries and last years silent commits changing their minds at the last minute. If injuries did not happen and we had a solid pre-frosh coming in I don't think we would of taken him.
Just a regular Saltwater with fish only is easy...lot more involved when you go Reef
'Summer you may need a chiller on it to keep the temp down as well.
I have had Reef tanks for many years in the past.....and they are beautiful.
Living rock is your best option with live sand to get your tank biologically ready for fish and corals.
Get a reverse osmosis water machine and each day add water to a garbage pail or some type of container. You will need to make monthly water changes. Usually about 1/3 the size of the tank. Reef Pro or Red Sea and the better brands of salt to use to mix,
Lighting is critical, I have not had a tank in years and looks like LED is the way to go now. I used Halogen in the past and it was perfect. Set to a timer each day and it gave a natural looking light.
Temp is critical and getting too hot or too cold is one of the biggest reasons for tank problems.
If you are doing a reef then you want your live corals, hard and soft. You are now going to be limited in what fish you can get. There will be a pecking order and there are some great choices to me made.
There is so much more but here is a good start.
I think this thread is a dumb idea...
You can scratch off SCum as a tough game for us...that has become an easy win the past 8 years
Looks like they are not playing a top 25 ranked team all season
I wish for once some of our players would return....seems like if ours are projected to get drafted in any round they are gone for the most part.
No we finish at #3, even if LSU loses badly they have one more quality win of OU.
It is just funny reading all of your comments.....Wade, Okudah and Young were all not much the previous 2 years until this year. Young more so than the others and last year we all blamed Arnette for everything. But during the off season they all stepped up and got better and became the players they did because they knew the spots were theirs because they opened up from players leaving the program.
Same thing will happen again, all of our DB's and whatever other empty spots become available will be filled by more than capable players and in some cases maybe even better than the players that just left.
Let MM get them stronger this winter and then the coaches will get then all ready to perform at elite levels again next year.
Last year our defense SUCKED, this year with basically the same players was GREAT.
Believe in our program and the people running it. We will be strong on all 9 phases once again.
I also think the 2nd year with the new defense and offense of RD will be much better and the players will be even more confident in their roles. Plus I really like the 4 receivers coming in next season think they are all going to contribute. And next year Baron is going to have a break out year at LB...the guy is so fast it is scary, they should have him do some of the same things that #11 does on Clemson.
You can see in the replay that JF let the ball already go before CO broke left instead of right. I am pretty sure it was the same route as their touchdown play.
I sure UFM would gladly assist if RD asked, but I don't think RD will ask for any help
RD states he only wants to recruit players that want to be Buckeye's...if Phillips flips than he was not meant to be...
Dumb move going to a 2nd tier or even lower program...if he would stay another season or 2 at OSU he would get a real job at one of the majors that could support him and give him a chance to win something.
#1 Reason we will win...
On the MGO boards that are all rooting for Clemson...and we know those losers can't win anything.
One thing that will remain true is no #1 Seed has ever won the Natty and going to be the same this year as a 2 Seed takes it all