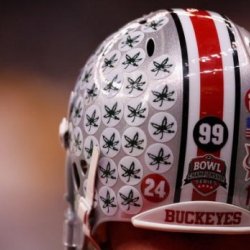 bobby_gunz
---
Member since 24 June 2011 | Blog
Recent Activity
this is completely unrelated but can i make a formal request that osu keep those playoffs unis for good. I was at the game but just watched the replay on tv last night. Those gray sleeves and the black numbers looked SWEET in HD. i dont want to see them in anything else from now on. As you were...
Marshall still makes me as nervous as ever on every single punt return. Did anyone else almost pass out when he leaped to catch that last punt?
This is all very impressive but dont forget - Auburn had about one thousand yards of offense against this scheme. Never fear buckeye faithful
that's the most profound thing i ever read (seriously)
Herman was making $550,000 at osu. Auburn just hired Muschamp as DC for 1.6 mil. We gotta keep up with the super powers to remain one!!
That kid is one of the best weapons osu has but I really think they need to yank him from the punt return team. I have seen him screw up or very nearly screw up multiple punts throughout the year. I literally hold my breath every time the ball is punted to him. I'm all for second (or third or fourth) chances but he is a liability back there.
i am so sick of looking at these. lets get a new design every year like we had been doing and only wear them for one game. I especially like the throwbacks
I have to question your credibility Catch 5. You are a Bama fan and list on your profile that your favorite moment is the 92 sugar bowl when Langham stripped the ball. it was the 93 Sugar Bowl and George Teague stripped it. How do you get BOTH points wrong when its your favorite moment???
Fickell will continue to say nothing's wrong regardless of what happens. His credibility is shaky when his job might be on the line.
it all still feels like lip service. i'll believe it when I see it
I'm still waiting for a candid Tressel to tell us what the F happened in that 2006 title game
This isn't The Onion - stop the nonsense
quoting Roadhouse?...sweet
He knows Clemson is in the ACC right?
Craft has got to make that free throw before ND's final possession. Those will be the difference in the big ones down the stretch. OSU's free throw shooting is horrendous
Stay the course boys. Disregard rhetoric and JUST PLAY BALL. go bucks
the logo is just the classic woody cap logo
25-17 Bucks sounds just about right