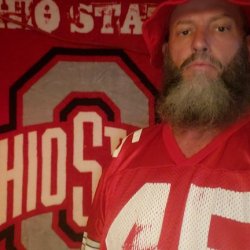 Bnglbck
---
Earth (via Eustis)
MEMBER SINCE July 10, 2019
Born in Cincinnati, moved in 1976 to the south to escape winter.l have spent the last 35 years in Florida (brief 4 yrs stint in the army)
I have proudly rooted for the buckeyes my whole life most of it in the middle of gator country. I have witnessed the greatness of urban,and I think coach day will actually be better
Favorites
SPORTS MOMENT: Any Buckeye game
COLLEGE FOOTBALL PLAYER: Any buckeye
COLLEGE BASKETBALL PLAYER: None
NFL TEAM: Bengals
NHL TEAM: None
NBA TEAM: Spurs
MLB TEAM: Reds
SOCCER TEAM: Uswnt
Recent Activity
We have never lost to Oregon and we never will
It does not matter who ttun's QB is, as long as harbum is the coach they stand no chance of winning in any significant way.
No doubt the White Out is menacing, but I believe Coach Day formulated a plan for victory the moment he seen the schedule. He will be unfazed and deadly. 15-0 is obtainable. RISE BUCKEYES
I was feeling a little fatigued this morning, then watched this video. I am now ready to assault the gates of Hell! Damn glad Coach Coombs is back! RISE BUCKEYES
No doubt Shaun Wade will perform. Now can he step forward and lead the youngsters to continue the dominance of BIA. RISE BUCKEYES
Baron Browning has every possible positive resource at his disposal. He just needs to focus on his why and RISE. RISE BUCKEYES
Woody's birthday. 3k days of bragging rights with no end sight. Priceless RISE BUCKEYES
Chase Young demonstrating once again he has a great mother.
As a man with two daughters and four granddaughters, my heart is broken for this young lady. At the same time I could not be more proud of our Coach. He is the exact leader we need at this moment. God bless you Coach and prayers of healing for this young lady who is someone's daughter and granddaughter.
Stay focused. Ignore detractors. RISE BUCKEYES!
Rise Buckeyes!
California, Florida, Ohio and Texas. This is where the best players are. None from Florida this cycle. I am unconcerned. Coach Day is getting great recruits with great character (Gee Scott, Harry Miller). He is upholding the Buckeye standard. "Greatness is measured in years"-Jerry Rice
I watched nfl Europe, I enjoyed the AAF, thoroughly enjoyed the XFL games today. more football is good. For the love of the game!
Coach Day will formulate a winning strategy. Master Teague knows it's his time to shine. The Slobs will grade the road. RISE BUCKEYES!
RELEASE THE RUSHMEN!
K.J. has perfected his craft. He will make some nfl team very happy. ZONE 6
The 2019 team raised the bar. The 2020 team will raise it yet again. Damn it feels good to be a Buckeye!
Coach Day said he would get the best man for the job. Done. Your men, sire, will follow you to whatever end.
Y'all know what time it is! Welcome back Coach! B.I.A.
Opportunity is knocking at the RB room. Rise Buckeyes, RISE! this is the moment you have been working for.
Cannot wait for next season. Our boys are gonna be HOT. They might be feeling the pain now, but they're gonna bring it next year. I feel a great swell of pity for anyone coming to the shoe looking for trouble.
Thank you Clemson for making us better. GO BUCKS!
You called down the thunder? Well you tell them I'm coming! And HELL'S coming with me, you hear!? HELL'S COMING WITH ME!!!
100% sure Coach Day knows what he's doing. The man has not made a bad move yet. I have full faith and confidence in him.
So happy for Joe, what a great young man. Hope for my Bengals is renewed. (If they don't draft him, I renounce my fandom. )