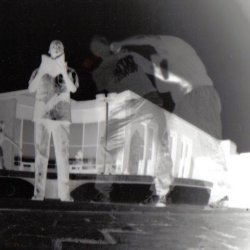 BMOC_57
---
from Fort Wayne, IN
MEMBER SINCE January 05, 2014
Favorites
COLLEGE FOOTBALL PLAYER: Chris Spielman
COLLEGE BASKETBALL PLAYER: Jim Jackson
NFL TEAM: Bengals
NHL TEAM: CBJ
NBA TEAM: Heat
MLB TEAM: Reds
Recent Activity
Sampson just entered the portal yesterday.
Exactly! Wisconsin would have been ranked #4 without the previous loss to OSU. UGA is not as good as Wisconsin. Keeping them at 5 is just embarrassing and shows the bias in the system.
Amen! Borland is completely being exposed
This looks like last year's defense
Fickell also hired one hell of a defensive line coach in the offseason. He lured Coach Chad Wilt away from Army. Coach Wilt was one of the main reasons Army's defense was so competitive last year (10th in total defense).
I haven't given up on this year but man am I looking forward to the next!
Schiano was in charge of the worst defense in Ohio State history. I hope Day is given enough control to not bring him back!
It would be a travesty if the entire defensive staff comes back. The staff shouldn't have made it through the whole season, let alone the offseason. Say what you want about Ohio State's youth on defense but there is no reason to be a defensive door mat for the B1G when they out talent every team in the B1G.
I think it means there was no point in kicking off after the Purdue game. The committee forgot Purdue was a two score game with under 5:00 in the fourth quarter. OSU tried too hard and made a couple mistakes in the last five minutes and paid for it the rest of the season.
I'd like to say I'm happy going to the Rose Bowl but I want OSU to destroy the SEC! I want the Bucks to stomp Georgia! How easily people forget the SEC was 5-6 in bowl games last year.
I will never stop wondering how good last year's team could have been with Haskins at QB.
I can't upvote this enough! I live in the heart of ND country and I'm so sick of them. They are too scared to join a football conference. They don't want to play OSU or Clemson every year. They want to cherry pick mid-level Power Five Teams and only play the big boys every couple years.
Why does Arnette continue to play?
Oklahoma has given up at least 40 points in three consecutive weeks to unranked opponents. Yet somehow they sit firmly at number six? I guess the only thing I understand is beat SCum!!
I did love the passion Haskins played with today! He was a different player running the ball! I'm sure he was fired up to play in front of his family. I hope that passion carries over the rest of the season!
You apparently missed the three examples above my post that I was responding to. 80-9 is great but I was taught to never be satisfied and always strive to be better at whatever you do. No matter how good a team is it's frustrating to see an easy way to be better that is being ignored.
UCF would get in before 12-1 OSU.
Don't forget 2014 when the offense couldn't figure out how to run a crossing route against VT.
It's one thing to lose to a team that may have more talent than you. It's another to lose (or be blown out) by a team with inferior talent and a superior game plan. The lattter seems to be happening more frequently.
Why wait until next year? Fire them after this week and use the off month to coach them up.
I would kill to see a "basic defense" out there.
Amen! I've been saying this all year. The defense's poor performance is a scheme/coaching issue. All of the top tier programs lose NFL talent but manage to remain competitive on defense. The linebackers play way too close to the line of scrimmage. They get sucked up to the line of scrimmage too often. They take on blocks with the wrong shoulder and they over pursue. All of these issues are coachable. I'm tired of hearing excuses from the coaches. Nothing will change until the coaching does.
It can't be said enough, you CAN'T play your linebackers at the line of scrimmage or two yards off it. This creates a huge hole on the backside of the defense. I don't know how many times my coaches taught me, as a linebacker, to not get "sucked up" to the line of scrimmage. This coaching staff is not able to put their players in a position to make a play.
He needed to do that weeks ago.
How are all of the defensive coaches still employed? Urban doesn't seem able to make hard decisions. He doesn't need to fire all of them but it's apparent some coaching changes are needed immediately.
I couldn't agree more. If Urban was coaching ND they would have at least two losses this year. He never would have played Book and benched Wimbush (ND's version of JT). Urban is unable to make certain tough decisions.