BME_Buckeye
---
Cleveland, OH (via Cleveland)
Member since 13 August 2012 | Blog
Once a buckeye, always a buckeye!
Favorites
SPORTS MOMENT: OSU vs. Wisconsin 2011
COLLEGE FOOTBALL PLAYER: AJ Hawk, Dustin Fox, Joey Bosa, Dylan Thompson, Michael Jenkins, Chris Gamble, Tedd Gin Jr.....
COLLEGE BASKETBALL PLAYER: Aaron Craft, Matt Sylvester
MLB TEAM: Cleveland Indians and Anaheim Angels
Recent Activity
Off topic but who will be our TE after Marcus leaves.
The SEC sucks but their bottom teams leagues have only played? Might wanna circle back after New Year's Day with this comment.
I know some of our fans don't like him over the flag planting
Well he sure did stick it to us and I don't care. People are way too sensitive about things like this. If any of our QBs did the same thing to Michigan after winning, we'd be worshipping them as much as we worship Boren over Gardner or Marcus Hall's Double Birds.
If only Ohio state got into the playoffs. Then he would have stayed with us.
This actually looks like a good slate of bowls and most that the Big Ten could win. I see no reason they can't be .500 or better.
If you wanna get in the playoff off don't get your shit pushed in by Iowa. I'm not even mad though.
This guy is one of the best stories this team has going for it. Look at where this guy came from as a freshman and sophomore to where it is now. So glad that the California kid is developing and rounding out to be a good player. Thank you Baugh!
Go Little Sisters of the Poor!
Miss St. loss when their starting QB Fitzgerald went out. Their secondary couldn't keep up and it all caught up with them. They did beat LSU who is playing better as of late. They have a justified ranking where they are for a four lost team.
If you wanna make the playoffs, don't let Iowa embarrass your ass on national TV. Dont put your fate in another team's hand.
As a fan, I'll be honest we probably had at least 5-6 calls go our way. The block in the back on the punt return was obvious as hell. Its not like Michigan fans were wrong this game.
Bo Schembechler was a giant Rose Bowl choker. 2-8!
What exactly has Ohio State done to be ranked ahead of Notre Dame?
Notre Dame destroyed Michigan State much like Ohio State, and crushed USC. They have a 1 point loss to Georgia and 33 point loss to Miami. Teams both in the Top Ten. Ohio State on the other hand has beat PSU by 1 point (little to no game control until the end), stomped MSU (a wash when compared to Notre Dame). Ohio State got beat by Oklahoma on our field by more than 2 TD's and smacked by Iowa by 31 points. Total margin of defeat OSU 46 Notre Dame 34. OSU is fine where we are and has chances to improve but to ignore our results would be blind. Beating the shit out of Illinois, not even covering spread, isn't an impressive feat all. Just another B1G cupcake.
Thankfully we have more opportunities coming up.
Oklahoma punked us by 15 in front of thousands of fans AND we got our doors blow off to a multiple COY by 31.
Did you call TCU athletics?
CFP committee must value conference championships
Funny that is mentioned because last year it was the CFP committee must value out of conference wins. They are inconsistent and in my eyes would show that the committee has no true standard but only cares about brand names. I honest don't think Ohio State even deserves to be mentioned in the playoff and if they win out to get in would become the only team with a 46 point margin of defeat to make the playoffs.
Everyone in Michigan academia realm is nice that I've met.
52 -21 MSU
Buckeyes gonna shit the bed again when it matters plus the home team in recent games loses often.
Tell us more about the project so we don't have to talk about this awful game.
We might need the worlds largest amount of toilet paper to wipe this game we shitted away. My gosh do we suck!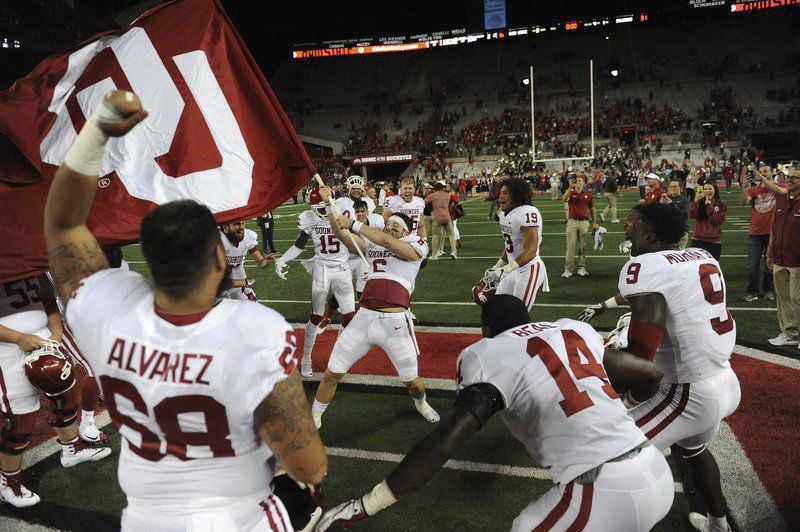 Baker mayfield pretty much is right and can stick to his point after kicking the shit out of Ohio State! Ugh!
I remember when I was in college.
For their next formation they should do Woody hitting a Clemson player. Love the Satire and to the victor the spoils. Keep the trolling coming.