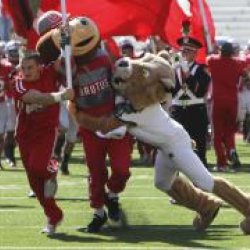 Blue Eyed Buckeye
---
Member since 10 December 2012 | Blog
Class of 2011 The Ohio State University Fisher College of Business MBA
29 years old

Favorites
SPORTS MOMENT: Every second I've spent in the shoe
NFL TEAM: Dallas Cowboys
Recent Activity
Yep but Hillary's emails so we all voted to let your wife suffer.
I get the feeling one day Wade/Okudah will be shutting down the field together as he second coming of Conley/Lattimore.
There are only 2 sides to the argument 1) Zeke is a domestic violence creep 2) the accusor made up the story to blackmail Zeke for money. Texts saying she has plans to blackmail Zeke seems pretty freaking relevant to supporting theory #2. It's not just "mud slinging" that's real concrete evidence and, quite frankly, more concrete than I've seen supporting theory #1 from the NFL.
Rodger goodell is the worst CEO in America. He took a non-event in which the real actual investigators at the Columbus police reccomended not to bring charges. He took that event and said "oh no I'm going to overrule it with my mob of amateur private eyes." So he unilaterally branded a bright young star best known for helping out the salvation army on Thanksgiving as a domestic violence creep. Now he's ensuring the NFL brand will have the words "domestic violence" and "blackmail" next to it in articles written for months. The United Airlines CEO handled his situation better than this. Goodell is an idiot.
Obviously there's no way anyone is running 4.2 at the combine. But I look at these lists as rankings of who's fastest, not empirically what their actual speed is. And I do believe it that Weber is one of the fastest guys in the team and linebacker is one of the fastest position groups.
So much for Urban Meyer "oversigning" like some haters were saying.
Nothing better than seeing hard work pay off!
I've never seen an oline recruit play with his level of technique and strength in highschool. If he would have been an early enrollee I think he'd be named the starter already.
Michael Jordan gave up 6 sacks last year at a position that you'd expect 1 or 2 a year. Jordan was bad and he started as a freshman which tells you everything you need to know about what the coaching staff felt about the rest of their options. We desperately needed to get more talent at those positions and thankfully we crushed it with Wyatt and Meyers
Yep it's Chase Young for sure.
Still not sure how the QB who engineered that disaster gets a free pass but whatever what do I know.
Boom incoming........ Silent commit already in hand?
McCullough is fire
Schiano is just trying to say something positive and the media needs to try to make a story out of it for clicks. Yawn.
Depends on if Harbaugh goes 0-3 against Meyer this season I think. No offensive lineman wants to walk away from Ubran Meyer just to be the next Kyle Kalis!

In highschool some of these guys aren't just the best player on their team but they never even stepped on the field with someone as good as they were their whole highschool career. Then they come to Ohio State where they're just another guy, nothing special at all. So these coaches have to take a guy who all he knows is being the "chosen one" and teach them what it really means to compete in D1 football. Not only that but then get them ready for the NFL where if you have a 3-year career as a special teams guy that's considered an above average career. The difficulty curve jumps up real high real fast.
A 2-way battle between Michigan and Ohio State for a 5-star OT in two offensive-line driven programs? Damn, that's going to be a street fight.
YES! YES! YES!!!!!!!!!!!!!!!
Where Jerome Baker gets drafted is going to 100% be determined by his play in the PSU game. If he's shooting gaps and tackling Barkley for loss he's a high 1st round pick, if he's getting turned into highlight reel fodder he'll be going a bit later. Eat your Wheaties on 10/28 Baker!
Please baby Jesus don't let Jamarco get hurt this season.
Now THAT is an offensive lineman! Put him in coach!!!
So after 3 DEs get drafted and big 10 teams finally don't have to face them anymore they get to look forward to a 2018 team where Bosa and Young are the 2 starting DEs. Damn that's just brutal.
Its still very early but if we go into the season still "waiting for someone to emerge" and "talking about competition" and "rotating 6-8 guys" and "have OR listed at every WR spot on the depth chart" I'm going to be ringing the alarm bell. We need a couple WRs to step up and own it this training camp.
Yeah sure switch from an odd to an even front, that's certainly all it takes for a garbage big-12 defense to pump out first-round talent like a high quality big-10 defense. Keep trying Sooners...
People liked watching Ohio State vs. Michigan 60 years ago and a lot fewer people played football back then. There are 1 million kids playing highschool football every year. If the sport lost 75% of players due to CTE concerns there would still be 250,000 to recruit from nationwide. Player concerns aren't new to the sport of football (didn't a certain president try to make it illegal once?) that factor will never make the sport unplayable. The only thing that will kill football is of the NCAA regulates it out of existaince so people aren't allowed to play it. Maybe football is a brutal violent sport that 1 million highschoolers shouldn't be playing. Ok, great, let's have fewer players and more people making choices for their health and safety that sounds good to me. And at the end of the day there will still be hundreds of thousands of people playing football.