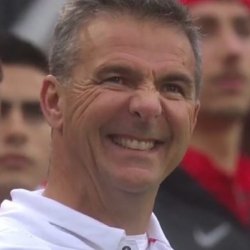 bleedscarletpissmaize
---
MEMBER SINCE January 30, 2012
Favorites
SPORTS MOMENT: 2006 Ohio St vs Tsun
COLLEGE FOOTBALL PLAYER: A.J Hawk
COLLEGE BASKETBALL PLAYER: Jon Diebler
NFL TEAM: Green Bay Packers
NBA TEAM: Cavaliers
MLB TEAM: Cincinnati Reds
Recent Activity
Cover your mouth, you filthy animal.
Dang brother. I don't know if this helps but all my prayers are with you and your family. Hope everything turns out good for u. Stay strong my friend.
Who cares to each their own.
I'm sorry but what was Michigan thinking in the 90s? What was sparty thinking in 2011, 2013 and 2015? Bet it wasn't oh poor buckeyes, they are awesome and should be respected. Piss on them, take the loss and hope ur team improves.
Just fuck Michigan. Fuck all of them. Sing it or don't sing it just fuck michigan
I think your alot alike the people your trying to confront on these forums. They just want to speak their mind such as you do and most of them get tired of someone trying to dissuade them or placing them into a group such as "living in their mothers basement just because they believe differently then you" on a consistent basis. I'm not saying you should stop or they should stop, I just feel like a hypocrisy should be pointed out from time to time.
When it comes to you, I don't think it's a conspiracy to automatically downvote Cincyosu when you comment. I just genuinely believe your opinions on most topics are off putting and smug. Your online persona comes off as "ugh these people are morons and I need to step in and shed a beam of ultimate knowledge to help them better themselves and to get on my level of superior thinking skills." Overall, I just think your online persona on this site is unlikable but I don't think your like that in real life because not many people enjoy the company of that type of person.
Meh. I just compared your downvoting to mine. I been around for 7 years with barely over 100 downvotes. Noone can confirm youve given out 20-30 in the last three years. If true, should I assume you moved out of your mother's basement 3 years ago or nah? I wouldn't assume that TBH but you shouldn't throw stones in a glass house is what I was getting at in my previous comment.
Idk if u can say that with yourself have over 1300 downvotes credited to your account. But then again, I only care enough to post a reply to your comment. So eh, take it for what it's worth.
If they stay healthy, buckeyes are going to be trouble for everyone they play. Doesn't matter who lines up across from them.
Idk but I kind of like this Ryan day guy. I think the buckeyes are in good hands.
If he did that, a mod would it down faster than DC comics the Flash...
Sneaky mod diss. I like it.
Gross.
No doubt. Wade, okudah and Arnette are 3 very solid DBs.
Ttun is #7 in the country. They were expected to win like the #7 team should against an unranked. Ohio State would be flayed alive by the media and all of college football if they turned in this performance.
Nah don't believe it. That's gotta be a buckeye or Spartan fan disguise. A true wolverine would never admit this.
Urban knows.
Boom nailed it bro. Good job. Take a sticker
Thank you for opening my eyes to my error. I have now learned from my terrible ways. I now believe the wolverines were brave to grind out a hard fought victory over a worthy opponent. Those kids deserve a banner to remember this gutsy performance. Kudos to you for changing my terrible thought process in this situation.
That's because they come here to secretly envy the buckeyes and then run to mgo and talk shit about how Ohio State cheats and aren't high quality scholars like a ttun man. They know they will be embarrassed out of the thread if they talk their shit here. Never forget 62-39.
Let the people earn those helmet stickers. Maybe u can donate a few to the less fortunate...
Even they know they are trash. Pathetic the way they celebrated beating army by 3 in 2 O.T. Garbage program.
Maryland looks good after the first two games. Looks real good.
They were too busy cleaning the poo out of their g strings after army scored in O.T.