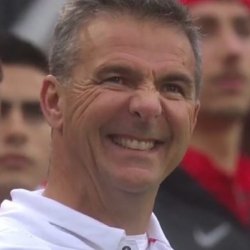 bleedscarletpissmaize
---
MEMBER SINCE January 30, 2012
Favorites
SPORTS MOMENT: 2006 Ohio St vs Tsun
COLLEGE FOOTBALL PLAYER: A.J Hawk
COLLEGE BASKETBALL PLAYER: Jon Diebler
NFL TEAM: Green Bay Packers
NBA TEAM: Cavaliers
MLB TEAM: Cincinnati Reds
Recent Activity
Dont play with his toys either.
i been saying harbaugh is on the spectrum for years. it explains a lot.
Only 11w OGs remember the kraken.
Lift more weights, run more miles. Make anyone who makes fun of the buckeyes losing regret it after I smack them in the mouth. Jk. Sort of.
I can't express how bad I want this team to get Clemson next year in the playoff. Especially if that trio comes back, man it would be up there with beating ttun.
Let me make a thread about not making threads...
Yeah big 12 is pure garbage. Oklahoma is always getting in and never had a victory. Give someone else a chance.
Uh I think that was the joke bud
Im a millennial and I approve this comment.
Hillary swank- not hot.
I've had exercise bikes, ellipticals and treadmills for cardio. Nothing beats the treadmill in my opinion. Produces results rather quickly if you keep it in your weekly workout. The bike made my butt go numb after 10 mins and the elliptical takes too long to do a decent workout when you can pump out a mile on the treadmill in relatively short time. Just my opinion, I know everyone has different results and different needs when it come to exercising..
Hm why was I thinking Ann Hathaway was in it? I'm obviously thinking of a different movie and have made myself look like a fool.
I know this isn't a movie and tbh I've hardly come across someone who hasn't seen it but breaking bad is in my opinion, the greatest thing ever filmed.
Can someone give the synopsis of the princess bride? Ive always believed it was like a pretty woman romance comedy thing. I take it I've been wrong this whole time since alot of people are saying it's pretty good?
Cover your mouth, you filthy animal.
Dang brother. I don't know if this helps but all my prayers are with you and your family. Hope everything turns out good for u. Stay strong my friend.
Who cares to each their own.
I'm sorry but what was Michigan thinking in the 90s? What was sparty thinking in 2011, 2013 and 2015? Bet it wasn't oh poor buckeyes, they are awesome and should be respected. Piss on them, take the loss and hope ur team improves.
Just fuck Michigan. Fuck all of them. Sing it or don't sing it just fuck michigan
I think your alot alike the people your trying to confront on these forums. They just want to speak their mind such as you do and most of them get tired of someone trying to dissuade them or placing them into a group such as "living in their mothers basement just because they believe differently then you" on a consistent basis. I'm not saying you should stop or they should stop, I just feel like a hypocrisy should be pointed out from time to time.
When it comes to you, I don't think it's a conspiracy to automatically downvote Cincyosu when you comment. I just genuinely believe your opinions on most topics are off putting and smug. Your online persona comes off as "ugh these people are morons and I need to step in and shed a beam of ultimate knowledge to help them better themselves and to get on my level of superior thinking skills." Overall, I just think your online persona on this site is unlikable but I don't think your like that in real life because not many people enjoy the company of that type of person.
Meh. I just compared your downvoting to mine. I been around for 7 years with barely over 100 downvotes. Noone can confirm youve given out 20-30 in the last three years. If true, should I assume you moved out of your mother's basement 3 years ago or nah? I wouldn't assume that TBH but you shouldn't throw stones in a glass house is what I was getting at in my previous comment.
Idk if u can say that with yourself have over 1300 downvotes credited to your account. But then again, I only care enough to post a reply to your comment. So eh, take it for what it's worth.
If they stay healthy, buckeyes are going to be trouble for everyone they play. Doesn't matter who lines up across from them.
Idk but I kind of like this Ryan day guy. I think the buckeyes are in good hands.