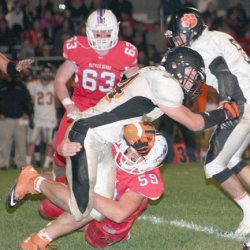 bleedscarlet
---
from Napoleon,Ohio
MEMBER SINCE December 31, 2013
Favorites
SPORTS MOMENT: Has to be 02 title
COLLEGE FOOTBALL PLAYER: Darron Lee
COLLEGE BASKETBALL PLAYER: Aaron Craft
NFL TEAM: whichever team is on that has Buckeyes on it
NHL TEAM: not my thing
NBA TEAM: the underdog
MLB TEAM: yuk
SOCCER TEAM: yuk
Recent Activity
K
You say that like Johnson is 27.
flipped... fwiw
That's Cali ball? Yeah, we've seen what's up with that...
and when i say new years day, i mean the entire day...
B1G gets thurs, fri, and sat nights... sec gets new years day... shit ain't no coincidence.... fuck 'em
Certainly is, but then they wouldn't be FBS players and I wouldn't be interested in hearing what they had to say about it... ¯\_(ツ)_/¯
Never seem to hear what the players think on this...
Parsons responded to Ruckert that one of the two was already on board at PSU
Gonna be a little awkward around here if Meyer ends up signing Carman...
Don't mind the icing, but don't lie about it, just say your D wanted it, they deserved it and you did what you could to get it.
Every time he throws that ball he's practicing doing it the wrong way. In this instance, he'd be doing himself more good playing ps4. Betcha that's why he's #3...
I think he's just wasting practice. It takes 100 good reps to make up for one bad one. Every throw he took there should have been mechanically precise but he is too nonchalant. Hell, he can throw a thousand balls like that and not get any better, he already knows how to throw a football.
Jokes on you, pal...
http://www.planet-science.com/categories/under-11s/our-world/2012/02/why-is-water-wet.aspx
and they have some receivers that can win 50/50 balls and catch over the shoulder passes
Not defending Barrett but... Bama has the same problem, with the difference being they block better so they get away with it.
we suck.... just kidding... kind of... I don't know...
I don't believe UK for a second... just too much potential draft dollars left on the table.
I agree... crystal balls are pretty cool too though
3:30 is a crime...
Night game and a "white out" for them vs UM to boot...
Hate PSU, love to watch Barkley play though... he's a special talent
I think a 12-1 Wisky and a 2 loss SEC champ get debated over... if that champ is Bama, Bama gets in, anybody else and it'll be Wisky.