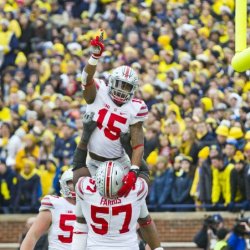 BleedBuckeye
---
MEMBER SINCE January 09, 2017
Recent Activity
That's why I'm tellin' you that Terrell Suggs is behind all this. He's tryin' to keep his record intact......
It was Terrell Suggs, He doesn't want his record shattered...
My problem is with having other teams in the B1G winning championships means the Buckeyes aren't. I honestly don't care what the rest of the conference does, as long as the Buckeyes are at the top. The offseason is way tooo long when they win, and it's WAY WORSE when somebody else wins the B1G, etc. (Michigan State 2015)
Are you looking on your phone, or on a desktop/laptop?
On ESPN's website (PC) up until 1:00am when I went to bed, they had no fumbles listed for either team. This morning when I looked, they had the correct box score regarding fumbles.
It's all great but we have to remember MSU has a real defense.
Yep, that real defense that gave up 31 points to Indiana, at home, no less. And, to top it off, 20 straight completions.
If given a quiz on this character, i would have chosen Jetsons
Wikipedia:
The Great Gazoo
The Great Gazoo is a fictional character from The Flintstones animated series. He first appeared on the show on October 29, 1965. The Great Gazoo was voiced by actor Harvey Korman.

If we're gonna wear black... why not HONOR WOODY HAYES and the black hat block O? (Note: I'd actually remove the helmet stripe here and make the block O bigger, but you get the concept, either way, is better than what we have in black now).
That block O would be perfect if you add the leaf on where it's supposed to be....
Really? They basically played even with Indiana, at home, no less. If they're the biggest challenge, the Buckeyes are 100% going undefeated....
Awesome work!!! Keep'em coming!!!
THIS!! If you truly paid attention, you would've noticed alot of new players on the field, especially on defense.
Thank you, Matt! I love these historical statistics (On this day, week,month,etc.). I know it takes alot of work to put them together. Thanks again!!!!!
If it's a disease, both teams have a clean bill of health........
https://www.ruletool.info/ncaa-rule-6-kicks/#NCAA6-4-1 If I'm reading this right, the receiving team, if they touch the ball in the endzone, they must down it. If it's NOT touched in the endzone, then it is a dead ball. It was a fumble, and if the other Alabama player had not picked it up and downed it, Ohio State could have recovered it for a touchdown, or they could have tackled him for a safety, had he not downed it. I just watched it on youtube, and there were 2 Buckeyes going for the ball, but the Alabama player was right there and picked it up and downed it right in front of them.