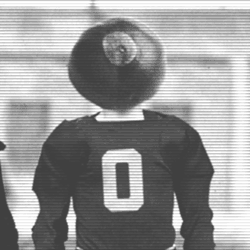 BlackKeys
---
Washington Court House, Ohio (via TORONTO, OHIO)
MEMBER SINCE July 10, 2014
Favorites
SPORTS MOMENT: They go for the ballgame...... TOUCHDOWN!! TOUCHDOWN!!! MICHAEL JENKINS, ON FOURTH AND ONE. WOULD YOU BELIEVE IT?! HOLY BUCKEYE!
Recent Activity
His Twitter says he is committed.
Clark Phillips committed? No boom?
Now only ttun has it better than us! Congratulations fellas....we made it.
At least proofread your headlines.....
It's typical bullshit coach-speak. I just hope Gunner realizes it also because it's all just a played out and obviously bullshit way to "light a fire" under Fields and make him continue to work harder. I will livestream myself eating dogshit if Fields isn't the starter this season.
And correct names....Who really cares if you type the wrong name in a story about the guy the story is about
Nathan Ransome...is that..a member of Lathan's?
Not ashamed to say it.....I'm hard....
Nice of the Michigan Men to hold the ladies' purses while they won championships for the school. Leaders and Best once again, indeed..... LOL
I'm all for protecting and getting justice for those who cannot or could not protect themselves. That being said, we aren't talking about "Jerry's Kids" or some girls in gymnastics. These are men. Wrestlers and football players no less. I'm by no means a tough guy. But I'm damn sure capable of defending myself against some pervert in the event of my body being groped in a non medically necessary fashion. And even if I was unsure, I'd certainly be making a follow up with another doctor to run the events by them and see if it's SOP. To wait this long and do nothing....? Sounds stupid at the least and opportunistic at best.
Code for "you're trash and we have better coming in than you will ever be" thanks for playing. Cya later.
Does Anyone else wonder if this has anything to do with that jerkoff Zach Smith on Twitter saying he is about to "take down" many people in his new podcast coming out soon?
What about michigan? Nobody wanted to pay to get in there? But they are "leaders and best" and "who has it better than they do"? They are the smartest people on the planet. Just ask them. Something must be wrong with this story.
"You're not no All American"
At what point do you HAVE TO quote exactly what was said instead of cleaning up the grammar to portray the message? I myself would feel inclined, whenever possible, to abandon the actual quote in favor of making the individual sound less grammatically ignorant. Cris told Damon that he wasn't an All American caliber player just yet. I hate to be the grammar nazi, but I am embarrassed when I see someone that went to the SCHOOL, Ohio State, to sound so stupid.
That's the episode of Always Sunny that got me hooked....Unfortunately, that series has jumped the shark and the latest season is absolutely dog shit. "The gang beats Boggs" is also up there as an all time favorite.
Can we get this attorney an ice cream cake or one of those edible arrangements?....something.....I mean first he gives us Shea Patterson to shit on and then Justin Fields gets immediate eligibility too. Honorary Buckeye. Thanks buddy.
Good luck with that. See ya in the transfer portal
Tom Bradley did nearly as much as Tom Brady at scUM
I think he would have been fired instead of that soft, ride off into the sunset ending that he got if not for Tressel getting in trouble the way he did. I think the university was desperate to not have back to back coaching fiascos and ended up making things worse. I loved having him here. But he looked terrible with the Zach Smith fiasco. The text message deleting. The "medicine makes me forgetful" shtick. Then "courageously" battling through the headaches that drop him to his knees, only to follow up the scUM game by saying that if he had lost, he would have had a hard time leaving. If he had a debilitating sickness, could he really have said...Nah, never mind, I'm going to take on the load of an additional football season to go out with a W against those douchebags..? He was, and is, an awesome, hall of fame, caliber coach. But he allowed himself to be torn down by that shitbag Zach Smith. And then started burying himself with possibly the worst damage control ever seen to ultimately be a part of a team and season that was good, but not really worth it If it meant sacrificing his reputation. Rose Bowl win and sodomizing the "#1 Defense", lol...that was great. But I'd have rather he came out and said that he knew Zach was trouble and maybe didn't do enough to reign him in and stepped away as a sort of self imposed punishment, instead of serving that stupid suspension that looked like window dressing and nothing more. I agree that he shouldn't have to babysit adults. But his defense....it was absolutely atrocious. If he wasn't guilty of anything, that defense sure made it seem like he was. I remember the board defending him and I will most likely be shit on for this post. I just think that Urban Meyer was knocked down by the Zach Smith garbage, but was repeatedly kicked in the balls while down by his own need to look totally blameless and looked ridiculous trying. I expected him to be the best ever to walk the sidelines at Ohio State. I'd put him at third now behind Woody and The Vest. I'd take a lapse in judgment over tattoos and less than stellar recruiting over that mess with ZS and awesome recruiting. Sorry everyone. I know I'm in the minority.
How many dog shit players from Ohio State went on to have 10 fold the success that they had in college? We absolutely celebrate Ohio State talent that carries that success on to the pros. But Michigan, in the examples I've given, are pointing out these achievements in alumni that were pretty unremarkable in college and didn't turn a head until after they got away from there.