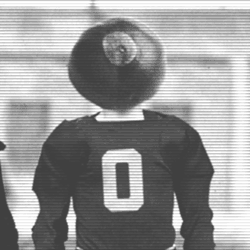 blackblockO
---
MEMBER SINCE March 30, 2014
Recent Activity
I'd tour the country and spend a few days at every TPC course
The loudest I've been too... 95 Illinois. Especially when the Heisman chat started. 2011 Wisky when Devin caught the game winner. 2018 Michigan.. the entire game!!
Dude is the original Beast Mode. Best football hit I've ever seen was him laying out Pepper Johnson when they were Pros
Easily my favorite linbacker. My first game was his vs Alabama. Great human. Met him 2x at his golf scramble. Singed my copy "That's why I'm here."
We could make Oregon an honorary conference member for 1 day lol
2018 M game. Singing Carmen Ohio with my Mom for her final game. She passed away feb 2019. Every time I've passed her seat since I give it a little tap.
Its already been done. Bout 10 yrs ago when I lived in Madison WI. My buddy (USC fan his wife a Badger) was grilling out. We sat there with a few captncokes. He started bitchin bout mowing the lawn. I set the wheels down a notch and pulled up la regimont... he ended up with a big block O in his back yard. He thought it was funny. Wife not so much
Sooooooo Alabama will suck by then I bet.
Eventhough Jamie Morris played up there.. he was a back to fear. Dude just kept churning out yards. I sat there thinking "What's going to break this guy?" I was also a big Giants fan so watching Joe Morris was a ton of fun. CS was a one mN wreaking crew that day. I learned so much about the linebacker postion just watching him.
Wilhelm played like an aminal!! That Buckeye defense had ice in it's veins. They were like a bunch of rabid dogs. I loved it! I watched that game with a migraine. I heard a story about Winslow at the combine that year. Hen went to get in an elevator and as the doors opened he shouted "I'm Kellen Winslow of the Hurricanes." He didn't realize Alex Stepanovich was in said elevator. Steps reply was "I'm Alex Stepanovich, National champ."
I'm assuming this is with the same player's we had anyway? I don't think the question is fair as Tress might have call a different game than Coop. Assuming we have the same playersI would tack on 2 more championships plus 5 more wins vs TTUN
Man, I was there for the Illinois game. I was up in C Deck Home side. I think the Heisman chat Started around us and got louder and louder and louder. It got so loud in there you could feel your insides vibrate. Then, all of the sudden I see Eddie get up on the players bleacher slinging his towel around. That was my 2nd favorite game day atmosphere.
BB, your 2018 walk to Saint John's for The "M" game I yelled out to you to go get your 6 points back from Indiana. I just wanted you to know how great of a day that was for my family. It was my Mom's final "M" game and we appreciate all that you and your team did that day. It was Glorious. Thank you. You're amazing!
Even better than going shoeless was his hit on Pepper Johnson. Eagles vs Giants
Thank God. Huge get!! Added to his ability is his leadership to the youngins back there with him
Sickening
Gooch gropers.. by far the best line.. just spit out milk through my nose. God it burns
Wear my black hoodie, lucky tee shirt and of course my black block O hat. One last thing I never predict the score of a buckeye game.. just bad ju ju for me.
I love Motor boating!!
My biggest concern.. our takles. Hasn't Mumford been a little banged up. Just need the to hold up for 3-4 seconds. Keep feilds clean and we are good My other big worry.. turnovers. We have been coughing it up a little to much I feel pretty good about our run game. If we get Dobbins going maybe we can suck the Backers in with a little play action.
Never thought he would get to 100%. Feilds at 90-95% is really good. All he has to do is show the threat he can run and the defense has to take it in to account.
Fat oaf needs to be used more.
Our defense needs to get back to basics. Tackling was poor vs Wisky. If we fix that anddo what you say. It's a long night for Clemson.
Wifi was good. I noticed the DJ once. Kinda hard to pick him out from where we were. The restrooms were just as expected. In fact, I think it was MSU.. got up to hit the head at half.. no friggin line!! The soda refills are great esp for the warmer games. Kept refilling with water.
Wisenheimer.. I had to upvote that.