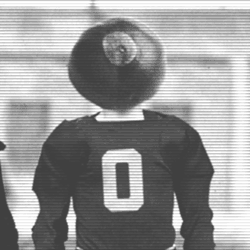 blackblockO
---
MEMBER SINCE March 30, 2014
Recent Activity
Letsgo1-0Saturday
Lol
Could be fat finger syndrome
Jump around bwaaahahahaha!! I like "Carry On Wayward Son."
We have season tix. Those seatback cushions are expensive. Add $70 to your ticket.
Id wait for Borland and hit a play action right in his area.
We are in 16aa. If you come down just after half there are plenty of seats avail. Try to plant yourself around 16 and 14. Right outside that gate is a family bathroom lol. You will be right at the 10 yard line. Some of the things you can see and hear down there are downright amazing. The look on Paris Campbell's face as he raced by us against meatchicken last year. Got to watch Don Brown tear up his clipboard. You are close enough to hear the ball hit their hands.
DamnforgotdaylughtsavingswokeupatwhatIthoughtwas630
I won't be concerned until the week of PSU. That's how I've always been. I'm just going to enjoy each moment of this. This COULD be a really special year.
AnnihilationofWisky
Penalties. We had a ton against MSU 10 for 85yards. Thats way to many. Granted a few were BS.
The only mascot worse than Sparty is the Stanford tree
#2 The crap that spews for their mouths up North is what keeps me sain. When they cry about never being as good as us and want to leave the BIG because they will never win here. Why thats a symphony to my ears. I want to see an empty stadium up there as all their fans decided to wagon hop over here. Once they trade sides we can make the wear a scarlet M. Yeah we will know who you are.
Meatchicken will have fun this weekend with Iowa's #4 defense. I think I'll put some money on that.
I wonder if any reasonable person in that locker room snuck out the backdoor out of shear embarrassment
Meanwhile, over on mgoblog some pisters think Michigan should leave the BIG for the Big12. They are about to jump ship. I love it.
The 2nd Martinez to Okudah.
I'll take Browning. Pete Werner was a friggin BEAST last night
Mgoblogshouldbelistedascomedicrelief
Im not buying it. If Nebraska had not lost 4 fumbles the score would have equaled the tards gained. Turn overs are key and that game shows it. I think nebraska is better than what we think
Meatchickenmeltdownonmgoblogloolz
Got tailgate Saturday noon..Im headed over to the enormous tv to watch half of Wisky and Scum.
If Gameday is there we should hold up fox sports signs lol
A walk around mirror lake might get you those bonus points