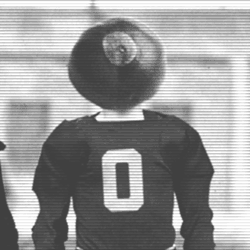 BKLINE20
---
Member since 29 October 2013 | Blog
Recent Activity
"I can't relate to someone who says they have no interest in watching a bowl game against ND." Nailed it.
I'm a football fan, but had to do a double take. I reread and figured it out though.
Webb is listed at a solid 93 lbs too.
The description of the shirt says "addition of Rayon makes for a unique texture and drapes against the body for a slimming look". Exactly how slimming are we talking? I may have to buy one if I don't win one.
When I lived in California, waking up and watching games immediately was the greatest! I hate waiting 4-5 hours for the games to start.
Not sure if it was the same post, but I have saw that before too...and it is funny.
I normally do not salivate over men, or young men (ala Scary Jerry Sandusky) at that...that McCall reel was ridiculous.
Speaking of Va Tech football boards...did anyone go look after the NCG to see what those turds were saying?
Searched for myself for an hour...apparently I wasn't there.
That is offensive to all residents of Poland.
Nooo....I am not saying that parents should not be able to watch their son play. I am not a cold-hearted prick...regardless what my wife says. I think a certain level of fairness and even footing (relatively) between the universities is what makes college football as good as it gets in sports. Ohio State can open the check book dig in their couch cushions and pony up the cash to make this happen, but can everyone else? What about the other sports? March Madness makes tons of money too, should all of their families be ferried all across the country as well? Not trying to be inconsiderate of all of these families, it is a blessing and a curse.
Apparently I am in the minority here...and I've only got 75 HS so be gentle. I think the players get quite a bit already and paying for their families to go to the games might be going overboard a tad. Not to get crazy, but aren't there 12/13/14 other games that the families would like to watch too? Is it too far off to suggest that the Universities should be paying for all of the games next? Just seems like the beginning of a slippery slope here.
http://www.ohiostatebuckeyes.com/collegesportslive/?media=479038
I just did the same thing when I saw this gif...minus the baller stache.
I read the transcript on ohiostatebuckeyes.com and UFM mentioned Warriner in that same sentence, before cutting himself off. I'm not saying Warriner is getting the job, but it sounded like he might be a player.
For the life of me, I cannot figure out why this soire is not being held at the Slippery Noodle Inn. Way closer.
Damn! Gotta get on this shit early!