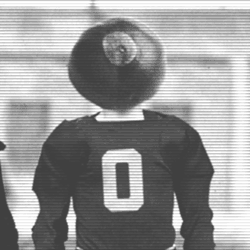 binger18
---
MEMBER SINCE April 11, 2015
Recent Activity
Need to add Nugget to the across the shield list
Puig has been nothing but a good addition in his short Cinci stay. Great teammate, comes to play every day, hustles, one of the best arms in baseball, good power/rbi guy. None of the ego things you saw in L A.. He is the type of player I will go to a game to watch. Got in a fight while supporting teammates that had been thrown at even though he knew his time in Cinci was short. Should be a great Cleveland pick up.
Pantoni's organizational skills with recruiting would be missed more than Marotti would be missed . Marotti is a great football s & c coach but has created problems with Ohio State's other 35 sports. Several years ago, in Ohio State's attempt to get Marotti more money to stay in Columbus without destroying the football salary structure for the more senior assistant coaches already on staff, Gene Smith made him an associate AD to oversee the other 35 sports S & C programs. The problem was that he did not have time to administer all of the other sports and the football program. His style, while successful for football didn't relate to many of the other sports...ie: 4-6 seconds, point a-b, quick bursts with rest in between doesn't equate to sports that may need long term endurance like swimming, water polo or track or flexibility like gymnastics. So Ohio State brought in an administrator from Tennessee to oversee Marotti's directions. Ohio State has @ 8 other S & C coaches that divide up the remaining 35 sports ( most have 4 or 5 sports they are responsible for exceptions being M & W basketball). They were immediately reassigned and given new teams. So you had national championship teams that had their successful S & C coaches yanked from them with programs scripted for that sport that were being forced to implement similar football styles of conditioning. Many of the head coaches had to fight tooth and nail to keep their existing coaches from being reassigned and some were not successful. The 2nd policy the new administration made was that the S & C coach must be present for all home matches/games. That is not a problem with football with 7 home games but when you have a coach that may be assigned baseball with 30 home games, mens and womens track with numerous meets, volleyball with @15 home matches and swimming, many of which are played the same day at different venues, you can see where there are not enough hours in a day to accomplish this on top of regular training of 40 hours per week. Many of the established and championship S & C coaches have left OSU in the last 3 or 4 years .While I'm sure Marotti is respected for football, he is not well loved within the rest of the OSU sports community. Pantoni's recruiting skills would be musch harder to replace in my opinion.
A lie repeated enough times starts to become the truth! Would like to see an actual study showing measurably why Michigan is considered an Uber elete academic school above and beyond all else with such prowess. ie The Michigan man myth...comparing all Big Ten schools using entrance requirements, act/sat scores, gpa's, all academic awards, retention rate for both athletic programs and non athletes, and a ranking of each school's top 4 or 5 programs...Ohio State Dentistry or vetinary, Purdue engineering, Wisconson's Business school, etc... my guess is your going to get very equal results.
Hey everybody...let's just ease up...2 more fouls and we could hit double digits by halftime,
0-12 from field...6 turnovers.....2 shot clock violations...can't even get off a good shot...at what point do you look at scheme and coaching playing a part..yes they are undermanned but they can't even run the offense and get a shot w/o the shot clock running out
Potential changes to the way we recruit...no drastic changes yet.....those two comments make me a little nervous. I like the national emphasis on recruiting while picking the best of Ohio with a main emphasis being speed. I believe those traits that Coach Meyer used gave us the 7 best years of overall recruiting I can remember. The few issues I've had over the last 7 years has been the use of those players, not the quality.
The Jamel Dean medical disqualification at Ohio State still has a strange feel to it. Not sure we will ever know the whole story.
McLaurin 1st run was a 4.36
The 5.27 time and only 19 reps on the bench are going to put Michael Jordan in the bottom portion of the lineman tested. Sounds like Coach Day tried to persuade him to stay and even committed to moving him back to guard. The decision to go pro is not looking real sound right now. Hope he is able to finish the weekend on a strong note.
After Ahrens hit his 2nd and 3rd triple it was clear he was on fire and had confidence. The next several trips, he never touched the ball which included a 23 foot off balace heave from Washington and a turnover. Whatever happened to finding a way to get the hot guy the ball and keep him shooting. It appeared his teammates were a little more concerned with getting their own shots up.
According to the stats above, the bucks only had 6 turnovers for the game. My guess is that Woods and Jackson beat that number by themselves! (Philly nut beat me to it)
Not sure I make the trade. IMO Barnhart defensively is as good ..fewer passed balls, more assists. Not going to cost you many games behind the plate and pitchers love him. Not as strong as Realmuto with the bat . I feel the reds can make a stronger effect on overall wins with another starter. Keep working on Kluber deal but not with Senzel or Greene. The deal I heard the reds were discussing was Kluber to reds for India or Trammell and scooter gennett. I would make that in a second.
I'm hoping a change of scenery may keep Puig interested and out of trouble for at least a few months. It would just be nice to see the reds not mathematically eliminated by May 30. They have 3-4 guys at aaa that could also help this year. It's my belief they can score runs if the pitching can just hold the opposition under a touchdown or so.
Buck passer, I have to disagree. Votto, gennett, peralta, Suarez, Kemp, puig, Barnhart and several options in cf should be a formidable offense... got rid of bailey which is a big plus... pretty good bullpen..it's all about starting pitching now. Grey has a fairly high ground ball/out percentage of 53% which is critical because you don't want the ball in the air in Cincinnati.
Bring as many of those Vanderbilt players the reds can get. One of the finest college programs of the last decade and their head coach is an Ohio Wesleyan guy from Delaware, Tim Corbin.
That 3 way deal with San Diego, Cleveland and the reds has been on again/off again for several months. The reds would lose either Suarez, Senzel or Scooter Gennett to San Diego. The reds would get Kluber that has 1 year left on his contract and 2 club option years. Would hate to lose Scooter but would do the deal with any of them in a minute. Cleveland needs the salary dump so the reds can get Kluber or have to face him elsewhere. Make the trade!
They may have...get it settled and get the word to the defensive recruits prior to signing day and other schools use that as a way to move in.
I can understand waiting until after the bowl game to complete the evaluations of all his assistant coaches, but if I was Day I would have sprinted from the Fawcett Center presser to Larry Johnson's door and not moved until he agreed to stay on staff. He is a huge part of this train staying on track. Hopefully this is addressed prior to the early signing period in a few weeks.
Even though Ryan Day did guide Ohio state through the 3 games early this year, he did it with 2 very experienced head coaches and a system that was already in place. He may turn out to be one of the finest coaches off all time. But has Ohio state ever turned over the money machine known as Ohio state football to anyone that has never run and been extremely successful with their own program and own coaches?
That covers 15 big ten championship years and 2 national championships and zero c.o.y. awards..seems unbelievable to me.
One of the most amazing thing in sports...I believe the last time an Ohio State football coach was named coach of the year was Earl Bruce in 1979...39 years ago
Late 1970's...Osu vs Oklahoma in the horseshoe. Oklahoma comes out in the wishbone with Billy Sims, Lott, Overstreet and immediately goes up by 20...0su storms back to take a lead but Oklahoma hits a 50 plus yd field goal by uva von schomman as time expires. Woody called a time out to try and ice the kicker who stood on the field waving the crowd to get louder. The stadium went from as loud as I have ever heard to dead silent in seconds. The Oklahoma cheer leaders ran across the oval after the game waving their big flag and celebrating. Even though we lost, one of the most exciting games I have ever seen. Osu got its revenge in Norman the following year as Dr. John Frank had a huge game.
Just a slight correction. Carol O'Brien, not Carl O'Brien is the Delaware County Prosecutor. Does a great job but not someone you want to go toe to toe with..very tough.
Buster Douglas knocking out mike Tyson