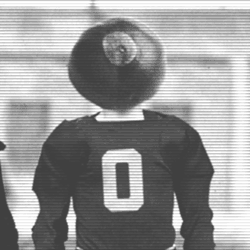 billybigwheel
---
MEMBER SINCE August 03, 2018
Recent Activity
i get what you mean but we played this team twice and destroyed them once
A little of both. LSU has the skill players but my god is Georgia bad. Im going to be sick a year from now when a 1 loss Georgia team is in the SEC championship game again and loses and wants in the playoffs.
Can we cancel Georgia forever, im tired of hearing about them being so good. Theyre Michigan of the south
I'm no "ESPiN bad" guy or anything but this goes to show how the media shapes public perception. Lose on a last second field goal in a sloppy game to a playoff team and youre not good anymore. Lose to South Carolina at home by a field goal and youre in a playoff spot going into the final week.
The academic argument is for losers who are jealous, especially when it comes to undergrad degrees. If you get the right degree it doesn't matter where you go. Oh well, I'm a buckeye grad who's getting a doctorate at a school ranked ahead of Michigan.
Definitely not BS, OSU has THE tightest licensing out there
Let them keep winning, would be the easiest team to beat in the playoff
No chance I expect that to happen. We saw Suh and Mcaffrey get screwed even though they were clearly the best players.
It's interesting to say the least. Last year haskins had the best numbers but played more due to our closer games. This year is the opposite fields has identical numbers in much less game time yet not a peep, so whats the standard in grading QBs for the heisman?
eh watching that game it wasnt even close
CBS also thinks alabama vs ole miss is the game of the week, i wouldnt be too worried
while the accuracy could be better ive been watching tua and lawrence do the same thing. its college these kids are gonna miss throws, just gotta rebound on plays after to win
yep, no problem with them jumping use. however we should be ahead of georgia
I didn't watch so I can't comment, but sometimes games look closer than they really are. I would say we took alabama to the shed in the playoff but it looked close.
One can have multiple thoughts. We didn't deserve to make it, can't lose to MSU at home and put your fate in the committees hands. However, based on recent committee rankings putting 2 SEC teams in and putting a 2 loss Georgia ahead of us last year we should have been in and won the title, but oh well guess we were the guinea pigs.
We wanna be compared to the bamas and clemsons on the world, you think UC would give them a game? Hell no! Bucks by >24
Looked good, I feel they kept it bland once they got up big. Unfortunately I had them -27
Came here to say bucks by 100 after seeing that thing
I never want anyone to lose their job, but I wonder if Herbie will stan for Desmond after getting Torg fired years ago for some comments he made about Desmond.
The year we got shutout by clemson i had a dream we lost 36-0 the night before, scary how close it was to being true
Perhaps he was discussing that surgery in a general sense and not specifically urbans
ya nobody hacks an account and responds to ONE specific tweet
GOD DAMN I MISS THAT MAN ALREADY