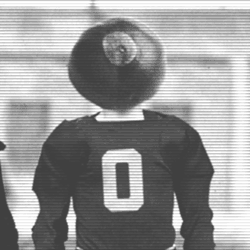 billjones
---
Member since 30 August 2010 | Blog
Recent Activity
Yes. No doubt. Two words...Eldon Miller.
So well done. Obviously none come easy at this point and I hated every missed free throw, but we made 'em when we had to. I feel like I just gave birth.
Great to see Craft asserting himself on offense in the first half. Would like to see more of that, please.
Deshaun Thomas was a badass in this game. First round may be callin'
For the love of God, please let us beat them in football in a similar fashion this fall.
With all due respect to Luke Fickell (clearly he inherited a crappy situation), who is ready to begin speculating about the next HC at The Ohio State University?
Methinks it is best to reserve judgment on this one. Clearly he gets it more than Rich Rod (well, that is what the Detroit Free Press would have you believe). It would be cavalier (and ignorant) to say that we're going to kick their asses forever. The fact that U of M now has a Coach that isn't reviled by at least 1/2 of the Michigan fans and isn't being actively undermined by their hometown press has to be some kind of improvement. Brady Hoke is a crafty one. It remains to be seen whether he can translate that into Ws. I am exhilarated by the challenge, and I hope that everyone else (especially prospective recruits) is as well. Their disregard for the facts and circumstances behind Tress's dominance over them reminds me that they are arrogant A-Holes. I am grateful that our boys will have the opportunity to remind them of this on the field annually.