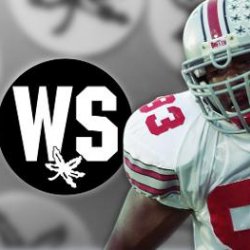 BigWillRIP
---
Springboard, OH
MEMBER SINCE December 20, 2016
Favorites
SPORTS MOMENT: Looking live from Sun Devil Stadium as Ohio State beat Miami for the 2002 National Championship.
COLLEGE FOOTBALL PLAYER: Zeke Elliott
NFL TEAM: Individual Buckeyes
NBA TEAM: Whoever LeBron plays for
MLB TEAM: Reds
SOCCER TEAM: Seriously?
Recent Activity
The biggest takeaway from Flowe visiting is that Stroud wants him to visit.
Yeah, i'd rather have 3 stars than 5 stars
one way to solve the access to the grandchild is to hire the kid's dad.
I recently listened to a podcast about this that had some pretty logical advice/thoughts. Basically, when you get married, you automatically agree to a prenup, except it's what your state believes you should do. Why not hash it out to your specific situation. Also, the prenup is similar to insurance. You don't buy insurance because you're expecting something to happen, but you know you need if something were to happen.
Guess i'm confused why they would take Bradford then Miyazaki, but if Miyazaki committed first, they wouldn't necessarily take Bradford. Assuming Bradford is higher on their board. Regardless, I really just wanted to type Miyazaki a few times and help make it a thing.
Spooner- I read your interpretation of Givler's comment that the staff has Miyazaki higher than Bradford. True?
Joey Galloway donated $1 million about 15 years ago to used for a scholarship in perpetuity.
Duane Long was on the BM5 earlier in the week and said Atteberry is definitely a Tackle. 6'5", 280 lbs with great feet.
Not soon enough. Renovate St John's!!!
You're not wrong. I remember hearing the same thing from an insider. Hickman got the nickname as a kid. Though I don't know how fast he is, just saying what I heard someone else say.
I remember BG saying he was close to the Duplain family and was extremely confident that we would flip him to OSU. I think you're right that it must have been an epic failure for him to not be in the class.
Spooner was replying to the post that Alford hasn't recruited an elite back and his job is somehow in jeopardy. Spooner's rebuttal is that Snead was an elite back that Alford recruited. Calm down, Urb.
He's gotta be thinking about Amir whatever his last name is from 3-4 years ago.
Haven't you heard? You can't go over 25 now. /s
Cool pic.
i read an article that the writer was standing next to a couple of guys on the field when the B-2 flew over. One of the guys (retired military) looks at the other two and says, "You hear that? That's the sound of freedom, boys."
Internet interruptions is a much bigger issue than the delay. I don't even care about the occasional interruption 90% of the time, but it's a deal breaker when OSU football is on.
Sounds like we have bigger fish to fry.
Ole Tater better not swing and miss...especially the second time
Yes. There's another thread about it or it was talked about in the "most recent Fields/Martell twitter fight" thread. Apparently, on Monday night, Tate was tweeting about how Elite Trevor Lawerence looked and some other things that were directed at Fields because they competed at the Elite 11 camp, etc.
Is Larry Culpepper coming back?
Dream job? Did you miss the story about watching OSU on this grandfather's couch? /s
First I've heard that he was referring to the period you mention. My understanding was it was post his procedure (2015-present). Seems weird that Herman and Fickell were the problem as you say and not guys like Warriner, Beck, Stud, Bill Davis, Taver, etc.
Urban said that he had to micromanage because the product was failing, which was the cause of him having to retire.