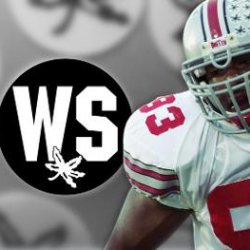 BigWillRIP
---
Springboard, OH
Member since 20 December 2016 | Blog
Favorites
SPORTS MOMENT: Looking live from Sun Devil Stadium as Ohio State beat Miami for the 2002 National Championship.
COLLEGE FOOTBALL PLAYER: Zeke Elliott
NFL TEAM: Individual Buckeyes
NBA TEAM: Whoever LeBron plays for
MLB TEAM: Reds
SOCCER TEAM: Seriously?
Recent Activity
Right. Same concept with my rant about Teague and his ranking. One guy has a handful of offers from top 10-15 programs and one guy doesn't. So, ESPN thinks they're a better evaluator of talent than Meyer, Saban, etc.. Sounds legit.
That's correct. Just sayin it's humorous the difference in opinions.
That's hilarious. 247 moves Teague to 50 overall. 2 days later ESPN updates their ranks and he's outside the top 300.
Bush league move, IMO. No pads and you bull rush and put a helmet in a guy's chest??? You'd think a top 10 player, who reportedly ran a 4.4-4.5 forty, could beat a junior with a move.
Numbers are tight with taking 25. We have 14 now, add Ruckert, Blue Smith, Tyreke Smith, and Babb, and we're to 18. Leaves 7 spots for Carman and 1-2 other OL, Parsons and/or Oweh, 1 LB, Cook, Campbell, and we're to 25. Sure we'll probably have a decommit or two and my projection won't be 100%, but I haven't even mentioned a handful of top guys that we're already in the mix for. It's a blessing and a curse.
Starkville and College Station offer the same number of economic opportunities as Columbus.
I read it as they came up with a list of 15 things, he prioritized them from top to bottom, as the most important are at the top. If that's the case, amazing that uniform is higher than education, but such is the life of an 18 year old.
Who on the Warriors is going to guard Cousins? I'm not really a fan of Cousins bc of his attitude/personality, but having a player that causes matchup issues for the Warriors is a plus, ala Andre Drummond.
So, Herman got a top 5 overall player, in the south, to go to a mid-major because the in-state power was mediocre and he's not a good recruiter? Oliver could've went to Baylor, TCU, Bama and any other state/regional school, all of which had a lot of success 2-3 years ago during his recruitment. My original point was, I'd expect to Herman to keep the large majority of the top players in the state at home. Him recruiting Oliver to Houston was an example as to why I think he'll be able to keep the top players from Texas at home.
Oliver being from Houston and going to UH is equivalent to Jackson Carman going to UC. I'd say that's a surprise and a helluva job by the staff to get that done, regardless of the circumstances.
He recruited Ed Oliver to freaking Houston. Now he's in charge of a blue blood. It's not unrealistic to think he's going to keep the majority of big time talent in state. He doesn't have to be Saban to do that. Texas hasn't been good for 5+ years, and we rarely got anyone from there before this past year.
From what I remember from this past year, after a certain number of commits, the importance of ratings lessens toward the overall score. I think the number is around 20-23 commits. Basically, the overall score is indicative of how good your best 20-23 commits are. Anything over 20-23 (or whatever the number is) only adds peanuts to the overall score.
Pretty sure I saw that he was at UGA (or somewhere east of the Mississippi) today for a camp
Not sure if you're saying DL isn't a huge need or not, but it is. There will be a lot of departures after this year, need to restock.
I'd argue that I would feel more confident if he visits UGA and not us. My thinking is, if he's favoring us, he goes and visits Bama and UGA, and nothing changes his mind and he still wants to come to OSU, there's no need for another visit to OSU, ala Teradja.
Anyone heard anything about Zamir's trip to Bama?
What's the secondary do for you with Cook, Campbell, Woodbey, and Proctor? It's almost embarrassing.
But Proctor and Woodbey have formed a friendship and Proctor had been speculated to be favoring OU, so maybe they've been talking about playing together and OU came up. Doesn't seem far fetched.
I must be having a brain fart. Who is Horn?
I remember him at Dayton Dunbar. And his state final 400 against Robert Smith.
Offense- just because of Emory Jones and the position he plays.
Whatever. If anyone thinks DT has been our biggest issue the last few years, I have a kitchen cabinet with a 1/8" dried up paint in the corner you can bitch about. Sure we haven't got the Top 5 DT 1 tech plugger, but there's something to be said for guys that can penetrate and move. Moving a big DE to DT has some positives that traditional DTs don't have. Our defense hasn't lost us a game the last few years.
Butler By'not'e was drafted as a CB? I had no idea. Thanks for posting, Scarlet.