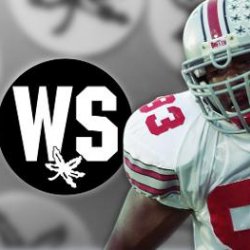 BigWillRIP
---
Springboard, OH
MEMBER SINCE December 20, 2016
Favorites
SPORTS MOMENT: Looking live from Sun Devil Stadium as Ohio State beat Miami for the 2002 National Championship.
COLLEGE FOOTBALL PLAYER: Zeke Elliott
NFL TEAM: Individual Buckeyes
NBA TEAM: Whoever LeBron plays for
MLB TEAM: Reds
SOCCER TEAM: Seriously?
Recent Activity
Coombs is seeing Payne this week.
add 1 or 2 for medical reasons
Creating the Brand is exactly right.
Ditto on Gill. I think he would be a great fit in Day's offense.
I'd be on board with this. He's lost in the WR room and it's not getting easier to get PT with that group. I think he's a better fit in Day's offense compared to Urban too.
Think he just committed early to Miami. Don't recall any issues that caused our staff to back off.
Iowa- you're right. It wouldn't be hard. In this case, the slurs came after he released his top 10 and Wisky wasn't in it. Kinda defeats the purpose of a fan of one school trying to sabotage another after the fact.
You knew Schiano was going back to Rutgers in 2011 when he left the first time? Damn, you should start a podcast
Was that Urban or Zook on the Floyd recruitment?
He also called Schiano to Rutgers months ago and Ash to Texas a week ago.
Zach Smith saying Ash to Texas is a done deal and will be announced after their bowl game.
Guessing that AE feels pretty good that Bijan isn't going to Texas and threw out a CB to USC because they're the only other school that he's been linked to. Will be interesting to hear AE's scoop and thought process.
Paris Johnson has a foundation?
Thanks for the info. My father and I bought counterfeit tix on the street for the 95 game, so been a little wary of that since.
The biggest takeaway from Flowe visiting is that Stroud wants him to visit.
Yeah, i'd rather have 3 stars than 5 stars
one way to solve the access to the grandchild is to hire the kid's dad.
I recently listened to a podcast about this that had some pretty logical advice/thoughts. Basically, when you get married, you automatically agree to a prenup, except it's what your state believes you should do. Why not hash it out to your specific situation. Also, the prenup is similar to insurance. You don't buy insurance because you're expecting something to happen, but you know you need if something were to happen.
Guess i'm confused why they would take Bradford then Miyazaki, but if Miyazaki committed first, they wouldn't necessarily take Bradford. Assuming Bradford is higher on their board. Regardless, I really just wanted to type Miyazaki a few times and help make it a thing.
Spooner- I read your interpretation of Givler's comment that the staff has Miyazaki higher than Bradford. True?
Joey Galloway donated $1 million about 15 years ago to used for a scholarship in perpetuity.
Duane Long was on the BM5 earlier in the week and said Atteberry is definitely a Tackle. 6'5", 280 lbs with great feet.
Not soon enough. Renovate St John's!!!