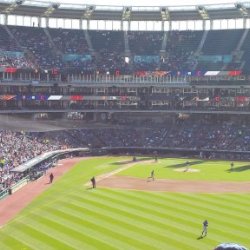 bigtenspeed
---
Amelia, OH
MEMBER SINCE July 19, 2013
Favorites
SPORTS MOMENT: 1/3/03
Nearly all of the OSU scUM games since 2001
Sandy Alomar HR off Rivera in 1997 ALDS
Tony Fernandez HR in 1997 ALCS
When the Browns beat the Broncos in Hot Tub Time Machine

NFL TEAM: Browns
NHL TEAM: CBJ
MLB TEAM: Indians
Recent Activity
Shiny pants, wider pant stripes, giant shoulder numbers.
They also wore the road version of that for 31-24
I don't know but I was at both games and didn't see many open seats.
I don't think I'd go by those attendance numbers to determine sell-out status. We were trying to get tickets for my sister and brother in law day before the game last year and there was nothing except a very few singles and after market resale tickets. I checked as late as last week, same situation this year.

I would only go out west for Clemson and UGA. I actually think our fan base would make up the majority in Atlanta over LSU and I don't think Atlanta is any easier for people from Louisiana to get to than people from Ohio.
Last year was definitely around 85% and 2017 was probably more like 70%. Wisconsin was undefeated so they had more excitement than this year.
I'm expecting 85-90% OSU this year considering we had our division wrapped up earlier.
Probably not but they would give up 35 points to them
I find reasons to think we will lose to Indiana type teams so...
14 quick ones in honor of Earle Bruce.
Then 28 more quick ones before the half. Then cruise to end with no stress.
Go Bucks
*I will also take any win, by any margin.
Notre Dame has the Golden Dome. Ole Miss has the Golden Shower.
As the saying goes, you can't spell Citrus without TTUN. Or something like that.
I think you mean Tommy Bowden.
Good. Need as many media people to go against us as possible.
I dropped Cincinnati Bell for Spectrum internet and Youtube TV. Went from $170 to $100 for tv and internet. Youtube T. Picture is actually better than the Cinci Bell picture and DVR is much better.

*i already know I'll be cancelling Spectrum internet within a year as I assume they will jack the price soon.
I couldn't have picked out more appropriate names for long snappers if I tried.
In my opinion Gameday is one of the few things ESPN still does that is just fun. I like to have it on in the background while I do other stuff around the house.
Gameday is not your place for in depth analysis but it does do a good job of capturing on campus excitement for a big game.
Seems like almost everyone on here dislikes this. I still like Gameday. Glad Fox is there too. I'll probably swing by both sets.
I just want to go every year. The thought of them ruining that for me is awful.
Exactly. Although I would just fine Rudolph for instigating. Not sure what he did is worthy of suspension but all 4 players involved are need to face discipline, including the QB.

Just because I said Rudolph started this doesn't mean I don't think Garrett deserves whatever he got.
Clearly Miles Garrett was going to do this even if Rudolph has done nothing. You're right.
I don't see any comments defending Garrett. Only comments that we should stop pretending Rudolph is completely innocent and this event "happened" to him.
Clearly he is not condoning. It's completely fair to say Rudolph started it and was also wrong. Just because what you get in return is worse doesn't absolve you from your actions to start the incident.