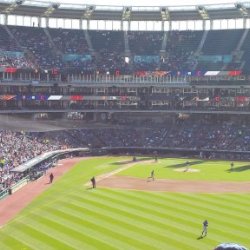 bigtenspeed
---
Amelia, OH
MEMBER SINCE July 19, 2013
Favorites
SPORTS MOMENT: 1/3/03
Nearly all of the OSU scUM games since 2001
Sandy Alomar HR off Rivera in 1997 ALDS
Tony Fernandez HR in 1997 ALCS
When the Browns beat the Broncos in Hot Tub Time Machine

NFL TEAM: Browns
NHL TEAM: CBJ
MLB TEAM: Indians
Recent Activity
Initial glance is that this schedule is fairly weak.
Hopefully we'll be allowed to have fans by Dec. 12th
I though Toto lived in Africa.
More people will watch our game but your right. The UM vs Minn game should be a good matchup
I wonder how much of the fans decision is being driven because Michigan and Pennsylvania aren't allowing fans to attend sporting events for anything. I recall teams from that state complaining that it wasn't fair that NFL teams in other more reasonable states would have fans.
Too bad it was for the Steelers.
The Big Ten should be sharing this crucial information if they indeed have info the other conferences don't. If it's all about safety, it seems pretty selfish that they wouldn't want the other conferences to have the same data.
Deleted my own comment in case it would considered political.
Which one yard line are we on?
Good insights:
https://www.cleveland.com/tribe/2020/08/cleveland-indians-get-six-guys-for-mike-clevinger-lets-scribble-about-it.html
Who is handling PR there?
I still thin ESPN much prefers a legit championship with OSU involved.

Glad I could supply you with the silliest thing you've read. Very silly of me to think ESPN wouldn't want a CFP with the shadow of a great looking OSU team still playing games.That they want a CFP with an asterisk.
I agree with most of his points. Before we get too excited over ESPN supporting, us note his first point. If we start in November, ESPN is very concerned about further devaluing their CFP; OSU playing and looking great while not in ESPN's playoff.
I'm loving baseball season. Sorry you're not.
Drive a beer truck into the award stage after the game. Entire team charges the field doing stunners.
Gene Smith isn't the problem.
As far as the rest of your post, sometimes it's how you say it. Try being nicer. You're not changing anyone's mind with your current approach. ;)
The point is to get as large of a crowd as possible to make a statement to the Big Ten. Holding the event on a weekday morning in Chicago makes it tough to do that. My understanding is that the OSU event is coordinated with events to be held at other Big Ten campuses, which is definitely news worthy. If we get significant crowds then it continues to make Big Ten leadership look worse in the way this was decided and communicated. I believe holding these events at campuses on Saturday morning will make it easier for people to attend.
"Brought to you by Ray St. Clair Roofing"
Yeah. It's getting harder for me though.
I think it's going to be quite awhile before we see OSU football again. Very sad.
We continue chasing goal posts.