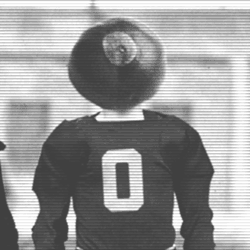 Bigmarty
---
MEMBER SINCE June 19, 2015
Recent Activity
Hoping you yell your lungs out.
Don't get the FIXation to bet on college football games. Was a high school coach for 4 years and college FB coach for 7 and played it for over 12 years. Guess I respect THEE game too much to relegate it to the likes of horse racing. But again could be my age..June 6, 1944.
My brother,OSU '62 lived in them too. I was in high school when he was at OSU...my gamedays were special watching games from that dorm with his buddies. What a thrill for a Buckeye fan.
Love clip of Jones being happy running down the field!!!!
When he got the black stripe removed...he was excited about that...I think he really wants IT!!!
I love this guy!!!! Fun to watch...Yeah he made one of the biggest holes I've seen in a long time. And he was so excited about it!!
Landers doesn't play as much as he used too but our DTs ....are really getting depth. Antuan, Togai, etc. are really fun to watch. Takes my mind off the MLB situation!!!!
really think they did not want to play Munford but Pierre was going to get #1 killed
Munford better be ready against Wisky.
Only one MLB tonight..S-L-O-W
Same with every illegal drug too. Too much effort to enforce. Boy am I old!!!!!
Then it has to be good for everybody, right? Land of Lincoln, Obama, etc. They legalized vapors for younguns too. Ohio should be just like them.
No kid or his family would ever be enticed to effect a game right????
Just hope his blindside is protected.
Way back when artificial surfaces were just coming in , cleats caught in grass accounted for a lot of "twisted" knees. The theory was to eliminate that twisting. Artificial turf created greater threat to shoulders and head injuries...that was the theory anyway. Both my acls were from the cletes twisted in grass variety.
LSU's defensive tackles are NFL'ers. 345, etc with crushing strength and mobility. Tough sell on the ground for us. They manhandled Gators interior...manhandled. Haven't seen that kind of shit kicking for a while.
Don't know what LJ is making but it is not enough!!!
Would bet a whole lot of money that those people that refused to wear black are mostly the same who refuse to stand and open their mouths on 3rd down.
Best Rushmanpackage = Browning, Harrison, Smith, Harrison, cooper, Terminator
So he could miss tackle on 15 yard run and "chase" the TE for another 15byd. gain!!!!
Now Alibi at left tackle????????