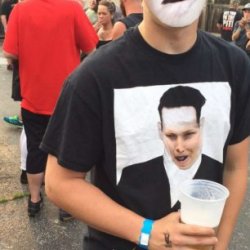 BigJoe21
---
Columbus (via Delaware)
MEMBER SINCE February 24, 2018
26. USMC Veteran. Current OSU student.
Favorites
NFL TEAM: Cleveland Browns
NHL TEAM: Columbus Blue Jackets
NBA TEAM: Cleveland Cavaliers
MLB TEAM: Chicago Cubs
Recent Activity
Same as always; bonus points. They cash in, we don't.
Ahrens once again tremendous off the bench going 3/4 from 3 and gets just 12 minutes? How many games does Ahrens have to ball out off the bench before he can sniff more than 12 minutes?!
How do you lose to Minnesota and Wisconsin twice in the same year. Teams that are barely over .500. Holtmann has received a ton of praise for the work he's put in since he's been here, and rightfully so. But this implosion falls on him. Still, no one can consistently score and turnovers have been a massive problem for awhile now.
Last but not least. I'm really excited about this one!
This one's all about the Edwards.. err.. bullseye, I mean. Same thing.. Keep planting those flags
Phenomenal news! Can't wait to see Coomb's passion and energy back on the sidelines
Really unfortunate but I trust Holtmann with the decision. Hopefully the rest of the boys rally together and start a new streak tonight
Kudos to Gene for speaking against it. How much good it'll actually do, I'm skeptical.. but it was garbage
Great season boys. Disappointing end but this team WILL BE BACK. Forever O - H
Tom Ryan at it again. Nice start to the next class!
Top three in the country in football and basketball?! Just keep rolling
Great day of wrestling. Koontz was huge at 133. Good contributions from 157/184. 5/6 into the semis. Gonna need some big matches to take the top team spot
Looking for 2 Buckeye beat downs today... hopefully our basket bucks get us started with the first!
Talk about some tough early matchups. We're going to need some guys to step up to have a shot at the 4-peat. I wish this was going to be televised..
Another year. Another ass whipping. On to Indy!
Obviously. It might've been obvious from the game but obviously that was my take.
It's officially HATE WEEK. Got a lot to clean up. Let's go!!!
Aye my man Jaelen Gill with some valuable playing time and a tough TD catch and run!
Great get and really a great story, can't wait to see this young buck wrestle for the scarlet and grey!
Why are Cincinnati fans so arrogant. I mean I could see if your teams were actually elite. Cheers to another season opening loss from yours truly
I can't stand Maryland simply because of their dreadful flag they feel they have to smear on everything
Sasso and Kharchla about to be a BIG problem
Is this guy the wrestling version of Tate Martell? Commit to 7 schools then transfer from another 3? Weak sauce
Brendon White with only 3 snaps really pisses me off
You just love to see it. Glad to see big BB back to anchoring the line