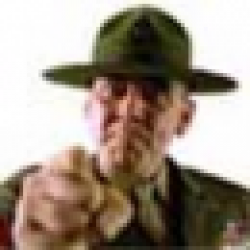 BigDrill
Alexandria, VA (via Worthington, Ohio)
MEMBER SINCE August 28, 2013
Husband, Father, Soldier, Pastor, Buckeye. 25 years in the Army - retired in 13 as a BDE CSM. Always a Buckeye fan.
Favorites
COLLEGE FOOTBALL PLAYER: Chris Spielman
COLLEGE BASKETBALL PLAYER: Granville Waiters :)
MLB TEAM: Reds
Recent Activity
That's nothing. This year's increased revenue from the PAC-12 Network will cover that. [/Fail]
Stop reading Joey Galloway's notes!!!
Consonant mixup? We already know ESPN can't spel. :)
Like Finebaum would say, a loss in the SEC West is like a win for other conferences.
"But the NY TV market..." - Big Daddy Jim Delaney.
What he fails to realize is that NY sports doesn't follow Rutgers as much as they follow Notre Dame.
SMH.
Personally I think a one loss Appalachian State beats a 4 loss USC team on a neutral field, or in Ann Arbor.
I got tix for FLA ATL and CIN, and the announcement usually came on Tuesday evening or WED morning. But I doubt there will be many, if any at all.
At this point I'd say Martell's bed is short sheeted.
Raw and talented + Larry Johnson = Monster.
I think Day sees the portal as a tool and supports it for many reasons. But as this thread repeatedly indicates, character plays into it.
Who is currently in the portal and why? Graduate transfer who fulfilled all the requirements asked of him? Homesickness? Family hardship? Other issues (Fields)? Or is it that a player is giving up, or unwilling to do the work to compete?
Follow Day's comments on OSU players entering the portal and I think you can tell in which grouping he believes the player lands.
The OSUvNEB game thread on MGoBlog has that sentiment throughout the thread.
They went through all the stages of grief by halftime.
Good read.
Open the vault! Keep him happy and in Columbus.
Yes, Nebraska and company will be up for the Buckeyes at night. But reality will hit them right in the mouth when they realize Chase Young still plays at night.
I liked that one as well.
Columbus School for Girls is better than Oregon State.
Here's hoping this season is his launching pad to the next level.
Having a guy like Arnette say something to the effect that staying this season and learning from the coaching staff at DBU allowed the staff to help him hone his skill set and prepare for the next level would be a ringing endorsement.
As would a return to the Silver Bullets of old.
Extremely lame.
Why be like everyone else when we have an iconic band?
My old school hate for him has fermented and anathematized into into the sweet aroma of abhorrence.
Agreed.
I started to dislike Elway when he led Stanford in a come from behind, last min victory vs Mike Tomczak in 82. He was cocky and more The U than Stanford tradition would dictate.
Then his arrogance before and after the NFL draft just helped cement the hate in place. Add in a few AFC championship games and there you go.
Javelin stories always make me remember in the 70s when Saturday Night Live did a series of preempts before the shows cold open. On January 21, 1978 in SNL's third season, people tuned in for the episode nine lineup of comedian Steve Martin / The Dirt Band and singer Randy Newman. An official looking graphic appeared with the NBC announcer said the following:
"Ladies and Gentlemen, Bruce Jenner Wins the Javelin Catch will not be seen tonight, in order to being you the following presentation."
That was my favorite one, but other good ones were
"This week's episode of The Waltons Eat Their Young will not be seen tonight..."
"Little House on the Prarie Burns to the Ground will not be seen tonight..."
Then the Canadian TV show You Can't Do That On Television picked up the preempt idea and ran with it, gaining popularity when Nickelodeon began airing it. YCDTOTV began using the idea throughout the show- maintaining the subject idea throughout the episode.
The preempt would be "Kermit The Frog Tries to Cross the Road won't be seen tonight..." and the graphic showed he was trying to go to Miss Piggy's house late at night. A while later another preempt would appear "Miss Piggy Sues the National Enquirer will not be seen tonight..." and so on.
Jenner's Javelin catch was the best though.
One ring to rule them all.