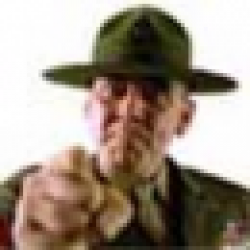 BigDrill
Alexandria, VA (via Worthington, Ohio)
MEMBER SINCE August 28, 2013
Husband, Father, Soldier, Pastor, Buckeye. 25 years in the Army - retired in 13 as a BDE CSM. Always a Buckeye fan.
Favorites
COLLEGE FOOTBALL PLAYER: Chris Spielman
COLLEGE BASKETBALL PLAYER: Granville Waiters :)
MLB TEAM: Reds
Recent Activity
Raw and talented + Larry Johnson = Monster.
I think Day sees the portal as a tool and supports it for many reasons. But as this thread repeatedly indicates, character plays into it.
Who is currently in the portal and why? Graduate transfer who fulfilled all the requirements asked of him? Homesickness? Family hardship? Other issues (Fields)? Or is it that a player is giving up, or unwilling to do the work to compete?
Follow Day's comments on OSU players entering the portal and I think you can tell in which grouping he believes the player lands.
The OSUvNEB game thread on MGoBlog has that sentiment throughout the thread.
They went through all the stages of grief by halftime.
Good read.
Open the vault! Keep him happy and in Columbus.
Yes, Nebraska and company will be up for the Buckeyes at night. But reality will hit them right in the mouth when they realize Chase Young still plays at night.
I liked that one as well.
Columbus School for Girls is better than Oregon State.
Here's hoping this season is his launching pad to the next level.
Having a guy like Arnette say something to the effect that staying this season and learning from the coaching staff at DBU allowed the staff to help him hone his skill set and prepare for the next level would be a ringing endorsement.
As would a return to the Silver Bullets of old.
Extremely lame.
Why be like everyone else when we have an iconic band?
My old school hate for him has fermented and anathematized into into the sweet aroma of abhorrence.
Agreed.
I started to dislike Elway when he led Stanford in a come from behind, last min victory vs Mike Tomczak in 82. He was cocky and more The U than Stanford tradition would dictate.
Then his arrogance before and after the NFL draft just helped cement the hate in place. Add in a few AFC championship games and there you go.
Javelin stories always make me remember in the 70s when Saturday Night Live did a series of preempts before the shows cold open. On January 21, 1978 in SNL's third season, people tuned in for the episode nine lineup of comedian Steve Martin / The Dirt Band and singer Randy Newman. An official looking graphic appeared with the NBC announcer said the following:
"Ladies and Gentlemen, Bruce Jenner Wins the Javelin Catch will not be seen tonight, in order to being you the following presentation."
That was my favorite one, but other good ones were
"This week's episode of The Waltons Eat Their Young will not be seen tonight..."
"Little House on the Prarie Burns to the Ground will not be seen tonight..."
Then the Canadian TV show You Can't Do That On Television picked up the preempt idea and ran with it, gaining popularity when Nickelodeon began airing it. YCDTOTV began using the idea throughout the show- maintaining the subject idea throughout the episode.
The preempt would be "Kermit The Frog Tries to Cross the Road won't be seen tonight..." and the graphic showed he was trying to go to Miss Piggy's house late at night. A while later another preempt would appear "Miss Piggy Sues the National Enquirer will not be seen tonight..." and so on.
Jenner's Javelin catch was the best though.
One ring to rule them all.
Great example bringing up the NCAA's statement. To me they should enforce rules they have, if the opposing coach catches it or not.
Once they hit OT nothing before that really matters. Sure it was a close call that MANY of us disagree with, but I was glad to see Joey make the final. He had a legit shot, even in OT.
Go Bucks!
Small school love. Nice. That's what's cool about wrestling, the individual wrestlers from the smaller schools seem to get love from the crowd in the underdog effect. Drew Foster from Northern Iowa got the same kind of support, and even people who know little to nothing about wrestling seem to pull for the smaller schools vs the known, larger programs.
He really came off as a tool bag in the interview. Such a contrast from the Penn State interviews.
Whizzer Overhook? I think I saw them at the Newport on campus in 85.
Othello Hunter got better as the season went on. It was like something just clicked and whatever it was enabled him to eventually sign with ATL from the summer league team and they carried him for or two seasons in the NBA. In Europe he worked his way up from mid-level teams into the top tier of the league. My wife's grandfather even met him in Greece when he played for Olympiacos when they beat his beloved Panathinaikos in the Greek championship. Hunter is STILL PLAYING for CSKA Moscow.
From Wikipedia:
After high school, Hunter attended Hillsborough Community College, in Tampa, Hillsborough County, FL for two years, and he became a part of the Ohio State University's 2006 "Thad Five" recruiting class. After playing two seasons at Ohio State University, with the Buckeyes, during which he managed to post the seventh-best single-season field-goal percentage in school history, he entered the 2008 NBA draft, in which he was not selected.
Professional career
NBA: Hunter joined the Atlanta Hawks' summer league squad in the summer of 2008. In five summer league games, he posted 13.2 points per game, 2.0 assists per game, 1.2 steals per game, and led his team with 6.2 rebounds per game. On August 11, 2008, the Hawks announced that they had signed Hunter to a contract. Hunter was waived by the Hawks in January 2010.
Europe: In 2012, after playing three months with the Ukrainian SuperLeague squad Azovmash Mariupol, he signed with the Spanish ACB League team Blancos de Rueda Valladolid. On August 26, 2013, Hunter officially signed a one-year deal with the Italian League team Montepaschi Siena.
On July 8, 2014, he signed a contract with the Greek League team Olympiacos. In his first season with the team, in 2014–15, Olympiacos advanced to the 2015 Final Four of the EuroLeague, where they lost in the EuroLeague Finals game to the host team Real Madrid. Olympiacos finished the season winning the 2014–15 Greek League championship, Hunter's first major title in his career, as they swept their arch rivals Panathinaikos, in the finals series of the Greek League playoffs. He also won the 2016 Greek League championship with Olympiacos.
On August 29, 2016, he signed a two-year deal with Real Madrid. On July 13, 2017, Hunter signed a two-year contract with Russian club CSKA Moscow where he currently plays.