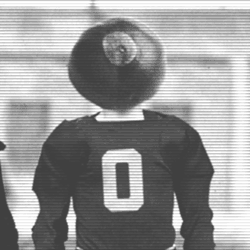 bigc
---
MEMBER SINCE February 14, 2018
Recent Activity
Anyone a little worried about Wisconsin? Im not really but that defense looks pretty stout
Maybe they should've kept Hoke. They at least kept it close against us sometimes...Beat us in 11, gave us all mild strokes in 13. What's the closest Harbaugh has been to beating us? 10 points? 14 points? Michigan is definitely a hoops and women's softball school now. It's soooo weird seeing them in the state they are now, especially as a teen in the 90's whose soul was ripped out every year in November.
Almost anywhere is better then Chick-Fil-A. Their original chicken sandwich is bland, dry and I have to slather a ton of mayo on it just to eat it. I've never understood what people love about it. Their waffle fries are good, but the chicken sandwich isn't good at all. Popeyes for the win.
I'll have to check that out. The cheapest I've seen were $130/ticket for upper corner. And the fees were $25/ticket. But it's Ryan Field, and even their worst seat is still a great seat at Ohio Stadium. And I guess it's better we can gripe about ticket prices then become ichigan and give them out with a large pizza from Domino's, or whatever that was. When u are one of the Kings of college football demand is high.
Ticketmaster.com prices are insane..plus they charge a whopping $25 per ticket for service fees I haven't been to a college football game in 8 years. My goodness it's gotten quite expensive to watch OSU.
That was really fun to watch. Very intense down the stretch. Congrats Carmen's Crew for cashing in!
1996 Season opener against Rice. My brother was beginning his sophomore season at OSU, and until I never cared much for college football. Only watched the NFL. I was 13 at the time just beginning 8th grade. Our seats were under the deck on the closed in behind the end zone. Pretty nice seats. I vividly remember Brutus taking a box of Uncle Ben's rice and ripping it to shreds. OSU routed Rice 70-7. I had never even imagined a team could score so many points, which happens annually with many teams now, but back then only watching the NFL it was unheard of for me.
I was sold. Also, him taking me to a keg party that night (at 13 years old no less) and seeing college girl boobies and other stuff I only had seen on Skinimax made me immediately love OSU. My 2nd game was the following week, when OSU trounced Pitt 72-0. To this day I have no idea how we lost to Michigan that year. Wait, yes I do, Cooper was the coach.
1. Marions Piazza. Specifically the Beavercreek one, although I'm sure they are all good. The super thin slightly burnt crust, so crispy. The tiny bite size pieces. So tiny that it's like eating popcorn. You can always eat one more lil piece. I don't get sausage on pizza from anywhere-except Marions. It's ground up so finely it's just a layer of smooth meat on top. So good with that thin crust. The sauce. Yes, it is canned sauce. But dammit it is the BEST canned sauce I've ever had. Just love Marions. Plus, and I'm sure some others here that grew up around Dayton can attest to, the place holds some special memories from my childhood. They all used to have giant arcades, which I remember being amazing as a kid. You can get a pitcher of beer or Pepsi, or a canned drink from virtually every other beverage maker. It's so odd but cool. You can RC Cola, Pepsi, or Coke. Just unique.
2. Donatos. It's a chain but a local chain. And just because a place is a chain doesn't necessarily mean it's bad. Sometimes something so great has to be spread around. And besides, I've also had mom and pop pizza that sucked. It can go both ways. Not much to add about Donatos that other's haven't. I love thin crust pizza and the cornmeal dusting on the bottom, the usage of provolone cheese over mozzarella, and the large pepperoni pizzas's with over 100 pieces (about 104-106, I used to work there), are just some of what makes Donato's so good. And while a lot of other places just have specialty pizzas for the sake of having specialty pizzas, Donatos has some truly unique ones. I especially love the Mariachi pizza's, in either beef or chicken. I like it cause it's got a great mariachi seasoning and isn't as messy like a lot of places taco pizzas.
Also, I think Donato's has some of if not the best subs of any pizza place. I prefer Donato's subs over many sub only shops.
3. Sbarro's... Please, be kind!!! What can I say? I've never been to New York or Italy, I've only had Giordano's and Uno's in Chicago, and my current city of Fort Wayne has crap pizza. Just the worst. But Sbarro's. I dunno. I've always really liked the big floppy slices. Maybe it's tied to childhood memories at the mall eating Sbarro's. but I still grab a slice every now and then and still find it excellent.
Not to get too OT, but are there any pics of the OSU Marching Band in their skimpy's? Asking for a friend.
Who really even cares about any of this stuff anymore? If guys like Sean Miller can still stay employed after what HE got away with, why does the NCAA even pursue this stuff?
It's become clear they have given up.
The thing that puzzles me is why he would scalp them. I definitely think he did, but I always assumed those Buckeye fans that go to every home and away game must be wealthy enough to do so. Is he not a rich as I assumed?
The Bengals! That would make me jubilant. Therefore, it's the perfect fit and destination!
Bragging about being the best before actually proving anything is the Michigan way! He just fits the persona of all Michigan Men!
1993 vs Michigan. My older brother decided he was going to go to OSU and I remember it being the first time I had really heard of OSU. My parents are both IU alum so I went to a feW games in Bloomington, but never against OSU. It wasn't a great first Buckeye game to remember. However, my first two games I remember attending were the 1st and 2nd games of 96. 70-7 vs Rice (I vividly remember Brutus pulverizing a box of Uncle Bens rice. And of course the 72-0 sodomizing of Pitt! Both very fun!
Now I feel bad about things I've said about Michigan, the Steelers and Cubs. I've definitely wished terrible things on those teams and their fans.
I mean were you confident they would win at halftime? Of course I didn't know without a doubt they'd lose, but again they didn't look good in the 1st half, and you couldn't expect MSU to play that poorly for an entire game.
Because I've been watching this team the entire season. They didn't look great in the first half, Michigan State just looked worse. We blew a 9 point lead at home against Michigan State and we did the same thing today.
If I'm being honest I knew at halftime they would lose. Honestly I was debating if I'd even watch this game. They are beyond frustrating to watch and when their games do nothing but anger me I know it's probably not worth watching. When MSU went up 8 I turned it off. Glad I didn't turn it back on.
Overall a lousy sports night in Columbus. Bucks get their pants pulled down against lowly Illini and the CBJ are getting blasted at home. Fans coming out to the two major sporting events in town are leaving sorely disappointed :(
Laughably pathetic effort. Dude can't even dribble the ball. The fans come out and these turds can't even beat bum team Illinois at home. What. A. Joke.
The first Thursday and Friday or the tourney are fun. Especially if OSU and Wright State are in it. If I have enough PTO I usually take off the Friday, and hope my team(s) are playing that day. If I had a ton of pto I would love to take off both days. I usually enter a huge pool, which of course makes the tournament fun to follow.
I flipped to the Spanish broadcast because the announcers were so irritating!
It was actually comical at times watching Ohio State try to break the full court presses, but a win's a win. Thank goodness they didn't blow it! I love watching them play no matter what but having NCAA Tournament aspirations makes it more interesting. Glad they are still in the mix.