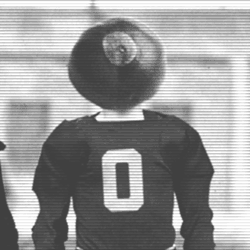 bigc
---
MEMBER SINCE February 14, 2018
Recent Activity
Let's become an independent. We all know the Buckeyes don't need a conference anyways.
So you prefer coming close then actually winning anything of substance? The Browns are like a less successful version of the early 90's Buffalo Bills. Close but no cigar.
I get it and I'm not belittling your choice.
And they came oh so close in 2016. Boy what a year that could have been for Cleveland. I was even rooting for them, but that's because as a Reds fan I couldn't stand seeing the Cubs win anything.
Most Cleveland sports fans I know are easily Browns 1, Indians 2 and Cavs a casual 3. Don't get me wrong my mom was absolutely delighted when the Cavs won the NBA Title but seeing the Browns win the SB might be her biggest wish in life. Bengals have definitely bern better then the Browns over the last decade, though the last 2 yrs the Browns have the edge. Still, both teams pretty much suck consistently. Indians have been better over the last 25 years buuuut at least the Reds have won 3 WS since color TV has been around where as the Indians last title was closer to 100 years ago then 0 years. BEST sports town has to be Boston right? Patriots, Red Sox have had tons of success in the last 20 years. Also, if this is all based simply by most successful sports cities then the #s don't lie, but I would argue best sports towns should also take in consideration how engaged fans are. Browns fans care much more then 49ers fans even though SF has been more successful the last 10 years.
The Penguins have the same colors too. They have black and yellow on lockdown. Fuck Shittsburgh.
Yeah 2018 vs Michigan may be the most satisfying. The mere thought of losing to them is hard to swallow but that year truly felt like we would lose and we deserved to lose. The funny thing is after Michigan recovered that botched kickoff return and quickly made it a one score lead at halftime I fully expected osu to lose. But the 2nd half was a blowout, and I realized that day that Michigan really is OSUs bitch and even though we are always superior talent wise we have definitely gotten in Michigans heads. It was so fun going out shopping later that day and seeing some Michigan fans heads look down when they saw me and my strutting around in our osu gear.
Thats for sure. I really cherish some of those Buckeye teams from my youth. Unfortunate some of those seasons were often shattered dreams thanks to ttup, but it was a simpler time in my life and many of the Cooper teams were damn good, just lost focus at the worst possible time.
Favorite moment is probably the Bama win, but favorite memory, if it's ok to be something different, was Ohio State beating IU to clinch the B1G in 96. Just like the year prior in which OSUs perfect season was ruined by Michigan the 96 season ended the same way. But I was at the 96 game at IU with my Dad, who is an IU grad. I had grown up going to one IU game a year on a trip from Dayton and always rooted for IU. But I was young and really didn't care that much about college football. That all changed when my older brother started OSU in 95. And actually 95 I didn't care about OSU yet. But in 96 my brother took me to the opener against Rice and the 2nd game against Pitt, and after seeing them win 70-7 and 72-0 I was an instant fan. Hell I had only really followed the NFL before that, and i was a Rams fan, so seeing a team score 70 seemed unreal to me. Fast forward to 96 against IU, it was a weird feeling rooting for OSU and rooting against the team I had casually rooted for as a younger kid. I felt bad rooting for the other team sitting next to my Dad but whatcha gonna do? He moved to Ohio with my mom after college, and his other son whom I looked up to showed me an awesome time at OSU. But OSU only won by 10, so at least he wasn't defeated early. When osu won a bunch of Buckeye fans including myself stormed the field. Some Hoosier fans tried valiantly to defend the goalpost, but I recall it going down. On the return home we stopped at Dennys. In hindsight it's not the biggest win at all by OSU, but it was a great memory with my dad.
Wearing a mask and practicing social distancing at least gives us a fighting chance to have a season.
In all honesty it won't affect me either way if they change the name. But I do love their helmets, particularly the face. I hope that remains but of course it won't. They'll probably go with something lame and generic like all of the expansion teams of the last couple decades have done.
Cleveland Engines. Powerful and a lot of horsepower.
Snice they will probably cave in to wokeism maybe the should be called the Foreskins. Kinda fitting right?
Donatos ftw! I'm not from Columbus, but I've tried Adriacticos, Hound Dog, and Masseys (sp?), and they are all great, but for me it's gotta be the Chicken Mariachi. Light on the mariachi seasoning, but lather it up with the sour cream. I worked at a Donatos in Beavercreek in my younger years, and even though you'd think after a while I'd be sick of it, it never happened. Still love Donatos as much now as then. It's also the only place I'll get a pepperoni only pizza. Over 100 pieces. So small and burnt on the edges. Soooo good. The Founders Favorite is excellent too. And their Big Don Subs are simply amazing!
I have fond memories like that as well, only my paper was the Dayton Daily News. But I had the same tradition, look at all of the hs scores from the night before, maybe watch a little gameday, or maybe play a quick game of backyard football before college football starts at noon. As an adult the traditions changed, but if as an adult I ran my errands before noon, I still try to be back home at noon for college football. Love those Saturdays with nothing I have to get done and being able to watch from noon-late- really late if Hawaii has a game at midnight.
When the Buckeyes lose I ask myself why I invest so much emotion into it, because that Clemson loss felt so cruddy. But when one of my favorite teams wins a thriller I quickly realize why I keep watching.
Who knows maybe sports are a stupid distraction from life but don't we all need these? And if I enjoy watching, and the players I watch enjoy playing, what's so bad about that?
Very few things give me emotional goosebumps like a Reds walk off, a Buckeye rally like the one against Penn State a few yrs back, a buzzer beater by Wright State, so no I don't feel stupid at all. I sorely miss having the familiar sound of Reds baseball on each summer night.
When it comes to whether it's the Right side or Left side of the line I am dyslexic. It's been explained to me countless times yet I always get confused by if you are viewing from the QB's view of from the D's view.
There must be a defect with the search engine on this site. I searched for "Diontae Johnson" and nothing came up. Forgive me for reposting this but I did use the search engine first! Not my fault!
I think the sign was meant to criticize Michigans Covid-19 policies but I wasn't posting for anything having to do with that.
I would have thought the guy who tried to plant a flag on OSU's fifty yard line and also tried to run from cops in a drunken bout of patheticness would be #1
They could have traded down to get him. Good player but not 33rd best.
Last one before actual draft for me. I like to have fun so I traded the 2021 1st to grab Simmons. According to the NFL.com draft profiles they think Simmons will be a regular pro bowler. The teams two glaring needs are QB and OLB, so to me giving up a future 1st (and some other picks obviously) to get a great talent in Simmons was a wise choice.
Just having fun would love a little feedback!
Round 1 Pick 1: Joe Burrow, QB, LSU (A+)
Round 1 Pick 19 (L.V.): Isaiah Simmons, OLB/ILB, Clemson (A+)
Round 3 Pick 31 (DEN): Alex Taylor, OT, SC State (A+)
Round 3 Pick 34 (N.E.): Adam Trautman, TE, Dayton (A+)
Round 4 Pick 12 (DEN): Damien Lewis, OG, LSU (A+)
Round 4 Pick 13 (ATL): K.J. Hill, WR, Ohio St. (A+)
Round 4 Pick 19 (N.E.): Anfernee Jennings, DE/OLB, Alabama (A+)
Round 5 Pick 17 (CHI): Joe Bachie, OLB/ILB, Michigan St. (A+)
Round 6 Pick 17 (CHI): Benito Jones, DT, Ole Miss (A+)
The A+ ratings are just what the board I used rated them.
I could have sworn I read he retired from football and joined WWE. But apparently not at all if New England can still "trade" him.
""The problem is that I don't know that Miami feels strongly enough about Burrow compared to the other QBs to make any sort of drastic move."
Miami definitely wants to trade with the Bengals and it's definitely for one player.
It also seems like he finally letting Katie, Tobin, and Coach Zach run the show now. All of the F.A signings were not Browns usual methods.