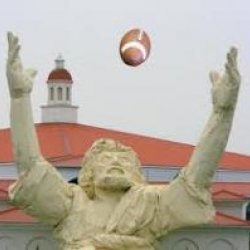 Bigbutterbuckeye
---
MEMBER SINCE April 12, 2013
Recent Activity
I hope the first words spoke in practice tomorrow are "This means nothing"
Badgers keep it close for a quarter. Like 10-3, 14-7 Buckeyes.
Buckeyes put up two TD in the second, up 24-10, 28-7 at half.
Bucks come out hot, two TD in third, go up by 28. All but done.
Couple scores in garbage time, final 42-17.
If the Buckeyes go up more than two scores Badgers just aren't built to overcome that. And by then their defense will have been on the field a lot, with their bench not nearly as deep.
Put me down for Giant Meteor.
Was Army running the triple option on defense too?
I go on youtube every once in a while just to watch his highlight reel. After lots of times watching it there are still times I am amazed at what he did. The combo of him and Smith must have put a ton of pressure on opposing coaches and secondaries to be perfect or pay the price.
I still can't believe that is Olave in that picture up top. It looks like he has gained a quarter of a person in the last 7 months.
Let me translate Franklin's comment- "Get me the f#%$ out of this division!"
That's what I was thinking, but I am willing to cut them some slack, it does go a bit further east.
I think we need to develop a short yardage package built around Dawand Jones. I don't want to meet the guy that has no fear plugging the hole with him coming thru with a full head of steam.
6'4 + Marvin Harrison's son....I really don't need to see any tape.
I'd like to thank Jim Lachey for not moving back to St Henry and raising his boys there in the middle of MAC land. =;)
To be fair, most years Tressel started running time off the clock on Tuesday of Michigan week.
If getting Patterson back for another year was a 5 star for TSUN, what the hell is this?
While I don't think that is a serious plan, it sure works for Notre Dame. If the entirety of a season is going to be used to evaluate every other team, it should apply to them too.
Mike Hart is my favorite Wolverine....think we can get him 4 more years of eligibility?
Here is a complete list of the PSU haters responses after the game:
.
In other news, is it ok if we start rooting against Joe B and LSU or are we hoping they are Bama killers?
1060 yards on only 36 catches? WAT?
Yeah it also contains samples from "Werewolves of London" by Warren Zevon, another of my favorite songs, so it doubly pisses me off when I hear it and it is neither of these songs.
Yeah in the reddit thread TTUN fans were already kinda bitching about the value of Tom Brady. How many points do you give a successful 7th rounder? How many do you take away from a first round bust? While your system is simple other than having a shit ton of mathing involved, I like it because it basically just evaluates how well schools prepare players up till the draft. After that it is all on the player and the team that drafts them.
Hope I'm not jinxing him by mentioning him in the same sentence as a skunkweasel, but if he could be Jake Butt this year that would be awesome.