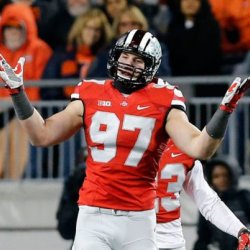 Bigbuckeyes
Columbus, OH (via Avon Lake, OH)
MEMBER SINCE December 27, 2014
From NE Ohio
2 time graduate of The Ohio State University
Favorites
SPORTS MOMENT: November 26, 2016 OSU 30-27 TTUN
COLLEGE FOOTBALL PLAYER: Troy Smith
COLLEGE BASKETBALL PLAYER: ET
NFL TEAM: Browns
NHL TEAM: Blue Jackets
NBA TEAM: Cavaliers
MLB TEAM: Tribe
SOCCER TEAM: Arsenal
Recent Activity
I somehow completely forgot or completely avoided for a decade that steve mcnair was murdered. Woof
He specifically lists PSU over OSU as the upset of the year for the conference
Mattison was on the way out of michigan anyway, dude is old and wasn't being offered a new contract. We could use an old but good and experienced coordinator/recruiter though during this transition. No one is saying Mattison is the DC for the future. Hes an Urban guy who will help Day grow as a HC, groom Hafley for the DC job, who has experience working with Washington, and who isn't going to go up against LJ.
Mattison is a safe pick, all things considered.
Thats awesome that Dwayne knows the game so well at this point, but my biggest takeaway is how much Day helped and emphasized these skills with him.
complete domination of ttun
24-0 to start his time at osu
an expectation that every season we have a damn good opportunity to play for the CFP.
And i was fortunate enough to attend 3 of his 4 wins at ohio stadium. I'll never forget those days.
Georgia Tech
Miami
Auburn
Michigan
Oregon
Utah
Iowa
Penn State
Ohio State
Is my guess on who will win. not necessarily who I want to win
Our conference schedule next year is going to be tough, period. Indiana always plays us well, Nebraska with Frost year 2 edition will be better (and they had an under-rated season anyway), and @Northwestern will be big in magnitude.
Beyond just who we play, the schedule is also difficult. @nebraska, Sparty, @Northwestern, Wisconsin all in a row. Then we get Maryland, @Rutgers, Penn St, @tun to following our bye. The only game that is easy is Rutgers.
Do you realize how you sound?
He said he wanted to win a national title with team before the season.
And believe it or not but a person can re-evaluate their priorities during these events. This doesn't mean he was 100% honest about his intentions before the season started.
Sucks but I can't fault him. its hard to sacrifice your health and future when you aren't getting paid for it. another injury and he immediately gets labeled as "injury prone" and it hurts his draft stock. meanwhile it would be poor form to force him out there when his head isn't 100% in it, even if he is physically healed. Hard decision that I doubt he took lightly.
Lets also not ignore that millenials are now getting deeper into the "buying a house and starting a family" thing, all while generally making less money than other generations did at these ages (adjusting for inflation and such) AND having a lot of student loan debt. Even with millennials being less into football, those that are into football just can't afford it like others.
Thats gen z too. Millenials like avocados and destroying the chain restaurant economy.
this makes me a sad panda
do you think millenials don't like to run through walls?
Also.... these are marketing tools. Guys OSU are recruiting are deep into Gen Z territory.
That is clearly the most questionable game, but would have us regain our homeland the quickest.
The more likely outcome is that columbus ends up being controlled by UCF by the end of the season. We wouldn't regain it unless we play UCF in a bowl.
Worth mentioning that the one that began last year (its also at the bottom of the link) could have us reclaiming Columbus after we beat penn state in a few weeks.
What has to happen?
Illinois defeats USF
Penn State defeats Illinois
OSU defeats Penn State
We also would control the vaaaast majority of the country as last year we claimed a lot of territory even after losing to iowa.
Browns have Gordon, Jarvis, and Callaway. Miller would be 4th and competing with Higgins who has earned himself a chance to be that option.
I love miller with all my heart, but the browns don't need him. There are other teams that could use someone like him though, such as Jax.
I think torreira-xhaka pairing is what xhaka needed and that torreira will effectively be a more defensive santi. Xhaka's defensive value is disrupting passing lanes further up the pitch rather than being the furthest midfielder back. In attack he is still a very good passer and is the go-to outlet pass to reset the attack. Or at least this is how i see it.
I'm so excited because of all of that attacking power, but also am worried about the back line. I'm hoping that a better defensive midfield pairing will help the back 4 a lot.
Arsenal have a quality team and I think the changes will work out quite well. There is a new energy around the club. I would not be surprised if they challenge for the top 2 this year. I definitely think they will be better than United and Chelsea.