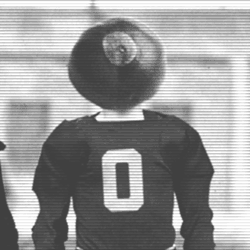 bigbill992001
---
Member since 23 September 2012 | Blog
Recent Activity
And....Devin caught a lot of those TDs with guys hangin all over him. Love you, Devin.
Seemed like JT got a ton of balls batted down last yr. WRs/QBs were 5-11 on hookups of 20+yds in the spring game, and 3 of those were from Burrows. Those #s dont exactly make my hear flutter.
Chaz, im sure you're aware that MOST football plays come down to execution. Therein lies the problem. And, as Kyle, points out, it wasnt just a one group problem. Theres plenty of criticism to go around. Im not so hard on the play calling as some on here, tho it was certainly a factor in some games. Execution, or lack thereof, is the crux of the matter.
Whether it be WRs not getting open, running wrong/poor routes, drops or the Oline not blocking consistantly. As we've seen in our last 2 NCs, a dominant Dline wins games. Often, our Oline was dominated. I know some will point to Weber's 1,000+ yrds. and say how bad could the Oline have been? It was BAD to average. We're an Oline driven team, remember?
Now, we come to JT. I love me some JT, but he certainly seemed to have "regressed" last yr. Whether it be missing wide open receivers, or not seeing wide open receivers or a new QB coach. Also, is it just me, or does JT get a LOT of balls tipped at the LOS?
Execution. EVERY play is designed to be successful if it is executed properly. Lack of execution will make ANY called play look bad.
Lets GO BUCKS!
Dont forget that the team was on an emotional high, too. Lost a teammate to suicide, lost Barrett, and had to rally behind Cardale. Everyone seemed to step up their games.
Wait.......the defense was awesome? I admit that 2 INTs is good, but 31pts? Almost 500 total yrds? I dont remember, how many sacks did we have? And 5.5 YPC? Granted, no 100 yd. rusher or 100 yd WR for Clemson. That just doesnt add up to awesome.
I think he comes back. Love me some JT, too., but honestly, i dont see him as NFL quality QB.
Devin Smith. He caught those balls with guys hanging all over him, except the 1 that the DB fell down.
Is it just me, or did JT get a TON of passes tipped at the LOS this yr? Not all on him, the OL looked like they were playing mud up to their knees. Now we know why everyone outside tOSU calls us orverrated. Damn frustrating.
Im not so sure that Tress was outcoached so much as FL defensive line had our Oline for lunch.
I dont know. Im still hiding my face after they couldnt get 1 yard on 4th-1 against Maryland. Come on, guys. How can i face my friends? :P
Maybe they thought after a big win on the road that they could mail in the rest of the season. They definitely peaked early this yr.
56-5, which by any measure is outstanding. Whats frustrating bout those 5 losses is that 4 of them are directly attributable to inexplicable game plans and the staff being unwilling or unable to make in-game adjustments. It also seems like our team really struggles when the weather is less than ideal.
The question that no one seems to want to ask is......."WHY didnt Samuel get more touches instead of running the franchise QB 26 times"? I heard a rumor that the coaches actually have plays just for CS to touch the ball.
Yeah, lots of bad officiating today. Has anyone noticed, also, that in week 5, they're still getting those "5 men in the backfield" penalties?
YES! YES! YES! and YES!......"Downtown" Noah Brown!
INTs aside, I thought the 2ndary was beat on several occasions. Drops and overthrows by BG made it look better than it was. At this point, im not totally impressed with LBs or DL but it should get better as the season rolls on.
GO BUCKEYES!
And.......how bout "Down Town Noah Brown"? Not a mention?
Houston. Some folks call them the Cougars....I call them Buckeyes West.
They said they were gonna get Curtis "At Your Service" Samuel a lot of touches, and they did.
Webber definately looks the part.
The Urbmeister is happy with his young team's development? Thats almost scary!
Which also marked the rise of the "back up QB" at tOSU. I also find it interesting that '14 was the yr. the offense scorched people and was the yr. with the most attempts. Just sayin'.
Collier certainly had some good moments, and I liked his run game.
Oh, Studs, some really great quotes. Hahahaha. I hope you're better at coaching than commenting.
Our guys lose on a last second field goal to the #4 CFP team and Bama loses by 6 to Ole Miss and ends up being the #1 seed. Go figure.