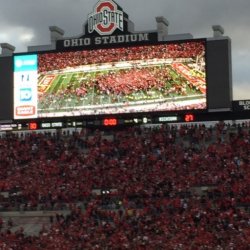 Big Papa
---
Dublin (via Huber Heights)
Member since 11 July 2014 | Blog
Favorites
SPORTS MOMENT: Cie Grant crushing Ken Dorsey on 4th and goal
COLLEGE FOOTBALL PLAYER: Spielman of course
COLLEGE BASKETBALL PLAYER: David Lighty
NFL TEAM: Browns
NHL TEAM: Blue Jackets
NBA TEAM: Cavs
MLB TEAM: Indians
SOCCER TEAM: Crew
Recent Activity
Oh yeah.... and I lived in the top floor.
My parents moved from Dayton to UA the summer after I graduated from High School (1987). I was a freshman in Morrill Tower which was about five minutes from the house. They used to show up unannounced to make sure I was going to class. The people that worked in the front lobby knew they were my parents and they used to call me to tell me they were on their way up. This was after my folks had caught me skipping class and drinking beer at noon on Fridays.
How is the Holy Buckeye catch not on the list. Jenkins extends his arm to block out the defender then makes a great over the shoulder catch.I would put that over the Vance catch just because of what was at stake. Still a good list though.
12 of the top 14 are womens/mixed sports. Girls really are samrter than boys.
I have a quick fix. Hire Mickey Mariotti to run the strength and conditioning program. Or at least see if there is someone he can recommend. Our players need to add strength and get in to better shape. I think that is why we had so much trouble closing out games. Get them leaner, meaner, and stronger and many of these close games would turn in our favor.
Good luck Ed. I do believe you are the best offensive line coach in the country and I wish we could have kept you here in that capacity.. You completely transformed a unit that had under performed for several years under Bollman. I wish you all the best.
That is Andrew Miller's walk up song for the tribe.
That is Andrew Miller's walk up song for the tribe.
Weston Steelhammer also won the award for greatest football player name.
I always cringe when I hear embarrassment of riches. In 2003 I heard Herbie use that term referring to our running back situation. The next week Maurice Clarett got suspended for the year. Then we found out Lydell Ross couldn't hit the hole and Maurice Hall couldn't break a tackle. Our running game that year was abysmal that year.
This is what their D-Line saw coming at them.
Michigan did not "avoid the noid." Classic Dominos reference Rocket Man.
12 Gauge will be locked and loaded for sure. I wonder if that is his real nickname or one the Fox broadcasters made up.
Parochial schools should have their own conference. They can recruit the whole city. That is why St Eds, St X, St Igs, win the title every year.
Here come the down votes.
Ric Flair would have been proud.
Can you imagine Saban's vs Meyer in the firstround. Most viewed college football game in history. Now let's see what the committee does.
He is a human wrecking ball. That is one giant QB. He makes the lineman look small in the huddle. I would not want to tackle him in the open field. Watch out Wiscy, The J train is coming at ya.
They pull no punches on mgoblog. I laughed out loud.
Troy Smith=Wolverine slayer. It was a pleasure to watch you play sir.
Jmacbuckeye, what is best in life ?
Crush the Wolverines
See Brady Hoke cry
And the destruction of the Badgers
If Arkansas wins this weekend I expect them to be ranked no lower than 3 in the CFP rankings. Insert sarcasm font.
I agree 100%. I was at the 96 game and will never forget how sick I felt walking out of the stadium. Anyone that went to school during the 2-10-1 stretch will remember the bitter disappointment after the 95 and 96 games. The best team does not always win this game so we had better come prepared to play.
I have concerns containing their run game. The our last two opponents have been able to pound us inside which I did not think was possible. We knew Minny was going to run and we still struggled.