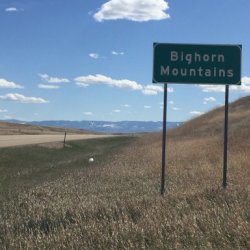 Big Horn Buckeye
---
MEMBER SINCE January 22, 2017
Recent Activity
Not sure he impressed with the Spring Game.
End of day, you have guys you expect to produce. And other guys that if they make a play, you are happy, and if they don't make the play, it wasn't expected.
Parris Campbell with the long touchdown catch on the jet sweep. You expect him to produce. Not surprised by the play, it was awesome!
Bin Victor against PSU, was surprised with the catch and stunned by the run for the TD.
This is the difference from a starter to someone who is still developing.
Experience is one thing, returning as a starter is another.
Enough with the 6 starting WR's....
They didn't start. They have experience but have been inconsistent. KJ has been consistent, but now he is a leader and being counted on to produce.
Seems like Stewart might be being looked at for the Bullet position.
The complexity comes in communication. I had a team run a complex offensive scheme. Using understandable and consistent terms, our players were able to execute hundreds of plays due to using a system instead of a playbook. Communication and vocabulary are the keys!!!!!
Congrats to CJ! What an accomplishment!
Can't say that and be right. He started at Ohio State, apparently he did have what it took to do that.
Very true. I am cheering for the team in every game as I take my family to restaurants each game to watch!
In my non fandom thinking.... I don't think they have a chance to win it all this year, so let's go somewhere to get the most work done to prepare for next year when our roster is that of a title contender. I look at ways to get better,just like you from your post.
At this point, survive and advance! Go Bucks!
I want to thank you for bringing up the wonderful memories of that Reds team! The A's had already lost in '88 but did win the Series in '89. I do remember all of the talk about an A's sweep! It was a sweep alright!!! Bottom line, the Reds lead their division the entire season. Then beat the Pirates with their awesome outfield of Bonilla, Van Slyke and (skinny) Bonds. It wasn't like the Reds didn't do much before the World Series started.
Those two title games were from a different era in college basketball. Those two teams were lead by seniors.
Nova beating Georgetown and going 9 for for 10 in the second half is phenomenal! Only taking 10 shots in 20 minutes and making all but 1.
NC State won their conference tournament to make the field. And beat a Ralph Sampson lead Virginia team and a pretty good UNC team with at least 3 long time NBA players in Perkins, Worthy and Jordan. Their win over Houston didn't exactly come out of nowhere.
Ahrens had 1 game, and scored 28 points, which is Awesome for him to accomplish that! I never did. But the next game he inexplicably took 1 shot.... means he is not ready yet. Not knocking him, he has potential but potential means he hasn't done it yet.
The teams that were mentioned were not known for a surprising first round win except for NC State. Pepperdine had them on the ropes. But all of those teams had accomplishments involved, prior to them winning the title, Picnkey was an All American and Nova plays in the same conference and was competitive with Georgetown, so they weren't intimidated, like others by their Twin Towers.
I will be cheering for the Bucks tonight! I hope they do win! Go Bucks!
The goal is to win a National Title, not to make a tournament. They aren't going to win the title this year.
How much has last years NCAA tournament helped this year? It hasn't even been mentioned!
In football, the biggest advantage gained in bowl games is the extra practice time, not the game. How much do you here experience affecting the outcome of the CFP?
So the goal this year is to get better for next, to keep playing and have more practices.
I am glad for the seniors that they did get to the NCAA tournament. And Woods had a good game!
i will be cheering for the Buckeyes today and will be happy if they win! But will continue to enjoy being a Buckeye fan regardless of the outcome. I imagine you will do the same. Go Bucks!!!
Go Bucks! I think Houston is a winnable game too!
The running game numbers to consider is nit 6 on 7....
It would've 3 on 3 or 3 on 4, as you split the field in half. The farther a defender is from the ball horizontally, they eliminate themselves to running plays to the other side.
And declining an invitation to play is short-sighted.
And this is based on......
Your right! We will get a participation trophy from the NCAA tournament and gain an additional day of practice!
I was hoping NIT. Young team, not going to win the tournament. I thought we might make a longer run gaining additional practices and games. Thus more experience in tournament play for next year, as I felt more confident about winning 3-4 games and not 1 maybe 2.
Manning isnt the problem for the Giants.
That has nothing to do with knocking the other team off the ball on predetermined run plays. We didn't do that.
Orlando Pace anyone? Jack Tatum, Chic Harley??
The Super Sophs were so talented, the coaches had a draft for offense and defense!
Different era? Absolutely! Highest rated recruit... this era, maybe. He is a transfer, not a recruit.
How about having 2 backs that had gone over 1,000 yards and not be able to run the ball?
The Rsoe Bowl has a different ending if the OLine could move guys to run the ball after the 28-7 lead. So, how good can a line truly be if a team is one dimensional because of it.
Bottom line, the starter will should show himself to the team, with leadership and performance. If none emerges, that is a problem.
Tuf was okay pre-injury and was not okay post-injury.
LB's are rated to be far better than average and almost outstanding based on what?
Agreed! An online that struggled for most of the year to open up holes for two proven and very capable backs, and these guys didn't beat them out of their jobs. Ceilings are higher with this bunch? Why?
Tough to give anything higher than average at this point. C at best.
It will be interesting to see what the new offense will be. Spread the field sideline to sideline, throwing the ball and add a downhill run game is what I hope to see!
Bottom line,this really is not that hard to figure out.