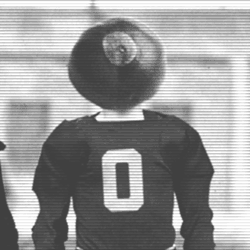 Big D
---
MEMBER SINCE October 02, 2010
Recent Activity
First: Pink Floyd in the Shoe, 1988
Favorite: Same. 88 show beats the 94 show for me for 2 reasons: In 88, the inflatable pig came out of the stage for One of These Days, and came out over the crowd. It traveled the length of the stadium, bounced off the flagpole to turn around, and went all the way back. 16 year old me freaked the f**k out, it was awesome. They didn't repeat the trick in 94. Also, I lost the first 20 minutes of the 94 show listening to 2 girls repeatedly trying to tell us we were in their seats, and they were in the wrong section.
Last (10 or so): Ben Folds. The wife and I are mini-Ben Folds groupies, we try to see him whenever he is around, or even make a fun weekend trip. The last 2 shows were him solo with a piano, and of the 20ish times we've seen him, those were the first 2 solo shows we had been able to make. We've seen him with symphonies in Columbus, St. Louis, Louisville, Pittsburgh, and Nashville. Got to see him with YMusic at the Ryman in Nashville as well. If one of your favorite acts is touring and is playing the Ryman, make a weekend of it and go. NashVegas is a fun town, and there's all kinds of music history there as well.
My friends and I were in a Ruby Tuesday about half a mile from Sun Devil Stadium. I had "purchased" tickets from a broker on Ebay after the Illinois game, rolling the dice that the Buckeyes would get the job done the next week. They did, and we flew into Vegas and drove to Tempe to meet the broker and attend the game. As you can guess, the broker was a no show, and my friends and I could not find any tickets on the street for less than $600. So we stood in Ruby Tuesday, and watched the game on a 19" TV with a restaurant full of OSU fans. When the game went final, we paid our tabs and ran to the merch tent outside the stadium and bought all kinds of championship swag.
The "broker" was arrested and convicted of federal charges. I wrote a flowery, over the top letter in an effort to make sure he went to jail. A couple of the news articles after his sentencing quoted my letter. Per the terms of his sentence, the victims were to receive restitution for the money he took, plus either the additional money spent for replacement tickets, or travel expenses if you did not get new tickets. I think I received about $50, but nothing since 2010.
Here's one article on the sentencing, I didn't have any luck finding an article with my letter quoted though.
https://www.google.com/url?sa=t&rct=j&q=&esrc=s&source=web&cd=1&cad=rja&uact=8&ved=0ahUKEwiitLitnMDYAhUBxCYKHfY5Ai0QFggpMAA&url=https%3A%2F%2Fwww.deseretnews.com%2Farticle%2F595059000%2FPrison-term-for-Utahn-in-Fiesta-Bowl-scam.html&usg=AOvVaw1QH6Zg6D5EGtpKgbwwNnAv
I have a confession to make.
The 2010 alt is my favorite. I loved the number font on the '42 jersey.
Yes, I'm probably the only one.
I think there is a story by Ramzy somewhere about how horrible getting your tonsils out as an adult can be....
Ah, Google is my friend.
https://www.elevenwarriors.com/ohio-state-football/2014/05/35566/blood-everywhere-my-tonsillectomy-recovery-soaked-ohio-state-football
The sun should be coming up as I walk out of work, but the epic shade Ramzy's throwing at O-Zone has me lost in the darkness...
Jackie Sherrill thinks that is adorable.
http://articles.chicagotribune.com/1992-09-15/sports/9203240078_1_castrated-jackie-sherrill-notre-dame
A million times this. I assume the staff expects a few transfers, but I don't want to be anywhere close to an over signing situation.
As I don't follow recruiting too seriously, I now know why I saw Fickell and LJ Sr. eating breakfast at the Pickerington Bob Evans last Monday morning.
The first R movie I remember seeing in the theater was Stripes. I was 9. Guess my mom wasn't looking for any Parent of The Year awards in 1982. My 2 favorite Ramis parts:
[when Russell is teaching English class]
Russell Ziskey: Okay, I know you're anxious to jump right in and start speaking English, but there's a couple of things I need to know first, because I've never done this before. So, how many of you would say you speak English fairly well, but with some difficulties?
[pause]
Russell Ziskey: A little English?
[a man raises his hand]
Russell Ziskey: Yes? You speak some English?
Man learning English: Son of bitch. Shit.
Class: [in unison] Son of bitch. Shit.
And #2:
John Winger: C'mon, it's Czechoslovakia. We zip in, we pick 'em up, we zip right out again. We're not going to Moscow. It's Czechoslovakia. It's like going into Wisconsin.
Russell Ziskey: Well I got the shit kicked out of me in Wisconsin once. Forget it!
RIP..........
I think it's easy to blame Ayers for all the stuff that went down. He deserves his share to be sure. But the nature of the OSU hoops job 20 years ago was to get Ohio's best players. The problem was Ohio's best players were either not that good, criminals, or in a couple cases, BOTH. Greg Simpson, Charles Macon, Damon Stringer, Jami Bosley, Shaun Stonerook, Jermaine Tate, and on and on. We didn't have the national profile T. Matta has brought to the program, so we weren't going to get high profile guys from all over. Basically, Jim Jackson made his career, and the other shmucks killed it. He only got half a season more as a head coach since he was fired here.
No way in hell is he a HOF coach, but if he was a program killer, he had an awful lot of help. Boban Savovic is 10x the program killer Ayers was for us.