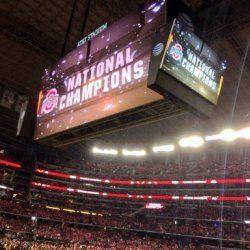 Biennial Field Rusher
---
from Delaware
MEMBER SINCE December 23, 2018
Favorites
SPORTS MOMENT: 30-27. 62-39. The sheer excitement of the field rush.
Recent Activity
BK follows Wilfong and puts a CB in for Stroud to OSU
Next weekend I will be taking a two day visit and will be in attendance for Ohio states spring game. #GoBucks

— Marvin Harrison Jr. (@MarvHarrisonJr) April 5, 2019
Can't remember if it has been mentioned in this thread yet, but 5 star CA RB Kendall Milton will be visiting this week according to Birm.
Taylor is using just the 247 rankings in his text, not the Composite 247.
Putting all my student loan money on this.
Can't wait to beat for Day to get his 1st W against TTUN. Hopefully Harbaugh keeps his job when that happens but idk if it'll happen.
Day should absolutely continue to do what made him a great assistant coach. Players should play to their strengths and coaches should coach to their strengths.
I would be surprised if Freeman leaves UC and Fickell. If I remember correctly, Day and OSU originally offered him LB job but he declined and said he wanted to stay and be a coordinator at UC.
I think it's important that we have Cooper's tenure as a precedent with non-Ohio coaches. Like you said, Cooper did a lot of things well as far as recruiting and elevating OSU's brand to a national level, however, he didn't take Michigan seriously and that's ultimately what most people remember. Day has the advantage of seeing firsthand the intensity of the rivalry through Urban, while also being able to look back in history and understand the failure that can occur when you do not elevate The Game. Although he doesn't have the rivalry in his blood, Day is a great coach with the advantage of having history to guide him.
Holtmann does a great job drawing up a solid play post-timeout/stoppage
According to his Twitter, Jarrett is visiting Tennessee March 7th. I think he'll be a Buckeye at the end of the day but it looks like he's going to enjoy the process.
Currently a sophomore I believe, which is even crazier
Looks like Wiltfong just went foggy on his CB prediction. His CB was on Stanford previously I believe.
He committed to the Army All American game lol
2019 should be a Fields Day!
Announcement At 8

— DMJ2 (@DMcglothern2) February 8, 2019
I'm assuming Dwight Mcglothern will make a top 5-15 announcement, with the Buckeyes surely being one of the teams. While both Mcglothern and Davis go to a Trinity Christian school, Davis' school is in Jacksonville, FL and Mcglothern's is in Cedar Hill, TX.
Regarding Vimahi, AE placed a CB for OSU yesterday afternoon.
BOOM! Ohio is absolutely loaded with talent in 2020 and 2021. Perfect timing with Day coming in and locking down the state!
Per Givler: Jack Sawyer BOOOM
Good stuff Spooner. Appreciate the work! Looks like there is a great deal of OH talent in 2021. Great to see! Let's keep this train rolling!
Expected news but great to hear nonetheless!
Buckeyes coach Ryan Day was in to see Akron Hoban 2020 star Deamonte Trayanum on Tuesday morning. Hell visit Ohio State this coming Saturday.

— Jeremy Birmingham (@Birm) January 29, 2019
Trayanum is 4 star LB out of Akron.
According to article from Birm on LR, looks like Vimahi's visit went very well this weekend and implies that OSU might have done enough to land the offensive lineman. Vimahi's mother particulary was sold on OSU.