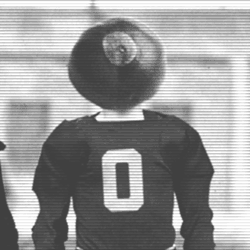 BHT
---
MEMBER SINCE January 02, 2014
Below in Favorite College Basketball and Football players: The names listed are recent or past players that many of us think of when we hear Ohio State. However, the real answer is The Ohio State Buckeyes. Favorite NFL team changes based on who has the most Buckeyes on their roster.
Favorites
SPORTS MOMENT: Braxton Miller's 40 yd Hail Mary to the end zone for a Touchdown vs. Wisconsin (2011), Beating Alabama in the Sugar Bowl to advance to the first CFB Playoff NC (2015), Beating Oregon in the 2015 CFB playoff National Championship.
COLLEGE FOOTBALL PLAYER: Braxton Miller, Kenny Guiton, Ryan Shazier, AJ Hawk, Ted Ginn Jr., Troy Smith, Woody Hayes (Coach)
COLLEGE BASKETBALL PLAYER: Shannon Scott, Greg Oden, Mike Conley, Sam Thompson, Deshaun Thomas, Jared Sullinger, Jerry Lucas
NFL TEAM: Steelers/Panthers
NBA TEAM: LA Lakers/Celtics/Cavs/Grizzlies
MLB TEAM: St. Louis Cardinals
SOCCER TEAM: Bayern Munich/Manchester United
Recent Activity
I like them; at least they are better than their normal uniforms
120 Urban has a way of motivating the team and the defense is playing well
Remy, I wanted to wait till the end to say it, but THANK YOU! I have learned much about the last 100 teams, and I appreciate your work in putting this series together. Go Bucks!
I was waiting for someone to say this! This is the only pregame thing I would want and/or need along with the band entrance. Just seeing the band out there gets me pumped for the game (as we are only two quarters away from the halftime show).
Yep, we were emailed less than ten minutes after the game ended. I wish I could go but I have obligations at home.
"Photoshop Phriday is back??? ME FIRST!!!"
Yes, I know this is a Photoshop thing, but I thought I would put the quote of what he is thinking out there.
This might be a good idea for him. Everyone knows he is not ready, but he can get some feedback and see what it takes for him to get to the next level. I doubt he will actually leave though.
Unfortunately, being a college student means I don't get to catch some of the USA games, so I speak from a results standpoint. Since he was hired, I did not think he was the right coach for the team. In 2012 (or 2013), he was starting to get results, and I jumped in the Kilnsman bandwagon. Since then, the results have dropped, and the Landon Donovan thing told me he was not right for the team. You don't leave the best United States player ever off a world cup roster. Results have not happened since then, and yes, I think he should be fired. Barely or not even qualifying for the world cup for the first time since before 1994 is a shame, and he needs to be fired for this team to improve.
I started playing a little before the tatgate scandal. I was the Ohio State head coach, won the NC going 13-0 in my first year, but the next was 10-3 was won the orange bowl. Through the 2010's, I only won 2-3 NC's, but started a 188 gm Winning streak in 2018, winning 10 National championships (6 straight) until 2030. I lost the job in 2032 after going 13-1, losing the national championship to TCU 22-23 by going for it on 4th and 23 just inside firld goal range. I simulated till 2040, and became the head coach again till 2050. I went 455-12 with 21 national championships and 31 B1G titles (in 32 years). I never lost to TTUN. The closest game was W by ~20 and the biggest win was 157-0. One of the games against TTUN, we had 780 passing yards, and my top wide receiver won the Heisman for it (1st player of 2).
I miss that game (I started on NCAA 11 and switched to NCAA 13.)
Best: 2008 vs TTUN. First game at the Shoe.
Worst: 2015 vs Mich St. It was the first loss I experienced while at the Shoe.
I might be in the minority, but I like these. I like the white to yellow to white blend.
EDIT: Just saw the shorts, this uniform is not good. I like the jersey though.
This was a great play.
But I wanted Pittsburgh to win. Go Carolina, they have the most buckeyes left.
That's what happens when you don't put the best team in college football in the playoff. I think the Buckeyes could have been repeat champions, but the playoff committee obviously disagreed. Clemson-Ohio State would have really brought viewers and so would a rematch with Alabama.
While I see your point of view, I think you fight to the end no matter how much you are down by. As frustrating as it might be, I don't think any one should get worked up by this. Besides, those timeouts don't carry over from game to game, he had to use them sometime.
Unfortunately, the home schedule is not too good. Our best game might will be TTUN. As a student, I would have like a better home schedule, but overall, it might be a roller coaster of a ride.
I think 12-0, but we might loose @ Sparty. If we loose early, we make the playoffs, but a loss late like this year means we are probably out.
I am glad. He carries my brothers fantasy football team, and is about to make his 3rd straight championship. He went 12-2 this year, and I hope he loses next week.
I thought it was the third year in a row that a Buckeye contended for the trophy? I am pretty sure Braxton finished 5th the year before last.
Anyway, I expected this. The Heisman is not awarded to the best player in the country anymore. It is awarded to the most hyped player. Henry had a good year, but he was not the best. I would pick the Navy QB or the Stanford RB any day over Henry.

7 on the timed quiz. I have never heard of some of these bowls, nor sponsors.
I don't think that would happen here. Ohio State prides themselves on diversity so it probably won't happen here.
PS4. I had a PS3 and do not like the Xbox controller. However, the Xbox One and Windows 10 are supposed to integrate well. You are supposed to be able to stream live TV and games onto you PC from your Xbox, and the PS4 does not have the live TV thing. I am personally thinking of switching to the Xbox when I am out of college (or have enough money to buy one), but I would recommend the PS4 if you do not care about the Xbox features I have listed.
I like the run, and I was calling for the run at the end of the game; the QB sneak though was uncalled for. They has two fullbacks who were much better options.
Hi Remy,
Thanks for doing this, as always. My question is slightly of topic from the other ones, but who are the top 3 coaches of The Ohio State University Football team in win percentage (basically who are the winningest coaches) and (this one's optional) what was their record vs TTUN. Thanks!