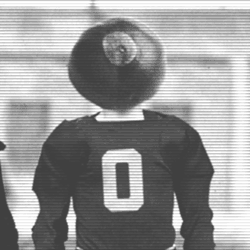 bgsubuckeye
---
Member since 30 June 2013 | Blog
Favorites
SPORTS MOMENT: Student section during Nebraska home game in 2012.
NFL TEAM: Green Bay Packers
NHL TEAM: Columbus Blue Jackets
NBA TEAM: Cleveland Cavaliers
MLB TEAM: Cincinnati Reds
SOCCER TEAM: Columbus Crew
Recent Activity
Ted Ginn was by far the most electric guy I have watched in an Ohio State uniform. We already have line backers, QB's, and running backs. Wide receiver is somewhat a question mark, but we have a lot of talent there. One question though that everyone has brought up the past couple years is having that big time threat on kick and punt returns. Palin Marshall does very well art times, but then he will fumble the next one.
Braxton on an option run.
The only other sites I see from teams are ones that are sponsored by SBnation. I would imagine there has to be some out there though. Then again sites like these can only be ran by the elite of the elite.
Always watch Premier League games, but as a fan of Bayern for about 10 years now. Does anyone else watch much Bundesliga games especially since Fox shows them now?
Show up in Blacksburg in Black uni's and run the first play from under center. They wouldn't know what to expect.
In their defense, at least they remembered to wear their school colors to that game.
Could commit by Friday, not sure where he is gonna go, but Auburn feels very good about it. Would more than likely still take visits.
Am I the only one who has wondered why the QB's in the videos were warming up under center doing play action, and then sometimes pretending to hand off? Or do they usually do this drill every year?
Let's be honest, that is probably just his bunker under his real basement which is why it looks outdated.
I like Matta so I hope he doesn't leave, but since this is hypothetical I would say Brad Stevens. I know people are gonna say well he coaches the Celtics. Who is to say they will keep him this year though if they miss the playoffs or get bounced instantly?
Edit - Also what makes people think Hoiberg would come here? He grew up in Ames and played for Iowa State, and they are not a bad program right now.
Can't fault for him for wanting to stay home, but he should know his draft status would be 10x better sitting the pine at Ohio State for four years than being the starter at Rutgers for four years. Starting at Rutgers everyone can nitpick his flaws (while also getting destroyed by better teams), while sitting at Ohio State everyone will assume he is the next Arnie Herber.
So when birm is wrong like he usually is when will you all realize these "insiders' are just random people anyone who can go to school at osu have?
Hokies Stuffed By Ohio State
Clever right?
Why not commit now instead of worrying about someone else taking the spot?
Barrett has such a smooth delivery. He can play here.
Forgot the ITALICS guys, relax. I am no crystal ball.
Eichenberg, Kramer, Hausmann, and Sammons are all ND bound.
- I think Tressel is one of the most overrated coaches ever and hate it when people always bring him up when they disagree with something about Meyer. He is the reason OSU gets the bad rap all across the country.
- I love having Ohio players all over the roster, but I will be honest when saying this because I have nephews who play down south and I see some of there games when I go visit. The talent and the players up here do not even compare at all to the talent down south in football. It is obvious why the SEC is so much better just go down there for a high school game and you will notice. Great atmosphere and the teamwork is great up here, but would get destroyed playing down south, sign up as many southerners for our team as possible.
I am not saying I don't believe he could end up here, I was mainly stating that because the above posters all seem he is PSU bound.
I just watched the 11 warriors stream of the commitments. First off his dad never shows emotion which was kind of funny. Second off, his brother looked to be in such an awkward state since he is playing for Iowa and when Cornell committed he sort of sarcastically clapped. It was actually kind of funny.
I aways had fun going to visit friends on the campus of UC. Had about 4 really close friends, but I knew about 30 people (all from towns nearby where I grew up, I lived in a small town SE OH so I knew everyone in the county) and every single one of them were diehard buckeye fans. Always chanted O-H-I-O on their campus with the actual students and the UC students who were UC fans would always argue.