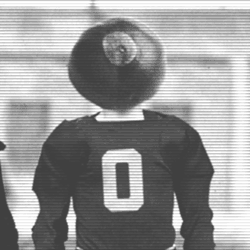 bgraber45
---
MEMBER SINCE June 27, 2015
Recent Activity
Yea maybe it was the defense overlooking those bad offenses instead of Urban
As a Buckeyes fan, I hate to........but I cant sit my Bills defense especially when theres no other decent defenses available. lol
Absolutely. Its Day 1st season and he already knows this. I dont know why Urban never learned that lesson the last couple seasons (especially after the Iowa fiasco wouldve woken most coaches up)
More Bielema. Gary Anderson did well at Utah State and after Wisconsin, he was at Oregon State, which is one of the toughest places in major college football to recruit and win.
Obscurity? I dont like them as much as the next person but Obscurity at NOTRE DAME is not a good choice of words. More like overhyped and overrated like the team Up North.
Apparently he wanted to get far away from home (like I did at that age) and make a name for himself outside of his dads alma mater. Obviously winning championships is not a priority.
Martinez is doing a Nathan Peterman tonight
Buckeyes moving up the all time list of winning streaks vs an opponent (https://en.m.wikipedia.org/wiki/Most_consecutive_NCAA_football_wins_over_one_opponent)
Who here thinks we beat the Notre Dame-Navy streak?!
Um yeah. He barely played on average WVU teams. Really wish Baldwin wouldve stayed cuz Chug wouldve been way better as the 3rd stringer
Well it cant be worse than when the Buckeyes were a power and lost to Iowa and Purdue on a saturday
Spartan13 talks about all the guys the Bengals were missing WITHOUT addressing the fact that the Browns had Hugh Jackson for half a season.
Not a step back from coaching just any Power 5 school. A step back from coaching an ELITE Power 5 school
at Northwestern (in likely a night game) in late October is MUCH more Purdue/Iowa than Nebraska in September
Can we PLEASE not fall asleep against a West opponent on the road this season??
Im a fan of Tate too. Just concerned about his size hurting him in a competition with a similar talent like Fields
The Special Ed Conference pays to get top talent......on both sides of the roster
This game was eerily similar to Tressels last game in the Sugar Bowl
Believe it or not, most members of MgoBlog think the same thing of Portnoy and Barstool that Buckeyes fans do. And he went to school there. I guess hes the TUN version of Buck I Guy
With how few times the Buckeyes have made the Rose Bowl (compared to winning the Big 10) recently and how the Rose Bowl wont be holding a Title game in the near future, you may be right!
Dont forget at Northwestern October 18. Yea yea I know we just beat them BUT the Buckeyes have gotten their butts kicked in that type of game 2 straight seasons
So....the situation has to be perfect to satisfy your definition of "retiring on his own terms?" Frank Beamer retired after several mediocre seasons. Same thing with Bear Bryant because he felt Alabama deserved better coaching. Bob Stoops retired out of nowhere. While his teams were still doing well & he didnt have the health issues that Urban has, he was still very worried about dropping dead on the sideline like his dad did.
Just like Urban, these guys still retired of their own free will. Thats all you need

One of the longest winning streaks over 1 team in CFB history:
https://en.m.wikipedia.org/wiki/Most_consecutive_NCAA_football_wins_over_one_opponent
How the hell are we tied in title odds with Clemson after they barely beat Syracuse? Its all a bunch of nonsense anyway at this time of year
Me too. I had the number 1 ranked draft in my league and now Im losing to the guy who always finishes last place. Its like the Buckeyes losing to Rutgers
When it comes to that team, catching them in the head to head series matters far more
Even my girl (who barely knows anything about football) pointed to Tate and asked me "What position does that little guy play?"
I told her yeah hes small but he was the still the National High School player of the year
And the fact that he came from one of the best high school teams in the country proves he can play Elite football at this level