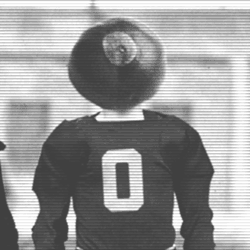 beserkr29
---
MEMBER SINCE September 07, 2010
Favorites
SPORTS MOMENT: Toss up between Beanie's leap at Memorial Stadium in Champaign and Braxton's game-winning toss last year vs. Wisconsin. Both happened towards my side of the stadium and both were the greatest feats I've ever witnessed.
COLLEGE FOOTBALL PLAYER: Ryan Damn Shazier
MLB TEAM: New York Yankees
SOCCER TEAM: Millwall
Recent Activity
Google says: December 16th.
Feeling good about Begley and Kaban. Nothing specific, but would be my picks to fill out the class today.
Sure, Dep. Essentially, the rules committee banned placing a knee on the ground, and your stick, gloves, and feet must be on the ground prior to the whistle. Additionally, you can no longer clamp amd hold the ball, you must use one continuous motion. The motorcycle grip was banned completely because certain coaches wanted to make the faceoff like it used to be. It's stupid, but they just love to tinker.
More of a team news note,but I don't have a thread to put it: Evan Riss has officially been given a short stick this year. Saw a glimpse in one of OSU's promo videos, but now he has official materials showing him as an SSDM. Makes some sense, but I don't really know that it is a tremendous move going forward. Might be just for bodies at that position. We will see.
It's really quality work. Some misspellings, but a fantastic package. I agree, it would be nice for the other sports to invest that kind of time and effort into theur signing classes!
Here's a link to Ohio State's official release for this year's signing class. https://spark.adobe.com/page/SST51573N1avo/ Lots of cool anecdotes, like Matt Fritz being Penn State wrestling royalty. Check it out!
So true, Seattle
Removed Louie Germain, a defender who committed to St. Bonaventure.
Removed Patrick Crogan, a potential top 100 middie who committed to Georgetown.
Removed Mark Watters, an attackman from Canada who committed to St. Joe's.
He did. But, as a HS graduate, I believe he could have signed an NLI. Gerard Kane signed early, then did his PG year at the Hill Academy. Which didn't work out, but that's not his fault. So, in my own mind, I figured Maccarone would have done the same. Obviously that's not the case. And that is okay. I need to not forget things I brought up, haha
Looking like Johnny Maccarone will sign next year with his 2022 teammates. Hopefully Ohio State can hang on to his commitment til then. That wraps up thus year's signing day! Thanks to everyone who read along. Hopefully we get a 2021 season, which is looking more remote by the day. Fingers crossed.
Welp, I am dumb. We knew all along it was going to be Owen Heinecke, I just screwed up the Primer by forgetting his late commitment. Owen Heinecke is IN!!! Heinecke is a complete mystery, coming from the lacrosse black hole of Oklahoma. He is athletically really good, but I don't have nearly enough info on what kind if player he is. Heinecke has all the right moves, but Oklahoma high school lacrosse isn't much of a litmus test. Project is a very apt description for Owen, but he's certainly got some good material to work with! Go Bucks!
Apparently, the mystery eleventh signee has yet to materialize. Still think it is likely to be Maccarone, if it happens, but we will see.
Hopefully indeed! It's much more ofa crapshoot in lacrosse because of evaluation issues. But the raw material is there.
Hard to say without knowing who the 11th recruit is. If it's Maccarone, I would say middling. The rest of the B1G (except Rutgers) really killed it in 2021. Nationally, the Buckeyes are maybe 20th based on rankings of players. But really, it's going to come down to who makes an impact. Terefenko was barely recruited. There are plenty of 4-star guys who signed with OSU who didn't make a tenth of the impact. I think Marinier is underrated. He had a really good skillset and Edge is a fantastic club. The midfielders are a top-5 class in the country, in my opinion. Van Buren has a target on his back due to being a 5-star, but he has played so little highschool lacrosse I think he has the highest ceiling in this group. I don't think this is an elite class. But it's pretty good!
I am glad the juice is flowing! It is like Christmas two months early. And the team needs all the exposure it can get!
Still no word from OSU's official accounts. The announcement said there would be 11 new Buckeyes, so either someone got cold feet or there are technical issues
By my count, last announcement should be John Maccarone.
And apparently Haas is playing for Lone Peak in Utah for 2021?
Garrett Haas is IN!!!
Ed Shean is IN!!!
Matt Fritz is officially IN!!!
Matt Mercer is IN!!! Welcome aboard, Mr. Mercer!
James Gurr is IN!!!