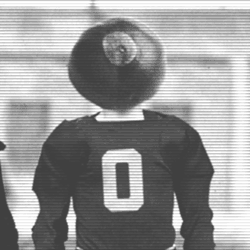 beserkr29
from Springfield, IL
Member since 07 September 2010 | Blog
Favorites
SPORTS MOMENT: Toss up between Beanie's leap at Memorial Stadium in Champaign and Braxton's game-winning toss last year vs. Wisconsin. Both happened towards my side of the stadium and both were the greatest feats I've ever witnessed.
COLLEGE FOOTBALL PLAYER: Ryan Damn Shazier
COLLEGE BASKETBALL PLAYER: Jacob Pullen
MLB TEAM: New York Yankees
SOCCER TEAM: Manchester United
Recent Activity
Damn, I love Coach Johnson.
It'shappening.gif
He also tweeted out a link saying he CB'd two players to the Buckeyes. Oats and Walker. If they are going to do that, the VIP thing is just even more ridiculous.
Yeeeeeeeeaaaaaaaaaahhhhhhh buddy!
After the dark days of watching longtime commits sign elsewhere, I have to admit that it feels damn good to see a bunch of Ohio State emblems on the crystal ball ticker.
If we're all being honest, were Meyer to allow Wilson free reign over the offense, Haslins would be the guy and would have 4000 passing yards next season. I have no doubt. As long as Ohio State makes zone reads a foundation of the offense, though, Martell might be the best option going forward with his speed, shiftiness, and decision making. It will be a bananas offseason regardless.
Words are cheap. I won't trust anything until the LOI is faxed in.
All these official visits are making me giddy. Unintended consequence of the early signing day is the ability for a staff to focus on the positions of meed remaining after December without fear of losing a player who receives less communication from the staff as a result.
This is a speculator's speculation, but given how dominant Johnson has been, could his commitment (in whole or part) have pushed Woodbey out the door?
I think you remove a conference game, play 11 in the regular season, open the playoffs to 8 teams, champs play 15 games. Just like FCS.
What linebacker spot do you see yourself in?
Boo. Oh well, we will still crank out exceptional DEs. And win titles.
Shot in the dark says it could be Tyler Friday
A mixed bag sums up this day and half in Buckeye football perfectly. Season too, honestly. Darnold makes brilliant throws. If a Pac12 team ever got a good line, they would make some real noise.
Wazzu's last 4 classes (14-17) went 56, 43, 53, 42 (some may be 1 or two slots different). MSU went 26, 23, 17, 36 over the same recruiting span. That is a big talent gap. Combined with distractions, no starting QB (Falk sat), and the quality of MSU coaching, this was probably not that surprising.
405
I'd be interested to hear from an FCS or D-II player. I disagree with Rosen's point and his reasoning behind it for a number of reasons. But it's not "wrong". He and I just have different priorities and values.
Yes. His previously injured knee gave out and he sat for nearly the entire game in a loss.
Gleitman at Bucknuts says he has confirmation from multiple sources stating this is expected. After this week, I will believe it when a contract is signed. https://ohiostate.247sports.com/Bolt/Ohio-State-Buckeyes-expected-to-hire-Washington-State-Cougars-defensive-coordinator-Alex-Grinch-112653309
William Swinney prefers you use his full Christian name, thank you very much.
Bud Elliott just CBed Woodbey to FSU. Bud is dialed into everything FSU. Weirdest. Recruiting Year. Ever.
I think Mr. Barrett is in for a rude awakening with that career plan. Can't think of a single job you don't have to set some sort of alarm for. "Billionaire of leisure" still hasn't popped up on my indeed.com searches.