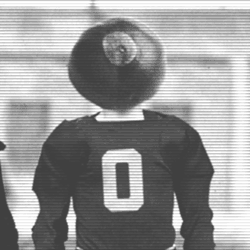 beserkr29
---
MEMBER SINCE September 07, 2010
Favorites
SPORTS MOMENT: Toss up between Beanie's leap at Memorial Stadium in Champaign and Braxton's game-winning toss last year vs. Wisconsin. Both happened towards my side of the stadium and both were the greatest feats I've ever witnessed.
COLLEGE FOOTBALL PLAYER: Ryan Damn Shazier
MLB TEAM: New York Yankees
SOCCER TEAM: Millwall
Recent Activity
Elijah Black and Buchanan Dunavant are also gone from the roster.
As long as people read them, I will keep them coming, Seattle! Heck, I might keep doing them if everyone quits just out of spite. Haha.
Wow. Looking at Cool's film, there is a lot to like. He is an absolute ball hawk when on the field. Groundballs don't really get by him. And Cool has size and speed to burn. This is exactly the kind of recruit you need to land if you want to have a prayer of keeping up in the B1G. All those middies are going to hate going up against Cool with a pole in his hands. I didn't see much of his 1v1 ability against good dodges, which is a tad concerning given his club team, but that could be for any number of reasons. Cool can nail a takeaway check, bully any offensive player off the ball, and really shines in the fast break. Couldn't be more excited to see Jonny Cool in the Scarlet and Gray!!
BOOM!!!! Huge commitment from 4-star LSM, 5-star name Jonny Cool! A huge commit to stem the bleeding from this week. Welcome, Mr. Cool!
Removed Hugh Conrad, 4-star goalie who committed to Yale.
Removed Ryan Colsey, an attackman who committed to Virginia.
It is a really sad turn of events. He was a special player!
Removed Aidan Aitken, an attackman who committed to Denver.
Removed Alex Ross, 4-star defender who committed to Penn State. At this point, hard to not call the start of the recruiting period in 2022 a letdown. Staff has been passed on the trail by everyone in the B1G except Rutgers.
Removed Will Schaller, a 5-star defender who committed to Maryland.
Removed Aiden Bodonyi, because he reclassified to 2023 and will attend Western Reserve Academy under former Buckeye OC Dylan Sheridan.
Removed Mike Trepeta, a 4-star defender who committed to Hopkins.
Removed Owen Carroll, an attackman who committed to Delaware.
Removed Cheyne Repp, an attackman who committed to Denver.
Removed George Wandoff, a 4-star pole who committed to Syracuse. Amazing what pulling in the #1 overall recruit will do for you.
Removed Jojo Dean, a 4-star middie from Colorado who committed to Georgetown.
Ohio State is ranked #11 in Lacrosse Magazine's too early rankings for 2021. That seems low, honestly, but it's also, well, too early. The accompanying blurb is basically garbage. But that's why you have me to keep you informed. Haha. https://www.uslaxmagazine.com/college/men/early-2021-rankings-nos-15-11-division-i-men
It's really tempting, North. But I feel like you have to take the good and the bad. It illustrates how far there is to go for this staff and this program.
To bring things full circle, two Canadian prospects the Buckeyes wanted in 2021 for sure are out. Ben McDonald's playing Canadian college football, and Sam La Roue, a box lacrosse star, went pro in box and is eligible for the NLL draft. That is a huge pity.
Yeah. As a native of upstate NY, it's kind of cool to see Spallina stay home. As a lifelong Buckeye fan, I hate it, and my day is ruined.
Removed PJ McKeigue, a 4-star LSM who committed to Penn. Freaking Ivies.
Inside Lacrosse finally put up the 2022 commitment board, and Notre Dame has almost an entire class committed in barely two weeks. And it is really, really talented.
Removed Joey Spallina, who is going elsewhere, Caden Padelford, a Canadian attackman who went to Vermont, and Cam Sanderson, a Canadian attackman who went to Penn State. Sanderson really hurts. He is a dynamic player.
And that's that. Definitely no Spallina. So now we wait to see where the program goes from here. https://www.insidelacrosse.com/amp/recruiting-no-1-junior-joey-spallina-mount-sinai-n-y-narrows-list-to-five-programs/56854?__twitter_impression=true