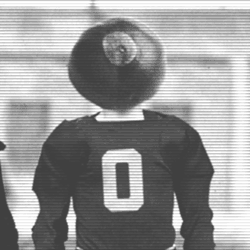 BermudaHighwayBuck
---
MEMBER SINCE March 30, 2017
Recent Activity
Todd Boeckman and Joe Bauserman agree with you
Agree .... for the most part. Burrow and Haskins are pretty close right now, and truthfully, I see another B1G championship with either at the helm due to our absurd team talent. But come playoff time though, I do believe Haskins gives us the best chance to win. And let's not get too loose with our arguments with this qb debate. Haskins of course has a big arm, but also by all accounts, he has been described as highly accurate throughout his time here. Still, Haskins is young and inexperienced, so it's reasonable to expect bouts of unevenness during the course of the season...as you would expect from any new QB (Burrow included). Still, if Haskins were able to play and mature for an entire season, I think it will pay huge dividends at the end of the season against the top tier D's like Bama, Georgia, Clemson, etc. They simply won't be able to crowd the LOS like we've seen so many talented D's do to us over the past few seasons. And I'm not saying Burrow has a 'puny' arm ... I'm just saying Haskins' has a special arm, and it will inevitably create more space and opportunities for our wrs and rbs to do damage.
I'm not confident we'd win with JT running 15-20 times against Wiscy while healthy...much less injured. Sure I'll admit Haskins is an unknown, but Wiscy has to respect his arm which should open things up for the rbs.
Hobbled JT + Zone read gameplan = recipe for disaster against Wiscy. Haskins needs to take all the first team reps this week and the coaches need to gameplan to his strengths. Wiscy is much better than the '14 version, and we need to not only win...but look impressive.
We are not stacked unfortunately. You have to consider that Haskins or Burrow may transfer based on the outcome of the qb battle next year. That would leave 2 qbs on the roster. Losing Emory will definitely impact having quality depth.
Nothing to see here. Everything is fine. If only JT was surrounded by better players and coaches, then he'd be 10-0. And why does Mb5599 have to be so negative...he conveniently left out that JT accounted for 7 tds against Nebraska just last week. And they won championships in the 90's...this should be mentioned somewhere.
-JT Fanboy Forever
Wrong. Using your example, if JT were to pull a Deshaun Watson from the '16 championship game (that Bama won), that would be infinitely more impressive than anything JT has ever done up to this point in his career....and I would respect the hell out of him for a performance like that on such a big stage. Even in a losing cause.
It's actually the last 4 games (not last 2) against decent competition that have been duds....
'16
Mich St - 10-22, 86 YDS, 1 TD
UM - 15-32, 124 YDS, 1 INT
Clem - 19-33, 127 YDS, 2 INT
2017
OU - 19-35, 183 YDS, 1 INT
And since so many like to look at JT from a career perspective, here are his career avgs (with arguably the greatest collection of talent in OSU history) against the 'best' of the BIG10 EAST
Mich St - 3 gm pass yd avg 144 yd 55% completion rate (2-1 W/L)
Penn St - 2 gm pass yd avg 159 yd 62% completion rate (1-1 W/L)
(Cardale started against PSU in '15)
UM - 3 game pass yd avg 138 yd, 54% completion rate (3-0 W/L)
Lazy rebuttal questioning someone's fandom because you disagree with him. Why even come to these message boards if someone with well-reasoned, differing opinions bother you.
I don't get why you're confused. JT would be an overwhelmingly choice for OSU GOAT at qb if he were to somehow lead OSU to a national championship this year. That's just a fact. So how is that talking out of the side of my mouth? Would I gladly trade being 'wrong' in my current assessment of JT for an OSU championship. 100% of the time. Do I personally hope that JT can achieve GOAT status? Yes. Do I think JT will lead us to a championship...or probably even to the playoffs this year. No. It's really not that confusing.
As far as cherry-picking data goes.....are you serious? How is using recent data from recent big games as a means to predict future performances against tough teams cherry-picking? As a predictor of future success, would you really treat the 2014 Mich St game and 2017 OU game equally? Recency and relevancy matters.
I think it is very obvious why I would bring up numbers from last year's Nebraska game. JT's awesome performance against Nebraska last year was not a harbinger of better things to come against teams that actually have a pulse. Now, after reading many articles and fans' takes in recent weeks, the general consensus is that JT has fixed his downfield passing woes and that our offense is going to curb-stomp the meat of our schedule....simply based off what JT's done against Nebraska and it's ilk. Simply put, it's a fool's errand to drink the JT kool-aid right now and outright dismiss his recent passing performances in big games.
And no, based on your response, it doesn't sound like you're a JT fanboy. For instance, a JT fanboy would never blame JT for his mechanics issues. It's always the fault of coaches or players for any of JT's deficiencies. Thinking out loud here, but I challenge you to find another player in OSU history that has been given the benefit of the doubt more than JT. In '14, Cardale led the greatest, most clutch, 3 game stretch of games in OSU history. Yet, even after earning that kind of goodwill, he was pulled halfway thru the following season and was outright blamed for OSU's offensive woes...in spite of never losing a game in his career. Yet, JT looks like horseshiite at the end of '16 and start of '17, but somehow he's never to blame and untouchable? I really don't get it.
Hey ANOTHERMICHIGANLOSS
I kinda disagree with some of your thoughts. First off, OSU's coaching staff and overall talent on offense is the envy of college football. I see a first round LT and the arguably the best center in college football on this team....and there's not a doubt in my mind that the other o-line will be drafted in the NFL as well. I also, see second and mid round talent at the offense skill positions. The only starter that doesn't have a NFL draft projection is JT...so let's call a spade a spade about who's to blame for our offensive woes in games that actually matter. The simple truth is that most other 'great' qbs do far more with far less talent around them.
Also, what exactly is the payoff that you're talking about? Are you saying that since JT looked good against UNLV and Nebraska that Urban's call to keep him as a starter has been validated? Big deal. JT whooped up on Nebraska and other patsies last year and we all saw how that season ended up. Wake me up when JT plays well against PSU, MSU, and UM. Those are the validation games that will reveal just how good JT has become and actually is.
Lastly, just because fans want to see Haskins doesn't mean that we have unrealistic 'Cam Newton' expectations for him. The simple fact is that we already know what we're going to get with JT in the big games that actually matter. This is not meant to be a 'bashing JT' thread, just an honest, factual take. When looking at important games, there is a very apparent regression in JT's passing performance. JT fanboys like to throw out reminders from 2014 and the end of 2015 seasons, but recent history is the most accurate indicator of what to expect from JT this year. And JT's recent big game history (OU, Clemson, UM, and MSU) were each and all absolute abominations.
PS - I really hope JT proves me wrong and surprises me too.
No doubt. I'm pounding sand on this site. What I don't get is that if you reasonably criticize JT, it's grounds to have your OSU fan credentials revoked. But somehow, JT fanboys are ok with throwing OSU players and coaches under the bus in order to defend JT's overall regression in big games. Hilarious. I posted it earlier, but will do so again. JT's passing stats against Nebraska in 2016....26-38, 290 YDS, 4 TD. But JT fanboys are somehow convinced that this year is different? Of course, I hope and wish that's the case...but at the same time, I'm not going to put my head in the sand and pretend everything's awesome since he was able to throw 10 tds against the UNLV's of college football.
For perspective, here are JT's passing stats vs Nebraska last year. 26-38, 290 YDS, 4 TD. This year is different though....

Although I root for everyone in an OSU uniform, and always will, I am a JT critic that wished he would have moved on after the Clemson game last year. While JT's a great guy and leader by most accounts, I believe JT's inability to pass the ball 10+ yards downfield has ultimately been the biggest problem in the biggest games on offense. Again, this is not my opinion...this is according to passing charts, what opposing players and coaches have said, and even what our own players and Urban have said. So yes, I believe that JT has regressed as a qb throughout his career, that he lacks confidence passing downfield in big games, that he is unable to throw a guy open, and that his passing deficiencies have stunted the offense and the development of the wrs. That said, am I happy that JT looked great in recent games and seemingly 'fixed' his passing problems since the OU debacle....absolutely. Do I also believe that his performances in these games against patsies have been fool's good and that he's more or less done the same thing against weaker opponents throughout his career....yes i do. Indeed, Haskins is a unknown....a highly rated unknown with a live arm that both players and coaches have raved about. But after seeing what happened at the end of '16 (MSU, UM, and Clemson), and what happened at the start of '17, there were many reasonable fans (and still are) that wanted to make a QB change because they felt OSU had reached a ceiling with JT at helm of the offense. And if that ceiling does not give OSU a great chance to win a playoff game, much less make the playoffs, then it did make sense at the time to allow Haskins (or Burrow) to get their feet wet as a starter against the Army's, the UNLV's, etc in order to gain confidence before the meat of the schedule.
IF JT continues to play 'well', and OSU wins out, then I think most fans would consider him to be the GOAT at OSU as he would be a 3 yr captain with the stats, wins (including 4-0 vs UM), and a championship (or 2 if you believe he deserves the credit for the '14 season championship) on his resume. That said, having a detailed conversation about whether JT is the 'GOAT' or not was not what I cared to discuss. I was saying that JT's performances in all of the games since OU could very well be fool's gold. JT has put up video game numbers against overmatched opponents every year of his career....and he also has a history (including recent history) of laying eggs in the biggest games of the year as well. I personally think this year will be no different than years past for JT. I think he will at some point play very poorly again, and then all of the JT fanboys will blame the coaches, the wrs, the o-line...basically anyone but JT....for the reasons why he played poorly. That said, Urban has gone all in on JT, so I am rooting for him to succeed and I'm hoping that I'm wrong.
You're not alone Lamplighter. Think folks should pump the breaks on their enthusiasm. Army, UNLV, Maryland, and Nebraska are all beyond pathetic on defense, and JT's performances against those patsies aren't enough to make me forget how he performed at the end of '16 (MSU, UM, and Clemson) and the start of '17. That said, I'm rooting for him...and if JT is in fact the GOAT at OSU, then it will reveal itself from here on out this season.
Re- 'Haskins likes to grip it and rip it - just lacks experience, but he is not ready to up against PSU or TSUN's defenses (I'll feel much better with JT under center against those teams)'
Really?!? Did you forget that JT lost to PSU and was abysmal in all big games ever since...MSU, UM, Clemson and OU. It's very obvious that Haskins has much more upside than JT, and I'll take his inexperience over JT's inabilty to throw a downfield pass. Btw, after today's game, JT is now 2 of 13 on passes over 20 yards in '17. You think just maybe that we will need to do more than bubble screens to beat teams with a pulse?
Yes, he 'willed' his way to beat a very mediocre PSU team after throwing 2 ints, passing for 74 yards, and rushing for 75 yds on 20 attempts. I think Burrow or Haskins can 'maybe' do better than that.
Since you brought it up RunningFree, here are JT's career passing stats as a starter against UM, PSU, and MSU. Looks like a pretty low bar to me. I have zero doubt in my mind that Haskins or Burrows could do better....
Mich St - 3 gm pass yd avg 144 yd 55% completion rate (2-1 W/L)
Penn St - 2 gm pass yd avg 159 yd 62% completion rate (1-1 W/L)
(Cardale started against PSU in '15)
UM - 3 game pass yd avg 138 yd, 54% completion rate (3-0 W/L)
You need to get off your high horse and stop being so dramatic. First of all, this is a comment board. How pathetic would it be if everybody just commented on how great everything is. That would just flat out suck. I respect, well-reasoned thoughtful debate....no matter what side of the JT fence that you fall on. Also, this is the comment section after an article written about our backup qbs. This is an entirely appropriate place to discuss the qb controversy. And I hate to break it to you, but there are a significant number of fans who want a change at qb. But I guess according to you, we all should just ignore that fact and never share our perspective on the matter. It's kinda funny actually, because I am seeing more personal attacks and less thoughtful debate from the pro-JT crowd rather than vice-versa. A typical pro-JT poster usually resorts to these kind of lame responses 1) 'LOL, a internet poster who thinks he smarter than Urban' or 2) 'Go root for another team' or my personal favorite 3) 'How dare you blame JT...it's the coaches, the o-line, and the wrs fault. Lastly, I have not read one poster who advocated booing JT. I have never and will never cheer against one of our players, and I've said time and time again, that I really hope that I am wrong when I say that JT will not lead us a playoff .....or very likely a BIG championship the way things are going.
Boeckmann could've beat Army with this team. And since when has the bar been lowered to where winning 'most games' is acceptable. We're talking about a 5th year senior on a loaded OSU team. JT is expected to win out the remaining games, and if he's not capable (which he's not), then even more reason to start a younger qb now.
It's not hyperbole, it's fact. Perhaps you are confused.... when I say 10+ yard passes, I meant a ball thrown at least 10 yards downfield in the air before it is caught. Of course, dink and dunks with YAC over 10 yards are not included. Here are the stats from the first 2 games of '17 if you care to look at them
7 of 19 throwing the ball 10+ yards.
2 of 14 for balls thrown over 15+ yards.
And this is against Indiana and Oklahoma! Oklahoma is not exactly an elite defense. I'm sure their D will be giving up more than 16 pts to everyone in the Big 12. There's also equally horrific downfield passing stats from the last 3 games of the '16 season, but I don't care to go look them up again.
As far as everything else you wrote regarding scheme and play-calling, I will let my comments speak for itself regarding the '15 season and Cardale. The offense was never tailored for him and I don't think he ever got the full support of the coaching staff. That's my 2 cents, you have your opinion about the Herman void which certainly carries validity with me as well, but let's move onto 2017. When I heard that JT was coming back for a 5th year, I was not thrilled at all...especially after his performance in those last 3 games. But like most everyone else, I was willing to drink the Kevin Wilson will fix JT kool-aid and keep an open mind. But nothing has changed in the first 3 games of this season. We are literally picking up exactly where we left off last year. So I am done blaming OCs and QB coaches, wrs not getting separation, and oline defencies....because they are not the major problems. All of these non-qb issues that people keep harping about are what I consider first-world problems.... because our staff and players are literally the envy of college football right now. So no, they are not the problem. The problem is that we have a woefully inaccurate qb who is unable to throw a wr open, a qb who has awful footwork, and most importantly, a qb who has all-time low confidence guiding our offense right now. You can not sit where you are and tell me that if Urban made a change with either of our backup qbs, and let's Kevin Wilson run an offense that suits either of their strengths, that the results will be any worse than what we're currently seeing. I simply do not buy it at all. JT is essentially neutralizing all of the talent that we have on offense because of his accuracy issues, and our playbook is being limited as well because there are simply too many things that he can not do well as a passer...which makes us very easy to scheme against! I've said it before and I'll keep saying it again...a good qb can hide flaws on a team. JT's deficiencies are actually enhancing the flaws on our team, and it's long overdue to stop assigning most of the blame to anything and anyone else other than him.
You missed the point and/or you must not follow Spring ball very closely. JT took the majority of reps in the Spring and was always treated as the defacto returning starter. Urban sold it as he needed JT to get up to speed and familiar with Wilson's system. It was never an 'open' competition. The reps were not evenly distributed. It's really not hard to understand.
And it's your prerogative to not believe me, but ask anyone around the program or 11W keyed in staff if this year's Spring qb competition was anything like the qb competition between Cardale and JT in '15. They'll tell you the same thing.
So the gist of your point is ....'the offense has other issues and it's not all on JT'. For sure....but every single program in college football has 'issues'. And to go a step further, outside of Bama and Clemson, I would say nearly every team would love to have our non-qb related 'problems'. Our o-line has by all accounts a first rounder at left tackle, and an all-american candidate at center. There is experience (except for Bowen) and nfl talent across the board. Is Prince still growing as a player, absolutely. But like I said earlier, there is a Prince, weak-link, type player on every single team in college football. So if you think others are 'primarily' to blame for JT not being able to complete a 10+ yard pass since 2015, then that is a pretty weak excuse. And I will just say this about Cardale since you brought him up. He never lost a game, and he sure as hell didn't have nearly as long a leash as JT did after he played poorly. Plus entire coaching staffs and players weren't fired or thrown under the bus after Cardale played poorly. That special treatment is exclusively reserved for JT. As for why Cardale played poorly, I don't know, perhaps Urban should've stuck with the formula that allowed him to pull off the greatest 3 game stretch in program history as opposed to having him run a read option system which is not his skillset. What do you think?