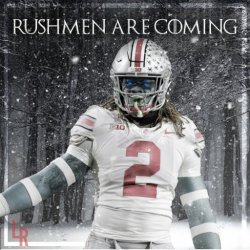 Berg2004
---
MEMBER SINCE November 29, 2016
Recent Activity
The 2018 defense...so painful to watch. Made McSorley look like Vick or Lamar Jackson out there.
Serious question: What's a game player?
Don't poke an already dominant and agitated bear:
https://twitter.com/buckeyeboy20/status/1290817066409381888
So you apparently don't respect his decision based on the graphic you made. I guess I don't understand the "why" in doing this. Just seems classless.
If a couple of games get postponed, I could see players opting out. We have a recent example: Nick Bosa. However, I'm not blasting him or anyone who decides to opt out.
Never underestimate the power of money and never fault someone for fulfilling their dream.
No coach of the year? Hairball or Ferentz anyone? /s
Great Buckeye and Ohio legend! Thanks for putting together these highlights.
I'm saying this with a smile and slight chuckle, but I'm glad he didn't play RB because he fumbled most of his INTs...haha
I had the same thought and it looks like they flipped the 2nd half scores. It should read:
Carmen's Crew 15, 29, 12, 12 = 68
House of Suck 19, 20, 19, 18 = 76
That'd be a fun game to watch, but gotta believe Ohio State wins 42-31.
They still don't get it. We hate them, yet respect them and the rivalry. Foolish Skunk Weasels!
Serious question: why is he a bad analyst? He's definitely Ohio St biased, which is a plus in my book.
I doubt if we'd redshirt our whole 2nd string of LBs. That'd be a huge liability.
I see UNC becoming #2 very quickly and start to threaten Clemson by 2021.
BC has about 3-4 years before they can get to double-digit wins consistently. Plus, BC will have to stop Hairball's reign of recruiting 2-stars out of the Northeast.
Maybe for MN, but for other states, most didn't start until the following week.
The Memorial Day spike just started recently (see TX, FL, AZ, OK). If there's one from the protests, I'd expect to see it start next week. Just my thoughts.
scUM is now the team that is settling for FGs...so glad Harbaugh recruits a lot of kickers.
Damn...thought we had them with that last second FG.
How was Terry Glenn a walk-on? I get it that recruiting isn't what it is today but just amazed by that.
It's day 8 of my quarantine and M*ch*gan still sucks!
This is my favorite hand-washing song:
Gilead is getting close: https://observer.com/2020/03/coronavirus-covid19-drug-fda-test-gilead-remdesivir/
Do you think Dabo would jump ship to Bama if/when Saban retires? Dabo is already the top paid coach, but going back to your alma mater would be appealing. Following in Saban's footsteps wouldn't.
All Power 5 schools have bagmen...all of them
Does he not get credit for safeties? Hooker and Bell were 1st rounders.