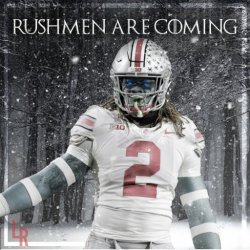 Berg2004
---
MEMBER SINCE November 29, 2016
Recent Activity
Slobs never went away but coming back in full force this year!
I care if we lose but my problem with most of our losses in the Urban era is the fact we were typically curb stomped. If we lose to a better opponent, but played a good game, I can live with that. It's the 31-0 against Clemson and 45-21 to Iowa that pisses me off since it seemed like the staff mailed it in and then the players followed suit.
I guess my point is if we lose to someone in the playoffs and your prediction comes true, at least look like you belong.
Sorry for babbling but I'm hungover.
All good stuff.
Coach Day has an instant advantage for maybe 2 years in that teams don't know his tendencies yet. Yes, he's been the OC, but I feel like he's still using from or adding to his playbook that will give defenses fits.
Also, Fields is a true dual-threat plus we have current and future studs at WR and RB. Defenses will have to play honest and not stack the box, even on 3rd and 2.
For some reason, I'm not worried about the OL this season. There's experience in some areas, less in others, but I think this will be a punishing OL by the time we start the B1G schedule. Having your starting LT always helps with that.
He never did. He used UFM.
The difference between a 3-star and a 4-star OL seems like a small difference and probably true for other positions that aren't QB, RB, WR, and DB.
Plus, this year's class is also about adding depth and quality. We need some bubbas at OL.
I feel like Melton will move to DE before it's all said and done. With his size and quickness, it's seems like a more natural fit in college and hopefully the NFL.
I use the word scandal since that's how it is likely used outside of the Buckeye fan base.
Scandal is probably more appropriate for the PSU-Sandusky and current LSU situations, but it is what it is at this point.
The past two coaches got caught up in some sort of scandal (whether the program was penalized or not), so if Day can avoid his own and win a bunch of games, then he will leave a legendary mark.
I still have lots of respect for Tressel and Urban, but everyone will remember their "scandals" just as much as their records and titles.
Give me 100 degree heat over 20 degrees freezing every day and twice on Sunday.
I thought Morant was a scUM lean anyways.
Plus, they probably got 9 verbals today in order to avoid any Hairball sleepovers.
Can you elaborate? Who were we supposed to sign?
It's on the coaches. Figure out ways to run a red zone offense effectively with the people you have or you aren't coaching up to par. Purdue, scUM, Penn St, Iowa, NW, etc, have lesser talent and same capabilities yet had no problem cashing in within the 20-yard line. Coaches need to figure that out...period.
I'll respectfully disagree. Saunders and Refrow are good role players, but you aren't winning or competing for titles with a roster full of role players.
Did they mention what the surgery was for?
How about a "Jonathan Taylor" type? If I'm a RB, I would go with anyone but LSU. They rode Fournette into the ground and his NFL career has suffered for it.
I find it funny that TTUN's QB who is a 2-year starter for them (plus how many ever he had at Ole Miss) and he's slotted only one place ahead of our guy. Shea is such a hoser!
All true but TCU backed out of this year's game so we have to play someone. At least we aren't finding FCS schools to fill up our schedule.
Coach speak...Fields is the starter unless something bad happens
In addition to Peterson, there are Tyrann Mathieu, Greedy Williams, Jalen Collins, and Eric Reid in somewhat recent history, so LSU does produce NFL talent. Not like Ohio State in the past few drafts, though.
Commodores in a landlocked state...boo! Hiss!
Go Bucks!
That non-conference schedule is tough, but should prepare the team for the B1G regular season and hopefully the NCAA tournament.
Yeah my fault. I forgot.
They still haven't won shit! Haha!
Last I checked, UGA has yet to make it to the CFP. Yeah, Bama is the reason why, but tough sh*t. You wanna be the best, beat the best.
Oklahoma, Bama, Clemson, and Ohio State have proven more in the CFP era than UGA ever has. Recruiting rankings are nice but don't mean that you've "arrived".