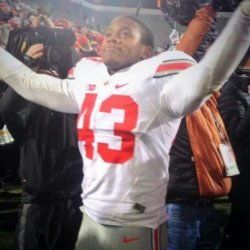 BEREABUCKEYE
---
Member since 28 March 2012 | Blog
Favorites
SPORTS MOMENT: I'm a Cleveland sports fan so I don't have many but the 2003 NCG and the Bernie Kosar years for the Browns
COLLEGE FOOTBALL PLAYER: it was TP, is Braxton now, will be Jalin in the future
COLLEGE BASKETBALL PLAYER: not an avid fan
NFL TEAM: Browns
NHL TEAM: ummmmm no
NBA TEAM: Cavs
MLB TEAM: Indians
SOCCER TEAM: see nhl
Recent Activity
Self impose a bowl ban this time Gene!
I felt the same way. Not sure whether to upvote or downvote lol. Can I downvote myself for thinking it?
I was surprised how well the receivers caught those darts from Haskins. Didn't think they had it in them.
Isn't Michigan the most academically prestigious school?
Loves Chicago Tackles
What happened to Nebraska? Did they leave too early for the NFL too?
Watched a guy get knocked out of a tourney last night when he check raised all in with his AK when an A hit on the flop...the other guy had AA.
Did anyone else put it into their phone calendar?
There should be a set amount for the stipend or at least a maximum amount, otherwise it'll just escalate each year. I could see an extra $200 per month swaying a teenager.
Please go easy on my hometown, just a small portion of it on Lou Groza Blvd is currently ablaze.
I am a middle aged white man and i have a problem. I don't like rap music but I downloaded started from the bottom by drake and I cannot stop singing it.
But...but...but, they were holding on that play.
Assuming it will be a close game, what final score puts the BIG in the best light? A 9-6 "classic SEC defensive struggle" or a 61-58 "high powered offensive display"? My guess is that either one would be spun to make the BIG look bad even though the actual participants in games with these scores had their profiles raised because of them.
Watch, when Missouri beats Georgia this weekend they'll move ahead of the good guys in the rankings.
They don't have the coaching talent or the athletes or the time to install it correctly.
After reading this I realized that it's likely we'll see the bear/cover zero in our bowl game.
45 - 24 buckeyes win easily
52-13 buckeyes
I'm kinda hoping that when they release the two deep it lists JT as the distributor instead of the quarterback.
Kind of has a Moonlight Graham feel to it except Frank got his in the show.
Yeah but would you eat your shoe if he doesn't become a buckeye???
I'm embarrassed to say that I actually took the time to read all 150+ posts on mgoblog and they have completely bought this story hook, line and sinker. With their superior education you'd think they'd see right through this bs...
Just awarded you my first upvote.
Mike Hart is UM's player of the BCS era? Tells me exactly where their program is in comparison to OSU.
Not sure which one is EGW but doesn't seem like much....until you see all the blood on the floor at the end. Hope they're both ok and EGW makes it to OSU next year.
Who leaves the field when the nickleback is brought in?