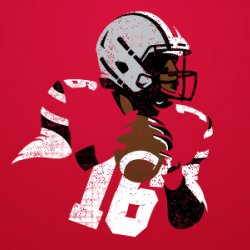 BengalErnst
---
MEMBER SINCE April 18, 2012
Favorites
SPORTS MOMENT: Michael Jordan over Byron Russell and Maurice Clarett stripping the football in NC game versus Miami
COLLEGE FOOTBALL PLAYER: Eddie George
COLLEGE BASKETBALL PLAYER: Kenyon Martin
NFL TEAM: Cincinnati Bengals
NHL TEAM: Pittsburgh Penguins
NBA TEAM: Chicago Bulls
MLB TEAM: Cincinnati Reds
SOCCER TEAM: Soccer?
Recent Activity
Because he's also one injury away from starting at his current college where he knows the offense and talent around him..
Really hope this doesn't become a thing. This would be one of the most pathetic things I've ever seen on this message board. Clemson is so much better than us we're just gonna advertise that in this board. Put an end to the moaning and groaning in the recruiting thread and let this one die.
Sounds to me a Clemson offer could be very dangerous to Marvin Jr. tho.
Wonder why I'm just hearing about Kiner now. A borderline 5 star RB right in Ohio
And what about defensive end? I've never been so confused at DL recruiting since I've started following it
Great get for them. He's a punishing individual.
Love when the former buckeye greats show up. Nothing better for recruits to see than that
Let me know if you find a link.
How nice of both of them to be complimenting each other the next few years. Don't always see that out of grown men
Needs to make it a done deal so he can start recruiting for us
Yeah I know but I was hoping he would pick OSU for both sports to provide us depth at QB. Just hoping
Which class are we going to try to take two guys? Is Jalen Suggs still on the board?
I don't get the whole "balling out" comment. That's not what I heard at all and he looked very sloppy. He needs to get down to 320
If he doesn't get his weight in check he won't be suiting up in scarlet and gray
No I completely agree that it wouldn't make much sense to me either but all these offers still going out while we sit pretty with plenty of OL and only 2 spots left.
WOnder if the staff plans on taking more than 6 OL
I doubt it. They have these things typed up for a few dozen recruits. Davis is all Clemson
I about had a heart attack when I saw Fred Davis was #8 dang it.. thought we pulled something crazy. I'll take legend of course but man I was excited
LeRoux and James as the 5th and 6th best OL in the class is something we can live with. I don't think higher ranked guys would be worried about being the 3rd or 4th ranked OL. The order of commitments don't mean much
I personally would love to see back to back classes with 4 elite WRs in it. Only took two last class and we lost 3, Blue smith transferred and now we will lost 4 more this year with Hill, Mack, Victor and saunders. Plus I wouldn't be surprised to see another WR transfer out by time 2020 kids get on campus
That list will change two dozen more times before NSD and I'm happy for it. I'd be disappointed at that S haul
Oh yeah his tape is pretty insane.. makes his competition looks not so high caliber. He would be a great #2 RB in this class. Insane
Dobbins leaving is forgone but for point of exercise I'd still choose him leaving after junior year... keep the pipeline going