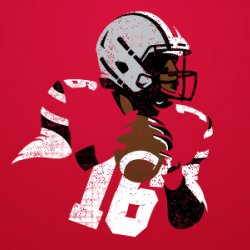 BengalErnst
---
MEMBER SINCE April 18, 2012
Favorites
SPORTS MOMENT: Michael Jordan over Byron Russell and Maurice Clarett stripping the football in NC game versus Miami
COLLEGE FOOTBALL PLAYER: Eddie George
COLLEGE BASKETBALL PLAYER: Kenyon Martin
NFL TEAM: Cincinnati Bengals
NHL TEAM: Pittsburgh Penguins
NBA TEAM: Chicago Bulls
MLB TEAM: Cincinnati Reds
SOCCER TEAM: Soccer?
Recent Activity
Suppose we better just use the transfer portal
He was trying to get his team the call there, but he messed up for sure. This game won't be decided by just that incident
Guys, this honestly isn't bad for us. 35-7 at half and we have a dozen coaching points. Clean it up in second half and give the backups experience. Allow the starters to be pissed about their first half performance and ready to take that frustration out on PSU next week
Mackenzie Alexander is the only one that comes to mind for me but I think hes like the 3rd or 4th corner for the Minnesota Vikings.
And he's a take for us at DT? Honest question. Doesn't he have a legit DE teammate ?
You do know that "rangy" play as a safety doesn't come from their heights? Right?
Brionte was announced for the draft.
That's some crazy logic to me even tho I follow it. We don't want the most talented team in the nation to get even more talented when only one team wins the national championship at the end of the season. What's the difference in finishing 3rd, 4th or 5th in recruiting ?
Saw these on Facebook this morning.. UGLY
So he is still saying 2 RBs?
I'm hoping him Cardale and JT are all XFL bound. I'd like to watch them all play again
I'm more than okay with that. As a fellow coach myself, there is no reason to have media all over the place
I stopped at an anytime fitness to watch second half.. I was a little worried early in 4th and when Elam ending started but what a finish
Keep us updated. I'm on the road. Go scarlet and gray
So ESPN did a good job with their 2021 rankings!!!
EJ remains interested even after talking to Alford?
And people liked Bill Cosby the comedian..
Plus the staff probably knows the outcome of those two commitments and feel comfortable at this point
I just don't know about bringing in another 2020 QB. Too many big time prospects out there interested.
McClain didn't choose Iowa state
The kicker is grayshirting tho correct? So he technically won't count as part of the 25?
I have the exact same class except for Ricks.. but I hope you're right