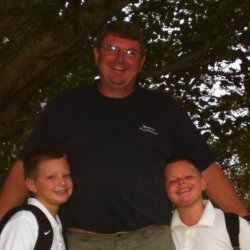 BelowAverageJoe
Cincinnati, OH (via Cincinnati, OH)
MEMBER SINCE July 26, 2016
My name is Joe and I am a 23 year old graduate of the University of Cincinnati. I graduated with a degree in Sports Administration because of my love of all things sport(s). I have never moved from the city of Cincinnati and I enjoy the city I was born in very much. I went to La Salle High School (where Drue Chrisman and Joe Burger went) before heading off to UC. Growing up my favorite sport to play was baseball however I love watching and analyzing football more than baseball. When I was 17, I lost my father to a brain tumor and no longer really had someone to talk about sports with all the time. Not long after I found this website and have been lurking since then and have been frequently visiting the site sometimes 3-4 times a day.
Favorites
SPORTS MOMENT: I have two: 1) Seeing Ken Griffey Jr. hit his 500th HR on father's day in front of his dad gave me goosebumps. 2) Watching Cardale Jones and Ezekiel Elliot plow through Alabama and Oregon to win the inaugural College Football Playoff National Championship.
COLLEGE FOOTBALL PLAYER: Braxton Miller
COLLEGE BASKETBALL PLAYER: Jared Sullinger
NFL TEAM: Cincinnati Bengals
NBA TEAM: Don't really watch the NBA, but I root for LeBron.
MLB TEAM: Cincinnati Reds ugh...
Recent Activity
No one knows what it means, but it's provocative. It gets the people going.
I had the pleasure of getting to watch and meet Jake while I interned at La Salle during the fall of 17-18. Not only is he a great kid from a great family, he is also extremely athletic. Not only was he the kicker, he also played WR as a Soph. Kid is talented.
He's the assistant AD at Roger Bacon. Learned how to do it recently.
Can't teach 6'8"... That's for damn sure.
Price was also listed as a DT so....
Can't teach height or athleticism... We will most certainly have the last laugh. As will the team who drafts this kid in a few years.
Man... I really wish Kerry Coombs got a chance to coach him his whole time here.
BOOOOO!!! JK... All love for my GCL-S brothers.
Lucky man.... Just got hit with some snow and another storm on the way. Wish us luck back here in the Nati!
You from the area? La Salle Grad myself.
I feel like a lot of people are forgetting about Marcus Williamson. I think he would be a perfect nickel corner.
Re-al Mitchell's parents are leading him astray. He seems like a really good kid but his Dad is the perfect example of the bad sports parent.
He called Justin Fields the next DeShaun Watson.... That's like when SI put Bryce Harper on the cover as a 16-yr kid and called him "The Chosen One".
Getting excited about Harrison and Fields is all good and dandy but that excitement, especially because of their ranking, means absolutely nothing until they prove themselves. My comment has nothing to do with excitement. I am extremely excited to see Harrison in Scarlet and Gray and the possibility of Fields is cool. But calling a former top-5 recruit, that is just one year removed from High School, the next Deshaun Watson, who won a National Championship and is winning in the NFL is asinine.
Edit: Appreciate the +1.
Based on what....
His 27 completions this year?
Just because it doesn't make sense to you doesn't mean it isn't the right choice for him. You can't be this conceited. We get recruits from Texas, Maryland, Florida, etc. What makes their decision to leave their home state any different?
I think putting Grinch in charge could bring about some really fun defenses to watch for the next for years. Let the boys get after it.
Assistant to the Head Coach*
That team made me fall head over heels in love with football. I was just 9 years old when we went to Canton. Went to every single game with my Dad and two of my uncles for years but that year was special. I'll never forget Dominick Goodman, Mister Simpson, Andre Revels and the two Byrd brothers.
That was actually good coverage by Sheffield. Collins was holding Sheffields arm.