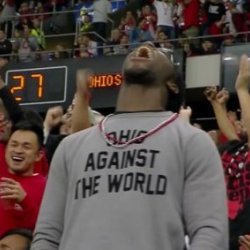 Belliott
Earth (via Norwood, oh)
MEMBER SINCE February 12, 2013
Favorites
SPORTS MOMENT: The first home run I ever hit in little league
COLLEGE FOOTBALL PLAYER: Braxton Miller
COLLEGE BASKETBALL PLAYER: Melvin levitt
NFL TEAM: Bengals
NHL TEAM: Nope
MLB TEAM: Reds
SOCCER TEAM: USWNT
Recent Activity
Steven Godfrey from PAPN/Banner Society said he's been helping with the CSU HC search
They haven't faced off in a high school game but fields won the Elite 11 at the opening over Lawrence.
Yep but fields needs to look for it when it's there too. A few times last night he had dobbins in the flat with a rush and didn't go to him.

After watching the past few games Clemson is going to blitz. They need to dial up a few screens early to catch them off guard. Also Virginia did a good job of occupying Isaiah Simmons with motions and other looks. I'm sure they'll study up on it.
My first thought is this is just like 2014 where the team that wins this game is the de facto champion. Maybe I'm disrespecting LSU but they don't scare me.
12 teams. Committee ranked still. Top 4 get byes. No conference championship games. Back to 8 game conference schedule for all P5.
first 2 rounds played at higher seed's home stadium.
Wray wasn't the rose bowl defensive mvp. Or offensive. Or even playing. There's a difference.

and legacy recruits can leave or not come in the first place, happens all the time. Winfield Jr. has made quite the name for himself as just one example.

and I get the Werner stuff but they could rotate and he's had some bad games. Even if he's been pretty good to great al year, which I think he has, I don't think he's been a guy you just CAN'T take off the field. but I'm not a coach so what do I know.
No, you see, their QB was a victim of an evil coach who was dishonest with him. He was also one of the few players at a school notorious for paying recruits that wasn't paid. Now fields, on the other hand, made up a story that was completely proven to be true by the university, just to get to OSU. They also paid him because why else would he want to come work with one of the better QB developers In the country.
I'll give you a few of those but Kyle Orrin and Curtis painter? Nah.

and you get my point obviously. Since brees, they've basically had no one. Cal maybe is a good example? Mississippi state?
But outside of one, who is great, who have they had?
its like Purdue talking to us about QBs because they had brees.
The dissonance people are exhibiting when saying Texas running game is trash and yet want Stan drayton back?
Wait until you see how they keep hartline around.
Obviously a few steps away but any ideas of candidates?
I think the analogy works year to year, but when it's 7 in a row and 17 of 19 or whatever, here we go again creeps into their heads. Even the kids who didn't play before know the recent history. That's powerful. So I think if they start fast, UM will be in some trouble.
I think they want to sell tickets and so they want LSU and Clemson in Atlanta. And OSU in AZ where they'll draw fans.
Cardale said the same thing
Because we've turned downvotes into "our opinions don't line up and it's the only way I can punish you"
Nope. Went and hung out for one week.
It's fine. A few downvotes don't bother me. If people don't agree that's what they do. Their choice. I do the same thing sometimes. It's fake internet points that don't matter. Haha. But thanks, I appreciate that you are fine to disagree.

The reason it matters in my opinion is that if they transfer close it was 100% playing time or culture fit. For every one of those, you have a Matthew Baldwin or trevon grimes who left to be close to home and that's the only reason. Do you think OSU is better without those 2? Because I don't. Are they fine, sure. But better off? Nope.

transfers are a part of the game now and I get it. My point is when you're doubling up at a position it's less of a gamble when you take the player who is close.
I'll respond to both you and the guy above because you said similar things. What classifies as a bunch? And how many of them went somewhere not close to Ohio?

No, it's not a guarantee and you're right if you want playing time, that trumps many things. But when you're not in a good place because you're homesick, it makes everything else seem worse. Like I said above, anyone who has moved somewhere new where they know basically no one can vouch for that. Once you settle in your mindset changes immensely for the better. But when you're not happy, and everyone you know is a dozen hours away, that lack of playing time manifests as why am I here?
Hence why I put "decided" in quotes. Also in a podcast the other day, I think talking stuff, the mentioned Milton also silently committed at one point. So that's 3. I didn't mention him because he's nowhere near his home at GA.

and it's not enhanced transfer portal understanding; anyone who has left home understands the feelings that come with it. But sure. You know everything and how dare anyone question that.
Also, I love Alford. I think he's a phenomenal coach and a good recruiter, but that would be a miss. He's not untouchable. Even LJ was getting shit a few years back from missing out on top guys. They make up for it with development of who they get, but ideally you want to develop the 5 star with the better tools.
Like he landed 2 other kids he had higher in his evaluations this year. And then they both "decided" to stay closer to home.
I love how bad people are at reading. I said I think he gets one, but if they're going for 2, one of them should probably be from somewhere near Ohio. Especially with 2 kids as good as kiner and Edwards. I still don't think people understand the impact the transfer portal is likely to have these next few years until teams get a handle on it. You want local kids. Especially when they're good enough to be at OSU anyway.
I think it likely goes the way of smith, Oweh, and parsons a few years ago, where 1 goes to one school and the other another, but if Alford misses on both Edwards and kiner to UM of all places, that's a pretty big indictment.
I'll be curious to see what the turnover luck rating is on BillC's SP+ game sheet tomorrow.
Basically most people and probability says that fumble recoveries are random and tend to even out. Today OSU lost all 3 of theirs and PSU recovered all 3 of theirs. That's a huuuuge anomaly. There were also at least 2 dropped picks and olave probably should have had at least one more TD but he couldn't hold onto 2 of the 3. (I'm not blaming him, just saying)