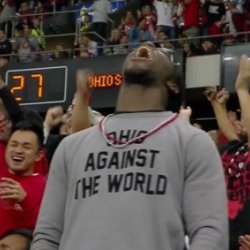 Belliott
Portsmouth, ri (via Norwood, oh)
Member since 12 February 2013 | Blog
Favorites
SPORTS MOMENT: The first home run I ever hit in little league
COLLEGE FOOTBALL PLAYER: Braxton Miller
COLLEGE BASKETBALL PLAYER: Melvin levitt
NFL TEAM: Bengals
NHL TEAM: Nope
NBA TEAM: Cavs
MLB TEAM: Reds
SOCCER TEAM: USMNT
Recent Activity
His wife just had a baby too. Sucks all around.
You can't really hold that against them. Everyone on here wanted smith and he hadn't even enrolled at Tennessee yet. Just as easily could have been OSU recruit trey smith beats up ole miss rectuit.
Really. After watching the right tackle play we've had over the past what 4 or 5 years, you're over the best tackle prospect from Ohio in decades and one of the best players in the country?
And solely because he's having fun with recruiting?
Do you secretly wish they'd have passed a June national signing day just to make this time of year more exciting?
He's got a national pull, but his wheelhouse is in the DMV and Midwest. It'll be more difficult to bring those guys that far. He's also older, and I don't know if he uproots his family, goes across the country to an unfamiliar area for a DC title and a little more money, but what do I know?
This is definitely underrated. Seems like gill was the first one outside of parsons and most likely the PSU coaches to know it. Or just the first to talk about it.
It was actually a reply to someone who replied to that tweet. They said most kids don't recommit to a school they decommitted from and he said normally yeah, but he didn't think so in this case
He told rivals he probably won't commit until the early signing period or even signing day and that penn state is still #1.
Also, our old buddy Birm is having none of it. Still thinks he likely lands at PSU. But a lot of CBS came in tonight.
Looks like it will be a battle.
I'm convinced they're just fucking with people. It's going to be something like he's changing his dogs name to jaelen or something.
The bucknuts crew were all about it though. Kurelic, wiltfong, etc.
i mean wiltfong cares deeply about his crystal ball numbers and changed him from OSU to cloudy a while back and still hasn't changed it. I don't see him doing that to drive clicks. They have the other writers for that.
James Daniel? Maybe. If you look at his stats from 2015-16 when he was healthy, he appears to need to take a ton of shots to get his points.
Im not saying they're the same player, but they said the same thing about Sean kilpatrick out of UC a few years back and if any OSU fan says they wouldn't have taken him they're just being dishonest.
12:10LOUISVILLE (-4.5)MICHIGAN (+4.5)
2:40KENTUCKY (-5.5)WICHITA STATE (+5.5)
5:15KANSAS (-8.5)MICHIGAN STATE (+8.5)
6:10NORTH CAROLINA (-11.5)ARKANSAS (+11.5)
7:10OREGON (-5.5)RHODE ISLAND (+5.5)
7:45BAYLOR (-6.5)USC (+6.5)
8:40DUKE (-8.5)SOUTH CAROLINA (+8.5)
9:40UCLA (-4.5)CINCINNATI(+4.5)

Did anyone else see the tweet about parsons being at the OSU junior day and then it was deleted?
Everything gets swept under the rug in Columbus under urban but our starting QB got a DUI 2 years ago. Sure.
I've seen similar things and he could be trying to drum up more traffic for 24/7 because this is a relatively drama free signing day (Marvin Wilson is the only one of the top 24 players uncommitted)
was just passing it along because it was just recorded this afternoon.
Ryan bartow is on this week's audible talking about how because Warriner is gone Davis mayyyy look around. Said if he shows up at Oregon this weekend, look out.
Just passing it along.
But he was a beast on NCAA football
They've been dropping a ton of potential transfer names the past few days and honestly i don't really like it.
Not at first. Go back and watch some of the early offense in his second season. Or even towards the end of that season. #firetomherman was the original #firetimbeck
this has been a common theme with Meyer where he needs to trust the OC. I think this will do it. Wilson is credited with teaching Meyer the spread. So if he doesn't trust him to do his thing, no one will ever be trusted again.
I also think the Day hiring is fantastic because he will help with NFL passing concepts which will be good in both games and recruiting.
And I still doubt it would happen, but I could see why there would be talk
There's a lot of talk about the Braxton rumors but, in my opinion, the closest comparison to something like this would be the Russell Wilson NC State/Wisconsin transfer.
Not huge on angels envy but really like whistle pig
He's a hell of a player but I don't have a problem with a lack of a 5 star rating for him. 247, at least, only labels a 5 star as someone they think is a future NFL 1st rd pick. No NFL franchise, especially after manziel, is picking martell in the 1st rd. Stature and playing style mixed with the NFL being afraid to branch out pretty much dictate it. If it were solely based on college, I'd give him 6 stars because I think he'll be that good in this offense.