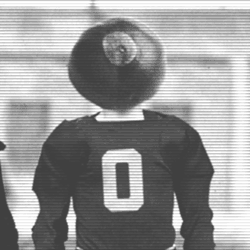 BeijingBucks
---
Member since 23 September 2012 | Blog
Recent Activity
This article sets up nicely cause Nicolas is Killing it and Im digging it.
...N-O! not another muffed punt!
Wonder who is demanding #2 this year? i don't want it... you take it
haha i was sitting there thinking is it the Dayton Dunbar Wolverines?
I'm pretty sure if you check the soul of every Bama fan there is a jenuwine Eze personalized signature branded on their soul....
ICANTBELIEVETHEYDIDITAGAINLAND
a spitting image of the old man apparently.. thanks for sharing a picture finally and stopped keeping a lid on it.
i remember that PSU game (i was fhere so take the blame for that loss). there were many things killing us there i felt, weather, crowd insanity, but worst of all a predictable count and playcalling. the LBs were at full speed right before the snap and blew by before Prince could even twitch. that wasn't all on him but i bet it wrecked his confidence.
At least he didn't turn into Shugsrts twitch
i learned that smoking weed is the gateway to cooking blue meth
reading i found myself sitting up and rubbing my palms together... sweet anticipation of 'same same but different'
Favorite OSU DB: "Jack Tatum. He killed a guy on the field. That don't [make] you the best [but] sheesh."
haha... get em Rob's
you may or may not be throwing shade but your accuracy is unquestionable
so much talent leaving with multiple years of eligibility left... yet we can't even get enough schollies for 20 in a draft class. talk about stocked cupboards!!
kuhrayzee
actually that cantguardmike article said MT was historically better than a rookie Randy Moss!?
i'm beginning to see that the cat editors actually have accounts and post when DJ is in the john.
slap a michigan jersey on that corpse...
eggs n grits, biscuits n gravy, basically all food with an 'n' in the middle...
with bus loads coming now... instead of a pipeline maybe we should invest in high speed rail? i know a guy...
everyone is a 20/20 hindsight genius... /s
I'm not feeling the love from Mascoll... he didn't capitalize 'The' University of Ohio State /s
Putnam gets it!!
Germany is fining Twitter for this fake news report
not sure why we would just omit Curtis and Dontre from the receiver discussion. on key downs and most of JTs long pass plays production came from them, no? They knew how to adjust to coverage and find openings in the coverage and had good hands (unless it bounced off them for a pick or a punt fumble... but I digress).
Both of them had experience. We have never had a receiver in my memory come in and do squat their first or even I dare say second years that I can recall. The fact Zone6 doesn't have JTs confidence is obvious. the poor play calling was obvious to the whole Buckeye nation (and opposing DCs) and the OLe production was underwhelming giving little time to find openings.
I for one will give a pass for this year but I admit not much more
aw man. ow those Vines had me GMAO
yeah liking palmer's ability to start creating space from the line. and in the (2nd?) clip the poor DB knew the long ball was coming, backed off from the line before the snap and still got beat deep. That QB was putting some of those throws in windows! I almost forgot what a slant between coverage looked like /s
smirk. 'not noted for his blocking' = 'tried to block and fell flat on his face'
but hey, he's all the receiving that's coming back so i'm on board
Those kind of 3* are understandable when it is a relatively new player to football or the respective position so there just isn't enough history to justify a more thorough analysis of their potential