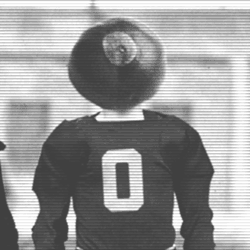 BeijingBucks
---
MEMBER SINCE September 23, 2012
Recent Activity
I was told there would be no math
Can someone PM me a link to get one of those orangutans?
#Buckeyeproblems
so can we get a link to the mid season report for up north?
Skully is aliiiiive. Now let's go silence the Sparty noise
So we need to add some mindless comments, homer predictions, scandalous links like any other skully.
Might as well start here
Since our only bad losses in recent memory were with inclement weather... this does not bode well for the fighting Dantonios
resonates with the 'cruits?
The walrus' time isn't past?
Bucks have been scary in the second quarter. Feel they will be pouring it on before half time. then MSU has to play catch up and that plays into the3 sack totals pressing on til Carmen Ohio
it starts with encouragement but a few screw ups later... he might have a bit in his teeth.
that was last year vs. Purdue and the year before vs. PSU... so yeah Im with the let's avoid precipitation and wind at night
This is my take as well. I truly hope MSU has the best Defense in the land and gives the good guys a game. A little adversity goes a long way towards solidarity.
It is TIME!
If you ever get a chance to see Chase Young suited up at eye-level... especially from behind. The height, musculature and dreads... The 'Predator' nickname is downright uncanny. Not to mention the camouflage trick so Linemen can't see him go by
Im 6'1" and I felt like Mike Hart.
Was lucky to be at the game. Vividly remember how electric the stadium was before that first pick. The initial kick off being backed up with a flag on the kick off, the quick momentum build up... motion with Okudah well off iin man... back across the formation with him trailing and... the closing step! How did he do that?!!! Total deflating whoosh in the stadium crowd.
It was delicious. Place sounded like a golf match by the second quarter
J happened to be walking by in the 3rd qtr and had to ask Chrisman if he was bored.
There were a few times when that stadium was deathly quiet. Kinda felt bad for them
Weather looks good so far...
Bold prediction: no one is gonna try a cover 0 on us for the rest of the year...
Yeah. Until we have a sense of if our QB can sling the rock and the LBs can get in anyone's way.... I'll hold off on getting cocky. If both those are true, I don't see is losing until we hit the Clemson PED buzzsaw
Except against UM. Just cause.
Was interesting somewhat entertaining and meaningless... with a baseball score ending.
Nonetheless made me think of how exciting this year could be if
a) Dobbins is close to as effective as he was Freshman year (reasonable expectation)
b) Fields can keep it and show reasonable speed elusiveness when defenses start to key on Dobs (not too unreasonable)
c) with our insane WR corps... also have any kind of passing game since that is Yurcich and Day's emphasis (hellyeah)
d) Defense has a serious point to prove and should have a chip (yes please)
this is an incredibly fun and exciting season coming up with all the unknowns and young potential and new coaches.
Especially with TTUN up to their usual off season world beater trash talking. It's glorious
I'm actually impressed with how the current batch of assistants has maintained the recruiting momentum from Urban's tenure. I like the little bit of a nod being given to in-state kids too.
The future truly is bright
He also was initially nominated for best dressed golfer... there was some consternation when it was realized he had taken golf pants to the street
I feel one of the things that makes or breaks a coach is their personality with asst coaches. Being able to draw good staff, maintain their morale (or in some cases *cough Zach* their moral,, and most importantly maintain a positive energetic culture that they all buy in to... rinse repeat every couple years.
I look at Clemson and feel their success is largely due to DC consistency at a high level.
Im in wait and see mode but will give him 3 years before worry about it
I'm excited and this all sounds perfect. But didn't we hang 60 points in these guys and their flex scheme like 10 minutes ago?
#askingforafriend
I kind of agree wkth this in that he needs to learn a new playbook but I also vehemently disagree as an HM all American should be adept at reading defenses and making calls as needed. He's been seeing the same opposing defenses we have for more years than most of our pups.
Also as a grad transfer let's admit the course load is different and he should have plenty of time to study the playbook