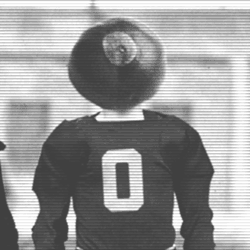 BeerNBuckeyes
---
Member since 30 April 2011 | Blog
Recent Activity
Very well said. All of the stories. Unbelievable. I was actually speechless Monday night for a while. Then I finally came-to and talked a lot and thought a lot about everything. I love that we all get to be champions for the next several months, but even more so... I'm glad that THESE Buckeyes get to be champions forever. THESE guys deserve it so much.
If I was allowed to upvote, I'd do it every single time I see this gif. My favorite of all time. Related: I watched some old Buckeyes game video recently. I was fascinated with the lack of zone blocks. There was a whole lot of just overpowering guys. I feel spoiled by watching Coach Warinner's Olines now.
When Urban hired Marotti again, I remember thinking we were in for some impressive changes in our players. It's even more than I could have imagined. Wish they held some kind of stupid camp for middle aged dudes. I'd be too scared of that guy to not get in shape. lol
You are so right about this. C. Grant deserves a lot of respect. So he wasn't an immediate star, as we all hoped. But he was killing in this game, and seemed to get better throughout the season. Remember when the prevailing thought was that he would be passed by McMillan almost immediately? I'm glad McMillan got plenty of valuable time this year, but I was very impressed with Grant. Especially as the season went on. At one point a number of games back (don't remember which anymore), I saw a big hit from a LB and thought it was McMillan. I yelled out his name in joy before realizing my stupid mistake--it was Grant. That was the moment I realized what was happening. That was also about the time I realized this defense was a LOT better than I knew. Can you believe the improvement in this team? Still just can't get over it!
Ramzy, you paint a great picture with your writing, as always. I've been waiting for your national championship reaction. Fantastic.
" In 2014, nine of the 23 players in the "Dream '14" hailed from inside Urban's borders."
Edit: Urban has no borders.
Fans: I want to see you give this team all of the love they deserve! Fill that stadium! These guys worked their tails off this year!
This was after Troy Smith allegedly took money from a booster. I say allegedly, because I believe he has said there was a bit more to it than that--years later. Anyway, the game coverage was awful. It was all about Troy taking money and "hey, remember Clarett?"
Definitely hats off to the Penn State crowd. VERY impressive. Maybe it's just the games I've gone to in recent years, but I feel like our crowds used to be louder. Someone tell me I'm wrong, and I'll be ok with that. I remember internal organs rattling and the everyone in the 'Shoe screaming their heads off. Again, maybe it's just the "lesser" games I've been attending in recent years.... but I'd love to see something closer to that for every game. I'm pretty sure I add a lot of noise all by myself. :)
On target. I won't claim to have been the poorest kid in my community, but even coming from a regular, blue collar-type situation, the spring game was my ONLY in-person experience at Ohio Stadium for many years growing up. To a child living an hour outside of Columbus, and who only knew these players on television, it was the best day of the year. Without those Spring days growing up, I may not have ended up with an OSU degree and so much love for the university, athletics and the traditions surrounding both. My father and I would not have attended those games for $20 a pop.
I was a crappy athlete. I remember a couple of good plays in hs soccer and some funny moments in basketball (usually when I hacked someone)... but my favorite moment was just playing wiffleball in the neighborhood one day in jr high. My biggest rival (in sports, with girls and in the classroom) was a neighborhood kid who talked a lot of trash and seemed to be good at everything. He was pitching, and my team was losing by one in the bottom of the ninth with two outs. We had one man on second. Yes, I smacked one over the fence... and despite it being a silly game of kiddie neighborhood wiffleball, I'll never forget my "The Natural" moment. It seemed to last forever, and my rival stopped trash talking for the rest of that one day.
By the way, that Evan Turner shot still makes me as happy as it did the day it happened. Incredible.
Wonderful story... and she was correct in pushing you towards writing. A great tribute to college football, passion, humanity and a good friend all in one.
Great read. My faith in old #13 is stronger than ever before.
Congratulations on your important day.
One of my friends married on a M*ch*gan game Saturday. I couldn't believe it.
My favorite part of reading a Ramzy article? Without even looking at who wrote it, I know it is him. Ramzy is a true wordsmith.
Also, I have not been feeling very confident about this tournament. But once the pairings were made, I obviously like the position the team is in this year over last year (which was ridiculous.) I now find myself worrying about the likes of West Virginia... but this article did help to pull me off of the ledge a bit. I guess we'll just have to be patient and see if this team will play the kind of basketball we all know they are capable of playing.
Great piece. I will look for that brick the next time I am there. I think most of us have a friend we HAVE TO talk to during games. I will remember to treasure that bond even more this year. Thanks so much for sharing. Go Bucks