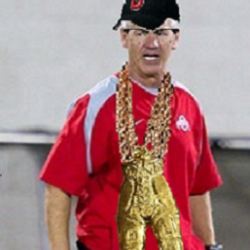 bedheadjc
---
MEMBER SINCE July 19, 2012
Recent Activity
"Is that any way to act at a Rock 'n Roll concert? "
"...Persian night, babe...
see the light, babe..."
I'd have taken him for that blocking and effort on the kickoff return alone....wow. (Soph Highlights 4th play)
The Conversation
Gladiator
Heat
The Bridge Over The River Kwai
Thought my young family was the only one. Corned beef, cabbage, potatoes, Guinness, and The Quiet Man.
I'm glad to hear there are others.
"When I drink whiskey, I drink whiskey; and when I drink water, I drink water."
She's so ugly she could make a train take a dirt road.
I'd like to hear how this is all the Refs fault. Hopefully a TTUN fan will elaborate.
My brother in law is an Oregon fan so I see more of them than I would like. I cannot believe anyone thinks Oregon should be ranked as high as I have seen them ranked for next year.
Since 2014 they regularly struggle to stop the running game against big time opponents. I think the Wisconsin Rose Bowl game was more about Whisky shooting itself in the foot than anything Oregon did defensively.
I saw Oregon play ASU in person this last season and they looked horrible on both sides of the ball. Could have just been that game but they once again struggled to stop the run. I just don't see that changing next year, and with Hebert gone all these top 5 rankings seem wildly optimistic.
Just my opinion.
standard country-style goat bleating
Thank you for this.
Except it's not Turgidson. That's Gen. Jack D. Ripper played by Sterling Hayden. Turgidson is George C. Scott's character.
I don't think he gets enough credit for his straight Soul songs. This track is widely regarded as one of the greatest Soul songs ever (and yes as the YouTube comments note Jimi Hendrix is playing guitar on this).
As a Grammar Nazi I must: it's "utter" not "udder". Unless you're a dairy farmer and can't let go once the work day ends.
The reason this must be addressed is that we can't have people running around saying things like "nip it in the butt" either.
Forgive me my compulsions.
(It's bud)
"I set my mind in motion..."
I figured you'd be around ;)
Only versions of this with Donna though in my book....
punched a kid on the opposing team:
C'mon, that's a win right there
I'm assuming Carmine finally took it out?
once for not liking country music
Let me guess the trigger(ed) puller: Andy Vance?
Maybe not the most but I agree. He struggled mightily with the one prime requirement of linebacker play: stuffing running backs in the hole.
Of course he'd look like a Hall of Famer in this regard compared to many of the LBs we've had here the last 10-12years. And yes I'm aware the game has changed.
This is possibly the best non commentary/non "x's and o's" break-down piece of journalism I've read on the site. Excellent job Mr. Hass-Hill!