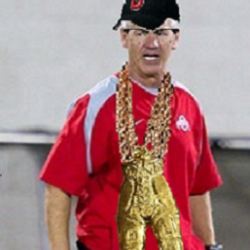 bedheadjc
---
MEMBER SINCE July 19, 2012
Recent Activity
I don't think he gets enough credit for his straight Soul songs. This track is widely regarded as one of the greatest Soul songs ever (and yes as the YouTube comments note Jimi Hendrix is playing guitar on this).
As a Grammar Nazi I must: it's "utter" not "udder". Unless you're a dairy farmer and can't let go once the work day ends.
The reason this must be addressed is that we can't have people running around saying things like "nip it in the butt" either.
Forgive me my compulsions.
(It's bud)
"I set my mind in motion..."
I figured you'd be around ;)
Only versions of this with Donna though in my book....
punched a kid on the opposing team:
C'mon, that's a win right there
I'm assuming Carmine finally took it out?
once for not liking country music
Let me guess the trigger(ed) puller: Andy Vance?
Maybe not the most but I agree. He struggled mightily with the one prime requirement of linebacker play: stuffing running backs in the hole.
Of course he'd look like a Hall of Famer in this regard compared to many of the LBs we've had here the last 10-12years. And yes I'm aware the game has changed.
This is possibly the best non commentary/non "x's and o's" break-down piece of journalism I've read on the site. Excellent job Mr. Hass-Hill!
+1 to offset..agreed Tshell
Upvote for you Dogg, because you're probably sitting at home thinking "what? No one gets it? That's funny as hell. Whatever."
Congratulations!
Let us know how you liked the Shiner "Kosmos"; it's my fave of the Shiner line. I was in Texas recently and couldn't believe all the different Shiner variants I saw.
Was just talking to someone about this. Incredible blocking by the WRs all game. And if they werren't actually tying up a DB they were screening them with their bodies. If you look at almost every highlight in this article there's one or more of our WRs blocking the hell out of someone.
I read it as they were testing him but he knew how to beat the system and passed that info on to his fellow players.
Wouldn't be 11W without you, sir. I'll look to the skies in anticipation.
Who is this and what did you do with the real "Buck68"? Complete sentences? Fewer stray punctuation marks IN their correct position IN said complete sentences? Fewer zen koans and elliptical stray "thoughts"?
Whoever you are, you have the tone down: the "oracle huffing sulphurous vapors" ambiguity. But this "paragraph" shit is jarring.
/jk Buck68...you do you