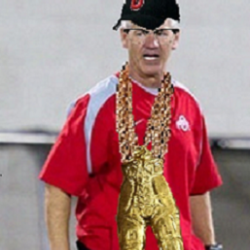 bedheadjc
---
Member since 19 July 2012 | Blog
Recent Activity
*faze
Grammar Creep here.
We don't get the Natty without Herman.
Maybe over time the others coaches' values will spike. Wilson might be the key to the next Championship.
Not to devalue Johnson or Coombs, or even Schiano.
By my math the "most overrated coach" question was answered by only 14 of the 130 FBS coaches. Not exactly a significant sample.
Though this might make the fact that "Harbaugh" was so prevelant even more hilarious. If 2 coaches answering "Harbaugh" is prevalent.
An entire thread where I had to resist downvoting the majority of comments (Which I know is NOT encouraged for merely disagreeing with a comment). Almost unheard of on 11W.
YELLING EVERYTHING IS NOT GOOD ANNOUNCING.
But will the bury him in the suit?
Jamario O'Neal: Crushing hits from a DB/LB. Wish he would have worked out for the 'Bucks.
Damn! Now he can even see AURAS!
Scarlet and Gray, I assume?
What color is Starcat's? Rainbow?
Thank you, Johnny! Love to see stuff like this on the site. More please.
C'mon MAN...use the Interwebs
http://www.ebay.com/itm/RARE-VERY-EARLY-LEISYS-BEER-NEON-SIGN-CLEVELAND-OHIO-100-UNTOUCHED-ORIG-/391705618951?hash=item5b33796a07:g:ukoAAOSwjDZYmJKN
Not Columbus but...
Call the distributors, that's who gives the signs out I think.
Wintermute
and the TV is WOPR
Y'all ain't done heard about the I Ching?
There has to be some other Beat/Hippie 11w'er out there...
Oh, poor me I have to work on my Birthday..THE MOST IMPORTANT EVENT OF THE YEAR FOR EVERYBODY DON'T YOU KNOW?? My backbreaking labor consisting of typing and phone calls. THE DRUDGERY. I could be selfie'ing right now!!! "Here's me eating the birthday cake I bought myself. I had to take the pic six times because I didn't like my hair. I am wearing my special birthday outfit though!"
Snowflake...here's your participation trophy.
I've been watching the sale religiously and I have to say it's the equivalent of your local Whatevermart's Markdown/Closeout shelf. A few nice teaser items and the loss leader electronic rental market drivers like Jang78's $400 Prime TV (which is pretty nice) or the Alexa thing. I am pretty unimpressed. I had held on to tax refund money thinking I'd get to blow a bunch on things I had on my Amazon wishlist.
A lot of the markdowns, even on the hourly specials, aren't much more than any of their one day blowouts throughout the year.
SIgh.
TL;DR: You mean they won't sell me the TCL 55" upgraded model 4k TV I want for only $250?
And it's Almighty not All Mighty....
just to pile on
Agreed.
with a freaked Black & Mild dangling from my lips.
Oh My.
Thought the same thing and we must have missed the joke.
"Bradley", "Berle"...maybe?
Ooooooooooo.....queue X-Files music.
Let's get conspiratorial: who says Auburn is blocking his transfer to OSU solely for their best interest? Maybe this is an SEC thing. 'Bama wouldn't mind if we don't get him. Hell, calls along those lines could have been made. Stranger things have happened.
Mary Margaret Humes...who is now 63. And still attractive. The movie was Mel Brooks' "History of the World Part I" from 1981.
EDIT: To think I'd be faster than a MOD. KB wins.
WANT HARRY. Uh...you know, just not in that way.
Moves so well. Can't believe he's a Soph.
CS:GO. 5000+ hours across all versions of Counter Strike. PC. It's a life (however sad :) ).
"Is this testing whether I'm a Replicant or a lesbian, Mr. Deckard?"