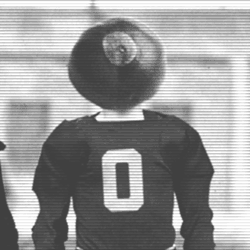 Becool12
---
MEMBER SINCE October 21, 2012
Recent Activity
Well, that's probably because it's not theirs.
Great analysis. I agree with much of what you said. I think there were a few things overlooked by your analysis. I think our performance in 2014 was largely due to talent & really mismatches. Our top 3 receivers were Devin Smith, Michael Thomas, and Evan Spencer. The worst of the bunch was Evan Spencer, but even he would be the primary receiver in this offense. Not to mention the fact that he was our best blocker. Then, you toss in Jalin Marshall, Curtis Samuel, and Noah Brown @ H-B or WR #4 and Vannett @ TE and it kills any defenses' ability to cover our passing game. That meant a team's DC would have to choose between letting their safety play support for Devin's Smith deep passes, thus leaving our 4th receiving option matched up against a linebacker.
But, when the QB play the past few years and compare it 2014, I see a lack of confidence in both the WR group & the QB's. You couple that with the bad pass blocking and you end up with what we have now. I think that playing Haskins now would force us to change our offense completely two games into the season. I think JT is late because he lacks confidence in the receivers abilities to get to make the right decision. It's as if he wants proof that they are going to take a certain action before he throws.
I agree with all of that, but then again, we had Chase Farris starting at RT at some point and still didn't look half bad. Even with McLaurin & Campbell dropping passes, he still doesn't have confidence that he can just throw the ball up there and have a receiver come down with it. Devin Smith bailed him out quite a bit, but those passes weren't completely off. Now, he is overthrowing or underthrowing receivers left and right.
Nope... Not seeing your point. Mack Brown hasn't had a good quarterback, or team for that matter, since Colt McCoy left. You can blame JT for our struggles but we have been better on JT's worst day than Texas has been on for 75% of their games since McCoy left.
Jet sweeps to who? Dontre? I remember a bunch of crossers and deep passes to Devin Smith. His numbers were mostly good due to the Wide Receivers making great catches. But, then again, who gives Danny Amandola or Julian Edelman credit for Tom Brady stats? Or Reggie Wayne & Marvin Harrison credit for Peyton's stats.
He hasn't really changed as the first poster mentioned. His success has always been QB driven. When your QB is a boss like Tebow or Braxton, then he is crowned the best coach in the world. When your QB is in self-doubt, you end up underachieving like we have the past few years. It's a lot of pressure to put on a men who aren't 25 yet.
Pretty much. I believe he felt he was already an established running qb, but then he had to prove that he could also be a great passer with a strong arm. Then, over time, he tried so much that started to doubt himself and hesitated. He suffers from paralysis by analysis. He renders himself useless by holding on to the ball too long, not scrambling for 5 yards when he gets the opportunity, and elongating his release to try to make the perfect pass.
i'm definitely not making any excuses. I'm stating what I believe the issue is. At this point in his career, I don't think it's really correctable. I think he's going to play the rest of his days in doubt and not doing the thing that made him good in the first place.
Sorry, I meant 2014. I forget that 2014 was his freshman year.
Not a big deal, the Elite Eleven chose Stephen Collier over several other higher rated quarterbacks. It's a crapshoot from time to time and never really consistent.
Great Pittman reference. I think the difference between Pittman and Weber is I feel Pittman is often overlooked for multiple reasons, whereas Weber is been labeled as good, but not great. Pittman was, unfortunately, the victim of playing on teams with great some of OSU's most memorable players. He was the back when Troy won the Heisman. He was on the team with Teddy Ginn. You can also throw in a few other draft picks like Gonzo, Hartline, and Robiski. He also had split carries with the #2 recruit in the nation. Despite that, he still had 4.4 speed and was able to break off big runs. Weber, on the other hand, lacks the speed and doesn't have Beanie's or Clarett's power so he is being overlooked. But, to me, the disrespect comes when people are mention how McCall should start or Dobbins will take his position. McCall is probably a generous 180 when he's wet and wearing boots. Dobbins is coming off of a broken ankle. Weber averaged over 6 yards per carry with under 200 carries, an inconsistent offensive line, and coordinators making very questionable calls.
I don't think one could easily blame the coaches. Yes, they made very incompetent calls last year, but they did the previous year as well. Especially during the Michigan State game. I blame the fans for expecting every running back to be Zeke, Hyde, or Beanie. We don't need a back to make explosive plays to be a successful player.
I will agree that his biggest weakness is his inability to break every shoestring tackle. His lack of top end speed isn't much of an issue to me. Zeke made several big runs a few years ago but he has track speed. He is really a once in a lifetime kind of back. If Weber works on his balance, I can see him averaging 8+ yards a carry without that top end speed.
He had his 1,000 yard season overshadowed by the arrival of JK Dobbins and the Demario McCall's few big runs.
Actually, I would disagree ans say it would be more difficult to get 1,000 yards. We had an offense that had multiple ball carriers in him and Curtis Samuel. On top of that, we relied heavily on the qb draw. Having a balanced offense would have actually benefited him, considering he doesn't have breakaway speed
I've seen a few posts talking about Jk Dobbins taking snaps and ultimately taking the majority if snaps. I think I heard it on the Bucknuts show a few times as well.
Thanks for correcting my typo.
Sorry, had to rant. I was sick of people calling for his head after a great 1,000 yard season
You mean that play against PSU and where the guy tackles him before the ball came and wrapped up his right arm as he was bring Clark down?
No, there a few definitions of a h-back. One is the Harvin role, but Urban has also referred to the Aaron Hernandez role as an h-back. Brown was never a potential tight end, more of a potential H-back (hernandez). The use of a tight end was actually more of a new thing in Urban's offense because the players he inherited here were different from the ones he recruited at Florida. If you look at the highlights of the players, you will see that Campbell was a runnig back and McLaurin was one as well. McCall was a running back, as was Wilson. Now, I would like clarify what is meant by "true" wide receivers. I meant more of a X and Y type and less of the slot/z type. Most of our receivers are Harvins or slot receiveds
So, it is easy to point out those players as successful athletes. You can also make the point for 3-stars that were signed on our team. Devin Smith was a 3-star, as was Lee, Powell, and Pat Elflein. But, will a team full of 3 stars win a national championship? I will probably say no. Now, my point isn't "hey, I don't want Urban to recruit athletes and try to convert them to different positions." My point is that we have a team full of them. When several of the players on you team are inexperienced, raw, and still learning the position you are automatically at a disadvantage. When we think of the teams we had on the field for the past few years, we had a few guys who are relatively inexperienced at the position on the field but they provided the athletic advantage for us. When you think of things like Mike Thomas' stop and go against Virginia Tech last year, you know that comes from years and years of experience. You probably won't see something like that from any of the wide receivers on our team this year because they lack the experience and technical understanding of the position.
Secondly, I never said we don't sign true receivers or true running backs. We still have signed players at wide receiver like KJ Hill, Alex Stump, Bim Victor, and Austin Mack. But, right now, 3 of them are freshmen. A lot of the corners we had were true corners. But, how many of them ended up being tweeners or nickels? Damon Webb, Armani Reeves, EGW, Arnette? It's all about percentages. If both the starter and the backup aren't necessarily experienced at the position, odds are you will have an issue.
And, let's not get started on the whole "give Curtis Samuel" the ball topic. They literally gave him the ball in the most unproductive and uncreative ways.
I think people get defensive because they take broad criticisms as being criticisms of Urban Meyer. If you direct criticisms at an assistant coach, or a player, it is welcomed. With Buckeye fans being used to winning and dominating every single game, we get irrational when things aren't going our way. Over the past few years our sayings it from "Herman sucks and we should have hired Chad Morris" to "Fire Fickell" to "Fire Beck" to "We need Ed Warriner calling plays now " to "Fire both Warriner and Beck." It is only when we start dominating again that we get back to being reasonable
You can pick and choose seasons to make the comparison. If you look at the quality of our opponents you will see that we played only 2 ranked teams during the regular season, one of which was a Northwestern team that finished 1-7 in Big 10 games. Of course our stats would look way better than 2015. If you look at recruiting, Roby had an extensive offer list and was highly sought despite being a 3 star. Darron Lee was a Fickell offer and Mike Thomas was a Fickell signee that came with Cardale in the 2011 class because his grandmother died and he essentially shit down his recruitment process.
I'm not saying Meyer isn't a great talent evaluator. I'm not saying he isn't a great developer. But to solely give Herman full credit for the team's success would be dishonest. Braxton, Hyde, Barrett, and Elliott saved us many times when the playcalling was questionable. Secondly, we won the national championship with players who were mostly not recruited by Meyer. Most of the players there were inherited by Meyer or very close commits when Meyer signed them. I'm not discounting Meyer's ability to recruit, I'm questioning the sustainability of us having so many raw and inexperienced athletes. When you stack and compare any roster from the past 3 years, you will see a significant difference in experience minus the year where we had to convert Fragel and like 2 dl's to tackle.
Habdling talent isn't the same as recruiting and developing talent. I don't question Meyer's ability to handle talent. He took our 2011 6-7 team and led them to an undefeated season the next year. I'm also not questioning his ability to recruit and develop talent because he has taken several players who appeared to be head scratchers and turned them into household names. I do question us having so many athletes on our team. I feel like I can at least question that. We complained about Zach Smith's ability to develop talent at the WR position without much argument. If we can do that, why can't we open up the board to questioning players, coaches, and scheme? Or, what I'm doing is questioning the combination of all three.