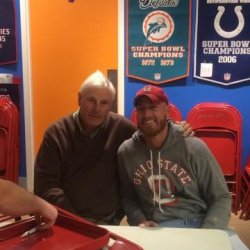 BeaverOhioBuckeye
---
from Beaver Ohio
MEMBER SINCE October 05, 2014
Favorites
COLLEGE FOOTBALL PLAYER: Joe Germaine
NFL TEAM: Cleveland Browns
Recent Activity
Didnt UT cancel our series a few years ago???
I agree with 2 of the 4 Mine are Kern,Germaine,Troy Smith and Haskins
I would love to see the research numbers on this topic can you provide them? Also here's the deal if this virus is as bad and as Contagious as they say it is we are all going to eventually catch it at some point. Also by some chance If I catch it and I have health issues from it I guess I will deal with that if the time comes. But to call my stance stupid because I'm rooting for people who catch it to beat to the virus just makes you sound like a complete prick. You know people who get cancer have can have other health issues too after they beat it but by your stance it sounds like we shouldn't support them battling it as well.
I too would love to see the true numbers on all of this especially the true death rates. Did people pass away because of Covid or Did they pass away from other things but have Covid in their system?
I stand by what I said if you dont like it dont comment on it. Being alive and beating it if you catch it is all I care about. Thanks and Stay Frosty!
Call me a jerk but I dont care about positive cases I only care if the death rates are rising.
I can fake an entire relationship until after Christmas and my birthday. I do it for the gifts!
Comment removed for violating the site's commenting policy.
I say no I'm just not seeing it. I wish him all the best but if I'm an NBA GM its a hard pass for me.
I'm probably going to get down voted to hell but I personally Hate the Schott for anything other than Concerts. I've been to quite a few arenas and this hands down is the softest and lamest atmosphere in College basketball. They should play half the schedule in St. John where its hot and loud and the crowd is into it. While we are at it put the State Championships in St. John too.
In April Going to see Billy Joel in NYC at Madison Square Garden. Others I will be seeing Metallica, Sturgill Simpson, Kenny Chesney and Jimmy Buffett.
Id love to see Pearl Jam but they aren't around here and tickets are insanely high
No because I think Georgia beats LSU this wknd moving them to 4 and LSU to 3. LSU gets Clemson in Atlanta and we go to Tempe and Beat UGA ass off and Then piss pound Joe Burrow and the Tigers of LSU.
42-17 Buckeyes!!! Bank It!!!
I watched the play that knocked him out last week it was nasty and he was dumped on his head. so who knows and Franklin has came under fire with the way he's handled players in the past.
Living in Southern Ohio I would say I'm happy for him doing the job he has this season. But to be honest right now I wouldn't trade him for Fields and if we play LSU he's public enemy #1.
Im all for an 8 team playoff the winner of every power 5 conference should have a chance to play for a title. BTW while we are at it they should put the National Championship on a Friday or Saturday Night. Im tired of watching games on Monday and dragging ass on Tuesday.
Great Show Season 5 had me confused though.