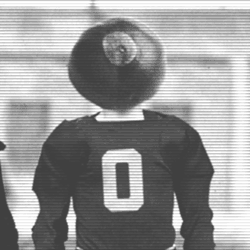 Beaver
---
MEMBER SINCE August 23, 2016
Recent Activity
I definitely want to enjoy this fine season, but wait until next year.
It was never the fans, it was the poor coaching of receivers that did not recognize THOMAS.
This article is as stupid as letting Md and Rutgers be part of an otherwise good league. This team could not beat most D1 HS teams. No need for political correctness. It is obvious to even people with very little knowledge of the game.
With Clemson at least 4th
They usually only keep players through their rookie contracts and then let them go rather than pay their worth to other teams. This maximizes the Brown family profits and provides Ohio with a perennial loser. Paul Brown was a football genius. The offspring are football idiots.
I just saw Maryland play, so do not stress. The next two weeks is an SEC type schedule. Save any stress for the last few weeks.
When you suck that bad, you are not going to look better next week. Better get your stats early because the first team will not be needed.
The next two weeks will be like playing mediocre high schools. These two teams really weaken the BIG.
None of this matters. In two weeks we will be no worse than 2nd. If we win out we will be no worse than 2nd.
#32 whiffed his blocking responsibility
I remember seeing Tommy T in a clip from last year when he first arrived in camp. They were doing one on ones. He was going against a current two deep lineman. He drove his OL opponent about 30 yds back before they could blow the whistle. He may have even pancaked the finale. I have been looking forward to him developing and getting to play because he immediately showed future stardom. I love watching him play.
You better hope Browning is ready. The LBs are not as effective in his absence.
Thank god Martell left. Can you imagine a run first Bauserman behind center. We are definitely blessed with the players we have.
Stroud is looking more important to this class. I am hoping the best for Miller, but he has had no luck with the injuries. I hope that does not follow him to OSU.
It is great we seem to be well rounded and a real contender this year thanks to the coaching changes and therefore the culture. I can not blame the talking heads and media being against us last year when skill players were having career days weekly at our expense. Let's be glad this year does not appear to resemble last year. Our team deserves the accolades this year.
Since when is a $100,000+ free education not enough compensation? Entitlement is getting old. I hope the ncaa evokes their membership and prohibits traditional teams from playing them.
I think you can count on Urban being 100% supportive of Day's success and hopes of taking this team to the next level. I agree all indications point to this team being real special.
I do not want to think, or know why any of our coaches would play favorites, but why has Wilson not already shown he has the ability to be a top rated returner. He is a threat to go all the way every time he touches the ball. We have not seen that for a long time. He appears to be sure handed, which is another plus.
Every time the camera was on Hairball, I thought for sure he would eat another booger. Just something that doesn't go away after seeing it before.
What makes you think anything was promised to him? His ability and Johnson's coaching will allow history be the next great DE.
I have never seen a more undisciplined professional team ever. These Cleveland coaches have no control over these thugs. Robinson ejected a plus for the Browns. Can not cost his team more yards.
They are not that far behind. Maybe a better 2nd half.
What makes you think that Cinci should have been ranked?
I would love to see Joe and LSU run their table to meet us in the playoffs. That would be the game of the era.
I do not think we should be calling for another player to take away carries after one game. He did not seem patient to find the best lane most of the time, just the opposite of freshman year. Freshman year he patiently found a good lane and started making cuts. This week may be a better Dobbins. 150+ yds.