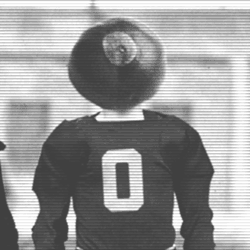 Beaver
---
MEMBER SINCE August 23, 2016
Recent Activity
Harbaugh started having real recruiting issues after he ate the Booger on TV.
Journalisten has been abandoned and fake news is accepted In today's culture. The lie is front page news. Soon after, The apology and retraction is in fine print on page 29. Be proud of your ignorance is the battle cry of his generation.
I was a year off, but I thought Lucus and team played against him. Thanks for pointing that out. It was a lot of years ago.
Cincy had Oscar Robertson. Our team was definitely great, but so was Oscar. I was upset as a ten and eleven year old at the time, but they are great memories now. It is good to see many of them now. Bobby was a good sixth man. Nobody intimidated him, just the opposite.
K.J. will probably not be a first round pick, but I believe he will be very successful in the NFL.
Rewatch some of his games in his first year at LSU. Most of his receivers had a bad case of dropsies. Not the case his second year.
Joe was hampered by a broken hand during the QB competition and was said to have been very close to the starter even with the injury. Joe was better than stats in his first year at LSU. If you watched many of the games, the receivers were dropping a high percent of their passes.
Joe was good and obviously is good. I hope he does not get seriously injured in Cincy and continues to impress all.
It would be hard to get excited even if ˋGronk´ was tabbed as the next great TE at OSU. TE is just an athletic tackle here and no sense thinking it will change this season.
If you are talking about whipping it when he was young, you better pack a lunch. Bob Knight was a tuff character that could back up his antics.
Not that it is OK, but almost every article I read in any National News has at least one major error. If a person was not fluent in English it would be difficult to try to read between the lines to figure what they are trying to say. Many Journalists are just a joke that may not have passed English grammar.
By adding Olave, Wilson and maybe one other WR to that group could make it better than any team ever. It has that type of potential, we will see how it turns out. This should be another great season.
Agree, and everyone does not need to be a five star. Our coaching staff has the ability to coach up a player with potential. Great get.
He has the right attitude and wanted to be a Buckeye. That has to mean something. He just was not big enough initially regardless of his skillet.
You know, so did a lot of receivers the year before they became Very good. Look at last years LSU receivers. They dropped a lot of balls. Many of the same guys that helped Joe to the high percentage he had this year. It will not surprise me if Victor is suiting up for an NFL team next year. He was close late in the season and it sounds like he supported that in the All star game. We will see.
Our D was good enough to win a championship this year with these young players. Our offense had an off night. Probably would not happen again if the game were played over and over, even with the paid off Zebra in the booth. We had and have a very good team that can contend again next year. Be thankful.
There needs to be transparency on which team has the cartel and mob money on them. This is the only true way we will know ahead of time which way the paid off replay booth guy is going to go. As we know, it makes a huge difference and as we know, there are no consequences for the zebra on the take.
There is so much talent that a deep rotation at each position will be possible. I hope most of them make an impact this year. The whole offense could be better than this years team. It will take an overall dominance to overcome the potential of another paid off replaybooth Zebra.
The NFL is just entertainment, if you are entertained by a flag and review of every play sprinkled in amongst the hours of commercials. Not a whole lot of football going on.
Being a bullet position candidate might not be a good thing, based on last years D.
A little drop off is much too kind. Three other guys needs to have a Damon turnaround next spring. This is a huge step making our NC possible. We know the offense should be great.
It will not matter again next year since mob money and corruption determines game outcomes. We are last years New Orleans Saints. There are no consequences for the booth guy that was the INSURANCE policy to make sure Clemson had all of the advantages. Naive people call it conspiracy theory, intelligent people call it reality of sports betting.
He needs to take some notes. These are the same guys he failed. Goes to show, it was not our guys?
He may be a starter before the end of next season. We have a lot of good young linemen coming up and Day thinks he is as talented as Davis and Meyers. Paris Johnson will be fun to watch too. It may be hard to keep these guys off the field in the near future. Great class. It should produce several early producers.
our 2 deep depth will be able to keep the scoring coming in the second half of not so close games. Whoever wins the backup QB will likely be competent to run the offense. Hopefully we will be in the Play-off picture again next year at this time.