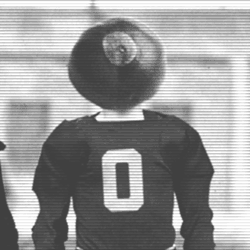 Beaver
---
MEMBER SINCE August 23, 2016
Recent Activity
i Hope Chase becomes as good as he is projected.
What do you call 6 and 7? That is the toilet to most OSU fans.
It is over 500 miles and a 9 hr drive. Maybe not so close.
I can not wait to see Borland play fast. It is difficult to visualize after watching him waddle down the field following the tackle he missed to the endzone. What a joke.
He just wasn't able to catch passes behind him or other non convenient placing. No problem with Haskins placing it where it needs to be most of the time. stone hands = poor throws. I have seen him drop some right on the numbers, but almost all receivers do that occasionally.
Could very well be 4th if Crawley is as good as advertised.
Unless Borland was playing really hurt creating his snail speed, someone would be a better starter. It got so old watching him miss on the play and then waddle down the field 25 yards behind the guy he already missed. There is too much talent on this team to see that again.
I hope Chase does become what many think he is, but he has not demonstrated being anything close to a Bosa yet. Last year he was good sometimes, but I do not remember great.
They are known for their multiple chances. Remember Crab Legs Jamis?
The next "team" you write about Corso, you may want to get somebody to read and check before posting an article. I know this is petty, but it is rampant in so called journalism at all levels. I guess real journalism went out the window a few years ago. Be proud.
The same lies tricked Ruckert into coming to OSU. There is no way they get another blue chip TE until the lies are actually proven on the field.
You must go back several years to have a D that could be called really good, if that helps?
I sure miss the talking heads saying "Johnny football" a million times a telecast regardless of handsize.
How can you say he is better than Dobbins? Dobbins is in for a great season.
What about all of the Browns 1st rd QB choices before Mayfield. They were all media darling losers.
If Prince is successful as a pro, it says our OL coaching staff sucked.
Good catch. Remember the film clip of Tommy driving Jones about 35 yds backwards in One on one competitions?
Relax, new coach, new scheme and basically an open "minded" competition. The new coordinator may allow the D to actually be coordinated instead of playing as 4 units. Who knows, but at least wait and give them a chance before all of the criticism.
Big agree here. It got old watching replay after replay of Borland starting out missing the tackle opportunity then fading quickly as he waddled down the field following the runner going 70+ yds for the TD. I do not think the best talent could not have been on the field. All of the 4 and 5 stars could not be busts. Davis is gone because of his poor judgement on players and scheme. Maybe it was poor scheme only. We will see when starters are announced in late summer
I'll give Woody the best left hook, but Urban is the best football coach.
Meyer has been OSUs best coach, hands down. It will be interesting to see if Day can keep it going. It will take a few years and a few NCs to find out. I think he has built a better coaching staff and with the great players we have, he sure has a good start.
Pryor did win the awards for most tats as well as the most free tats during his attempt to selfishly take down the OSU football program. Those not remembering this embarrassment are probably just too young. Pryor is not an OSU hero and not even close to a skillset of Haskins.. It makes me sick every time he is mentioned on this site.
100% agree with you comment. Upvote included.
Why is this anyones business, other than OSU management?