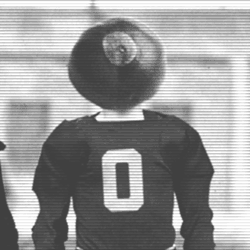 BeatMeechigun
---
MEMBER SINCE May 17, 2018
Favorites
COLLEGE FOOTBALL PLAYER: Michael Doss
COLLEGE BASKETBALL PLAYER: Jim Jackson
NFL TEAM: Cleveland Browns
NHL TEAM: Detroit Red Wings
NBA TEAM: Detroit Pistons
MLB TEAM: Detroit Tigers
Recent Activity
Awesome story! Thanks for serving!
We have the same in our family history - a "killed by Indians" during the war. May have even been the same year.
Another didn't survive Valley Forge.
During the Great Rebellion / Civil War, we had one who survived Shiloh but was KIA in Memphis afterwards. Another taken prisoner in The Battle of the Wilderness who ultimately died in Andersonville. Their brother marched under Sherman and survived the war, naming his son "William Tecumseh Sherman".
Definitely interesting digging into your family's past.
THIS.
The Sweet 16 is not equivalent to the sixteen best basketball teams. It is simply the 16 teams who won 2 (or 3 for a select few in the play-in round) matchups.
The polls and tournament seeding are much stronger indicators of a season's level of success.
A top 15 finish and a 4-seed or better would be a successful season IMHO.
Spot on.
I've gone to the game at IU the last two years. The IU fans may expect a loss and may claim they don't care, but I'll be damned if there weren't 35k-40k Hoosier fans going wild when IU kept it close and made big plays. Same goes for Purdue last year.
Are these venues and environments comparable to a 2005, 2007, 2014, 2016, or 2018 PSU or a 2003, 2008, 2010, or 2016 Wisconsin night game? No. Can they be challenging environments when the home team surprisingly puts up a challenge? Absolutely.
I genuinely appreciate Cooper for the talent he brought in and the turnaround the programs Ws and Ls made under his watch.
What drove me nuts about Cooper was that he came off as downplaying losses and sometimes even blamed the players for not making enough big plays. We didn't lose to Michigan in 1996 because of a slant route. We lost to them because our playcalling was tight, the coaches were tight, and settling for FGs inside the 5 yard line when our defense was playing lights out left them in the game. 1996 should have been 17-0 at half, not 9-0. Same with the 1998 MSU loss - he described it as one of the worst he'd been a part of, but it was the OSU juggernaut of a team that looked nervous and tight, not MSU.
There were some AWESOME wins. Twice vs ND, the Rose Bowl, getting the best of some very good PSU teams, but what I lament about the Cooper era is that there was never a complete season. 1998 was oh so close. So was 1996. 1995, 1993, 1997...so many were agonizingly close to greatness. The exact reasons we have disappointment in the Cooper era (never getting over the hump) will be forever tied to the exact reasons we should have a decent level of appreciation for Coop - he put us back in a position to be close enough that everything mattered.
We were irrelevant in 2011. I can tell you losing to TTUN in 1993, 1995, 1996, and 1997 hurt FAR more than losing to TTUN in 2011.
I not only want TTUN to remain relevant, but I want them to experience that same pain as frequently as possible. I want to hand them 2006, 2016, and 2018 losses where their hopes (and delusions) are all on the line. A win over TTUN is always a great win - it's just that much more satisfying when we can crush some Wolverine dreams while doing it.
Thank goodness, it's not a bigger field or regular season interest would take a hit. No reason to get excited about Ohio State-Oklahoma, Ohio State-Penn State, or any CCG featuring two top 6 teams if both winner and loser are bound to make the field anyway.
Sure, there's some of us that love college basketball like I do, but I can admit that any given regular season game is near meaningless. The must-wins all happen in March. CFB is the one sport that has must-wins from start to finish. Lose and you may be out (Baylor-2014, TCU-2014, OSU-2015, OSU-2018), lose twice and you are definitely toast (OSU-2017, Michigan-2016, etc. etc.). That's the beauty of the sport. EVERY game matters. The Big Ten is just the conference who would rather see their network succeed with a gauntlet of games to generate tv ratings as opposed to the SEC which is willing to forego regular season ratings with fewer conference games and softer opponents to ensure 1 or 2 CFP entrants. 4 teams isn't the problem. Unequal scheduling is.
Excited for Mike!
I'll admit I think expansion franchises often try to play catch-up with the established / original franchises. I'd be surprised if the Celtics or Lakers ...or even Pistons or Bulls retired Mike's number for similar accomplishments and certainly don't see it happening while a player was active. There's no doubt he has been very successful and I've been happy to see that for him, but this IMHO is a by-product of a franchise with no history desiring to establish a presence of one that can resonate with their fans.
Thad is one IMO that we will only appreciate more as time goes on. If Holtmann gets that long-awaited 2nd NC, I think Thad will be seen as the guy who re-established program expectations. If Holtmann doesn't continue on this current trajectory (looks great so far!) then I think Thad's first 7 years are seen as the second "glory days" of OSU basketball along with the early 60s. Those last 3 years were a slide, but ultimately the overall results are still VERY successful.
TV ratings would suggest interest remains high. Game attendance would obviously be different as you've shown. At $60 a ticket, $20 parking, and $5 pops plus the beverages I take to my tailgate spot or buy at Hineygate, I'm going to be making the 2.5-hr trek from NW Ohio to the Horseshoe more Saturdays than not as was the case in 2002. At $175+ for any meaningful game plus $50 parking plus the mark-up in food, beers, and even non-alcoholic beverages, I'm picking a home game a year. Seriously though, the cost of going to 7 home games as a couple is about equal to the cost of taking a second honeymoon to Hawaii for a week. Not to mention the gameday experience was simply better two decades ago. You might have seen a Big Bear ad on the plastic cup or program you were holding, but you didn't have to deal with the incessant interruptions from American Eagle or Nationwide looking for the "fan of the game". TV ratings would suggest the interest remains just as high.
1. If Day becomes a short-term NFL candidate (3-5 years) we are talking about some serious success at OSU, probably including a NC.
2. Despite the hot air that drives 1,000 talk shows on ESPN, very few college coaches go to the NFL and far fewer succeed. If Day has desires to coach in the NFL and has adequate success at OSU in the next 3-5 years to do so, that means he would prefer to leave a long-term stable position at one of the top coaching destinations in CFB to pursue what is likely a 3-year stint in a league where aside from the Patriots, teams rise and fall every 3-5 years if not sooner.
The FAR more likely scenarios are that if Ryan Day is not at Ohio State in 7 years it is because: A) his teams failed to perform to expectations or B) there was some scandal just deep enough to drive headlines on ESPN for a few weeks. I am not expecting A. Unfortunately, given the current knee-jerk, "fire someone!" mentality in our culture that entails presumption of guilt before innocence, I suspect he follows in the footsteps of Tressel and Urban - wildly successful, but get taken down by media pressure and a politically correct administration.
I don't think any Buckeye fan wants 1995-1997 for the sake of the rivalry. Or even 1994-1998 if we want to argue a closer record.
There are some of us though who love (schaddenfreude is the word I believe) to not merely see Ohio State win but to see Michigan suffer. What the Illinois program is going through right now is not suffering, it is simple irrelevancy. Their fans have and will continue to disappear in number across the state, leaving only the rah-rah alumni core. What I want is 2016, 2018, 2006, 2007, 2012, etc. etc. rather than 2008-2010. I want to see arrogant Michigan fans GENUINELY believing they have the better team year after year, whether based on rankings, pre-season projections, or delusions. I want every game they play us to feel like 1993, 1995, 1996, or 1997 in reverse. Beating a 2008 Michigan team still counts and still yields the same gold pants. But I want more. I want to see our Buckeyes take EVERYTHING from them like we did in 2006, 2016, and 2018. We could (and hopefully do) win the next 20 in a row. I just want to see Michigan ranked top 10 in many of those occasions to make it hurt more. That may be playing with fire but that's what I want.
What is "Chicago-Style BBQ"? I didn't know that existed. Is that a broader style or is Lem's just marketing that term?
Kansas City, Memphis, Texas, and Carolina are pretty clearly established and well-known styles.
Maybe I'm just old and it's nostalgic now, but 1995-1998 (despite an annual bitter pill or two every season) was just such a fun time to be a fan of college and Buckeye football. I love the position we are in now, running the Big Ten for the better of two straight decades, and though I definitely wouldn't trade our run to have it back, the seemingly annual 3-way race between Ohio State, Michigan, and Penn State in the 90s made for some highly anticipated matchups! The hits were harder. I think there was a word called "slobberknocker" they'd use to describe it when a Buckeye defender baptized someone and Katzenmoyer and company had their share. There were these positions called fullbacks and tight ends, who were athletic enough to make a play but big enough to move a LB. And most of all, gameday felt like a mix of partiers with Lane Avenue closed to traffic and Hineygate in full swing and families tailgating in the lots surrounding the Horseshoe. Today it feels so much more corporate. It will be interesting to see where this sport goes - maybe two-hand touch with 79-68 scores for games between players making up to $500k, playing on the American Eagle field inside Nationwide Insurance Ohio Stadium. Hopefully not, but either way, I loved Buckeye football in the 90s.
End of season results aside:
1. 2002. This season was utterly amazing start to finish in its own right, but what puts it light years ahead is that it made up for 1996 and 1998 by getting that awful monkey off our back.
2. 1998. That MSU game aside, this was the most complete season of Buckeye football I've ever witnessed. That team was head and shoulders better than the competition. Arguably the most talented team in Ohio State history, and unlike the sputtering offense in 2015, these guys looked amazing for 11.7 out of 12 games that year.
3. 1995. Wins over ND and PSU programs that genuinely thought they were better programs than us a that time? Yes, please. Add on 5 wins over ranked teams in the first 6 games and it was an amazing year until that awful day in Ann Arbor.
4. 1996. 70+ points in the first two games followed by top 5 wins over ND and PSU. Couldn't ask for a better start. Unfortunately the offense began sputtering down the stretch and our struggles at IU resulted in one of the most miserable defeats I can recall. The Rose Bowl was excellent if you look at it in a vacuum, but the loss in November tarnished even that accomplishment.
5. 2006. Win at #2 Texas and an offense that was steam-rolling teams. 1 vs. 2 Michigan game with a win was outstanding. We know the rest and in retrospect, Michigan's 39 points should have raised more concern than it did.
6. 2014. The result was the best possible, but starting 1-1 leaves a month-long sour taste of a ruined season. Late in that PSU game, the season felt all but over. The MSU win was spectacular. Then the JT injury left the season feeling lost again. What happened those next 3 games is almost indescribable and the Alabama win was utterly outstanding. That all said, this didn't feel like anything close to a National Championship season until our TD right before halftime against Alabama and for most of the season was riding tracks towards a 1997 or 2005, 2-loss type year.
7. 2016. Another where the result wasn't great, but the win at OU, the OT escape at Camp Randall, and the 2-OT win over Michigan were awesome! PSU seemed like a fluke, so it wasn't as awful as losses in other seasons - especially with a 4-team playoff at the end.
8. 2005. A year earlier, people were calling for Tress's head right up until the second score of the Michigan game. The talent and defense was evident and this was a team that was a bounce or two (cough, Hamby) from being right in the NC hunt. The PSU game was tough but another where getting a bounce to go our way results in a win. In all honesty, we could be living in a world where the 2002 team loses two games and the 2005 team ran the table. One of our more under-rated squads IMO. Great finish with wins over TTUN and ND.
9. 1997. Another team who I think deserves a bit more credit than they get. This team lost a nail-biter at #2 PSU and very well could have won at top-ranked TTUN had Stanley Jackson taken a sack instead of flinging the ball into the air while going down. That game was a dog-fight. Even had the Bucks lost at PSU as they did, had they won at Michigan, we would have been likely looking at a 12-1 Rose Bowl championship season. Instead we got 10-3 and a beatdown from FSU's d-line, but much of the season was fun.
10. 2010. For being close to having a shot at the NC, it just always felt out of reach after the Wisconsin loss. Otherwise a fun season, though the scandal puts a damper on it.
Only exception for me would be BG where my parents went (just has that local feel like someone else mentioned earlier). Grew up going to some Falcon games with my dad.
Otherwise only Ohio State. I have a graduate degree from another Big Ten University and I don't even own a shirt representing that school.
Never understood OSU fans who wear UNC, Duke, UK, Texas, etc. as well. Just seems bandwagon IMO. And cannot for the life of me understand someone who is an OSU football fan ever wearing ND or someone who is an OSU basketball fan ever wearing Bearcat gear. The Bearcats directly cost us titles that otherwise might have had a lasting impact on the perception of our bball program and OSU and ND were vying for titles against one another almost annually in the 70s during the polling era.
Ryan Day makes Georgia howl to the point where in utter desperation and fear, their fans burn their cotton, their farms, ...everything but their corn because we want that.
The Ohio path of destruction continues towards South Carolina, and makes Clemson pay.
All points are spot on.
Discounting the Browns pre-Super Bowl 4 NFL Championships (the additional 4 AAFC Championships are a tougher push though certainly debatable to say the Browns have 8 Professional Football Championships given they won it all their very first year in the NFL and appeared in 6 straight NFL title games succeeding those 4 straight AAFC titles) would be akin to discounting Ohio State's 2002 or 1968 NCs because the CFP didn't exist. That's silly - these teams won the highest level accomplishment in their sport based on the system at the time.
Ohio State was 25 years removed from our last NC when I was a kid. The last Rose Bowl appearance was 10 years earlier when I was born. But that didn't stop me one bit from being proud of the talent on the 1993-1998 teams and didn't stop me one bit from being proud of the program's history. Heck, I remember drawing the Stadium and Archie Griffin as art projects.
I'd wager that 1) any younger Michigan fan (age 22-23 like you said) knows damn well who Charles Woodson was even if they weren't there to watch him or old enough to remember and 2) Delusionally but genuinely believes that Harbaugh will get them going.
It's part of being a fan - at least a true fan - you have an elevated view of your team's/program's worth. I lived both with Ohio State football and basketball in the 90s for sure.
Big Ten: Camp Randall was my favorite. Happy Valley and Nebraska's Memorial Stadium are close behind.
Pac 12: USC at the top, though UW, Oregon, ASU, Colorado, Stanford, Cal, UCLA, and Arizona would all be road trips I'd be eager to make.
Big XII: Texas and OU and no desire for anything else, save maybe a beatdown on the Mountaineers at WVU. OU tops my list simply because I went to the 06 Texas game and missed the 16 game at OU.
ACC: FSU followed by ND and Clemson. UNC and VT would be on the list as well.
SEC: Night game at LSU followed by Neyland. Bama, A&M, UGA, UF, and even Auburn would all have me excited as well.
Ultimate pick: I love that we have had some great home and homes with USC, ND, Texas, and OU and those would always be my top 4. However, the fact that the idea of an Ohio State vs Premier Southeastern Team home and home is as elusive as can be leaves LSU at the top of my list right now. Bama or Clemson would be in theory if we could schedule it now, but there's no guarantee they will be top 2 programs 10 years out from now.
I've gone to watch the Bucks at Happy Valley 4x (2003, 2005, 2007, 2018) and aside from the 2005 game outcome have had a blast every single time. Beaver Stadium and Camp Randall are in a class of their own when it comes to Big Ten night game environments (think 2009 USC but with pumped in music constantly amping-up the crowd). Not saying that pumped in music is something we need or desire at the Horseshoe, but also not going to deny that it makes those atmospheres that much more intimidating. I've seen the Horseshoe rock for 2016 and 2018 Michigan on big plays, but I've never seen the Horseshoe rock after Ohio State gives up a huge play the way Beaver and Camp Randall go nuts on every damn play - even after a lousy play.
I'll agree that the 2005 PSU crowd was extra-amped and will also agree that PSU has the worst fanbase in the Big Ten - most bitter and highest percent of Jersey and Philly scum might be the blunt description. But I've never had or witnessed so much as a near confrontation while at PSU. Verbal abuse such as "Ohio State sucks!" and "F- Ohio State!"... absolutely. But number of PSU fans that left me feeling unsafe would be zero across 4 games and number of Penn State fans that have invited me to stop at their tailgate after an initial exchange of constructive criticisms of each others' schools would be 8-12. If you want the awful video from 2007 experience then walk down frat row and you might (unfortunately) get that. But if you simply want to go to Beaver for an OSU game, tailgate, and have a blast, by all means I would HIGHLY recommend it.
Disagree. What you described CAN be the case as it was for the Cavs, but the Celtics in the 80s, Spurs in the 00s are examples of excellent managed franchises that didn't ride the roller coaster and instead built themselves for long-term success.
LeBron is an outstanding talent but he brings a ton of baggage with him. He has created problems within and/or has left the organization dead in the water at nearly every stop he's made. More talented than Jordan, but emotionally-weak.
For Cleveland, a city that was desperate for a championship, the ups and downs were worth it to get that one but if I had built a team that annually contends I wouldn't gamble on bringing him in to get over the hump vs. the inevitable wreckage he leaves behind.
I'd be shocked if OSU agreed to Penn State being a night game, ending 156 hours before Michigan.
Not to mention November 23 is not typical night game season in the Big Ten.
PSU will be 3:30 IMO.
Spot on with Nebraska and Wisconsin night game projections.
This is awesome!
Big fan of this exciting OOC schedule both from a team development story (same thing MSU, Duke, UK, etc. do with aggressive scheduling every year) and obviously as a fan.