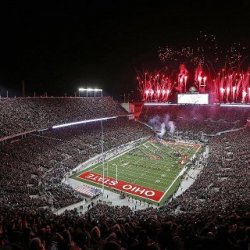 BEasy732
---
from Westerville, Oh
MEMBER SINCE January 09, 2015
Favorites
SPORTS MOMENT: Rushing the field in '02 after OSU beat Michigan, watching the National Championship victory over Miami, watching OSU crush Alabama live in NOLA, and Zeke running all over Oregon to win the 1st ever CFP
COLLEGE FOOTBALL PLAYER: George, Winfield, Gonzo, Ginn, & X-Brax One
COLLEGE BASKETBALL PLAYER: Michael Redd, Mike Conley, & Craft's Rosy Red Cheeks
NFL TEAM: Cleveland Browns
NHL TEAM: Columbus Blue Jackets
NBA TEAM: Cleveland Cavaliers
MLB TEAM: Cleveland Indians
SOCCER TEAM: Columbus Crew
Recent Activity
Thanks for the link. Got me, my sisters, and my parents. All filling claims now
#1 - 2002 I was in my 3rd year at OSU. Knew guys on the team, was at every home game, and it was so much fun. #2 - 2014 I was at the Alabama game. Along with an amazing season, and partying on Bourbon St. on NYE, the Bama game and after party is something I will never forget. #3 - 1995 EDDIE EDDIE EDDIE
Definitely got a little dusty in here watching that video of TMac getting the call. So excited for him and Haskins. Go tear it up in DC fellas!
Roosters' chicken fingers are the best, far superior to anything on the B Dubbs menu
Cooper made big plays during The Game, and almost broke Shea Patterson in half, and he got better ar the year went on. Wouldn't call that a disappointing season. Really hope Smith, Cooper, and Young all improve and have monster seasons
Was going to say the same exact thing +1
Musa with an unexpected big game tonight. That's what it takes to keep dancing. Keep it up! Bucks!
LET'S GOOOOO!
I thought he'd be here 8-10 years, win 4-6 B1G titles and 2-3 national championships. It was a great run, the overall record was awesome, but feel a little disappointed in not winning more titles.
Beat Northwestern!
Well done, LOL
I think he just has to be 3 years removed from High School, but not 100% sure.
Let's get a quick 3 & out, and go score again before the half
Why does he look stoned out of his mind in that picture? HB = Half Baked? LOL
If I had the money, I'd put together a team of investigators to dig into all these media talking heads' personal life and past, air their dirty laundry, and then destroy them on social media platforms they way they do to others. Maybe that would create change, but I doubt it.
Well we now know why Corey Coleman got traded.
Couldn't agree with you more. I've been listening to 105.7 more and more because it's getting increasingly difficult to listen to Common Man and Bone, but after this week and their show today, I'm disgusted. I seriously hope they get to eat all the crow and feel like assholes after this is over.
I get what you mean, but it is fun to see comics brought to life on the big screen. Now if they ever bring my favorite 80's cartoon to the big screen, I'll flip out with excitement #Thundercats
Can't wait!
Defense needs to step the fuck up and make a huge play. It's time
Fucking pathetic and embarrassing start to this shit show
Turrible
Bran was pretty damn creepy last night, but he should play a big role go forward, and I can't wait for everyone to find out the truth about Jon when Bran spills the beans. Hopefully it happens by the end of this season.