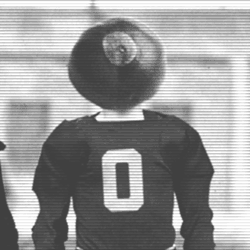 Beastdog
---
MEMBER SINCE January 05, 2019
Recent Activity
Hopefully. But the 1 seed has NEVER won the CFP.
I was there. 20% Buckeye. 25% tops.
I was at the game and had one tell me to STFU when I yelled back to him (after he was blaming Patterson after a bad play) that Patterson wasn't their problem. I had been pretty mouthy throughout the day, so I probably deserved it lol. I wasn't being a smart azz though, I actually thought he was playing fairly well for them.
I thought it was a dead ball foul.
So a personal foul is now a 25 yard penalty? We went from the 45 to the 20.
This will be what's going through Coach Day's mind in the 2nd half of most of our remaining games. https://youtu.be/XEDgMsI7fd8
Lawrence has two more years to play, Tua only one.
He quit the team right before the Purdue game. It can certainly be argued this affected the team's psyche leading into that debacle.
The best thing to happen was the removal of a all-time top 10 college football coach? That just doesn't sound right to me.
He was an AWESOME analyst in 2011. Can't wait!