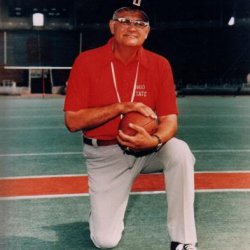 BDobina
from Canton
MEMBER SINCE February 13, 2014
Favorites
COLLEGE FOOTBALL PLAYER: Beanie Wells/ Teddy BallGame
COLLEGE BASKETBALL PLAYER: Mike Conely
NFL TEAM: Browns
NBA TEAM: Cavs
MLB TEAM: Tribe
Recent Activity
Was training for the Combine tougher or easier then Coach Mick's training? How different were the atmospheres?
"The Game of the Century" was by far my favorite win of "The Game" and here's why...
Unfortunately back then we only had digital cameras that had a 5 second flash before it finally took a picture. Tress turned mid picture. Got a few more but these are my favorite 3.
All are great responses. HOWEVER, and correct me if I'm wrong, but not one person said this guy?!

Don't forget about him doing it at the celebration
Stone Cold Steve Austin and thats the bottom line
The dark... is afraid of Joey Bosa
I too grew up in Canton and Perry just renovated their stadium and rebuilt the field adding turf. It's definitely one of the nicer stadiums in NE Ohio now.
I agree with everyone disagreeing that Grant is better in pass coverage. Also when comparing McMillan to Grant I feel like McMillan looks more instinctual then Grant. It seems to me that he read things and reacts a half step quicker then Grant does. Don't know if anyone else sees this or not. Just my thoughts.
I would take Marshall. Agree he has more wiggle then Dontre. Here's a curve ball. I wouldn't mind seeing Curtis Samuel back there fielding a punt or maybe a kick off....
Anyone else surprised that Burrows is ahead of Bell and Conley is ahead of Apple??
One argument I want to bring up regarding moving the date of the game is I believe it is MUCH easier to suffer from a hang over if it was in the middle of the year. Imagine how much of a hang over we would experience if the following game were against someone like Illinois. Could you imagine the repercussions if we would lose a game like that in the beginning of November? We wouldn't have to worry about getting psyched for championship weekend.

I also personally like it being played during the day and would like to see it back to being a noon game again. Like you said it IS the biggest rivalry in all of sports. So we should play it at noon like it used to be and set an example of tradition. If TV doesn't like that o well because its not like they wont air it.
Just my thoughts.
I think EGW is the most underrated player of this class. As of right now, besides Hilliard, I think he has a chance of seeing the field and getting significant playing time faster than any other recruit. I am from Canton and follow Stark County football very closely and the kid can flat out play. I know it is only high school but he is one of those kids that every time he touches the ball he can take it to the house. Teams scheme their entire defense against McKinley on just how to stop EGW because he lines up all over the place a lot like Ginn did at Glenville. Like everyone else has said, he just needs to stay out of trouble and he will absolutely be very special.
I agree with lowering the shot clock (although this may make it worse because I can see team throwing up worse looking bricks/ prayer shots). Unfortunately the only way to speed the game up and increase the scoring consistently is by making it more like the NBA. The biggest factor is defensive of 3 seconds. Having 7 footers, who should not even be on the court (Amir Williams), sit in the middle of lane to take up a lot of space greatly reduces what 18 year old kids can do.
We have to remember that for the most part the best players in college basketball are freak athletes who have not spent much time working on a jump shot (because why would you rather do that in high school when you can/ and are probably one of the only people on the court who can dunk the ball every time down court?). So, unless they get a wide open uncontested shot for the most part, shooting percentages will be way down. So if you brought in defensive 3 seconds to the NCAA you would see a lot less zone being run forcing teams to play man to man. This will lead to more open (and easier) shots, and seems for players to take advantage of.
I can't stand watching the NBA but if we want college basketball to be more entertaining like the NBA then it's rules have to be more NBA like.
Our D- Line is absolutely loaded. There is no reason we shouldn't be the best in the country.
THE FOLLOWING STORY WAS THE BEST DAY OF MY LIFE
When I was in high school one of my best friends was being recruited by OSU and I went with him on his unofficial to the OSU vs. TTUN (1 vs 2 in 2006). We met just about every great you could imagine. Spent a long time with Mike Doss because our coach coached him while he was at McKinley. This is while he was still with the Colts but was injured. He was in a full blown 3 piece suit topped off with a fedora with a feather in it. Being from Canton we talked to everyone from around there (Dustin Fox, I think Mike Hartline was there with us to watch his brother Brian but im not positive, Peterson etc.) Also we went to high school with Barton so we talked to him for awhile as well.
Walked with the team to and from skull session. Got to meet Tressel and was on the field for pregame warm ups right behind Teddy and Troy. When we ate lunch at our table sat CC, Eddie and Terry Robiske. After the game we went back up to the locker room and ran into a few more greats. Topped it off by taking a picture with Jeter and we made him take of his ugly _ichigan baseball hat he was wearing and put on a Buckeye hat.
Best part of the whole day was beating TTUN in probably one of the best rivalry games I can remember in recent history.
Go Bucks!