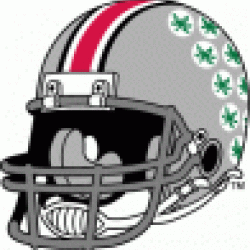 bdegroff
---
Member since 01 September 2010 | Blog
Favorites
SPORTS MOMENT: Being part of my high schools first ever playoff win last year against Bishop Watterson.
COLLEGE FOOTBALL PLAYER: Antoine Winfield
COLLEGE BASKETBALL PLAYER: Scoonie Penn
NFL TEAM: 49ers
NHL TEAM: Red Wings
NBA TEAM: Bulls
MLB TEAM: Indians
SOCCER TEAM: N/A
Recent Activity
This sucks, because now every team in top 10 of draft is going to seriously second guess his hams. However, running a 4.36 and 4.37 will keep his name up there. Plus, he can take 2 weeks off. Lots of treatment and light work. If he can show out again at his pro - day he'll be back in the convo. Still 1st round talent and those 40 times legitimize that.
Wasn't Coach Coombs saying Ward was the fastest player on the team? 1st year with playing time and will certainly improve this year just as Lattimore and Conley did after their first year playing. Two years of replacing 3/4ths of your defensive secondary can cause concern, but after what Coombs and Schiano put on the field this year, I am not that concerned.
Identity. Alabama knows who they are. They are going to smash you for 4 quarters on defense, then steal your soul by scoring on defense. Offensively, they are going to pound you with a 250 lb RB and then run around you with their speed guys. They may be boring on offense, but by the end of the 3rd and 4th quarter, the opposing defense isn't tackling their RB and they'll take a shot deep just to twist the knife in your ribs.
Could the lack of receiver production be a by product of a lack of offensive identity? IF Kevin Wilson takes over offensively and creates an identity, could that alone solve some of the issues? Receivers running routes that make sense; a QB coach that explains reads so JT knows what he is looking at. Just a thought
I'd like to see him lined in the slot with KW's offense. It seems to me, that when we played IU it was the slot receiver that gave the Bucks the most fits when we've played them. I'd love to see what Wilson would do with Number 4 in the slot!
Of all the ideas that make any legit since it's Kevin Wilson. I can't see any programs take a chance on him as a HC after what happened in Indiana. He can come to Ohio State and have all the talent in the world to make his offense work. That would be a lot of fun to watch. Plus, his spread offense has lead to great backs in his system. He hasn't had a Zeke or Hyde, but the backs in his offense have done quite well. Meyer can have his running game and Wilson can produce a Qb that can complete passes. Otherwise, OSU is looking for a coach no one really knows about on the surface and has been under the radar. I believe Meyer needs to make a splash, a la Schiano.
Is he going to get moved to center?
I have agreed with many of the posts here discouraged that OSU has not landed a "top" DT. However, after watching the defense this year, the argument can be made that the D-Line was the strongest unit. Yes, it would have been awesome to land Lawrence and a few of the other bigger names, but I will not complain about the product on the field. There isn't many teams in college football that can field the multiple d-line rotations that OSU can. They have their base package that they can rotate players inside and out. They have their rush - man package and can rotate every player inside or outside so the o-line cant get a beat. It's fun to watch. Now, it be great to have a 1 - technique DT who can man the middle and take on the center and guard, sure why not. But, so far its working.
The Debrito film was fun to watch. The kid can play. He was the one kid on the film that stood out each play. Great tackler, ball hawk skills with great hands. Took great angles and knew his gap to fill on run support. Maybe OSU doesn't get him, but would not be surprised to see him play D-1 somewhere.
At this point, how many coaches is Ohio State going to have to hire?
The last 2 weeks have been horrible to watch. I don't quite understand this team. Playing down to the competition? Not prepared? Not interested? Offensively stagnant. The 2 touchdowns Penn State scored were both prayers answered to be honest. DB's not playing physically, or thinking the D-Line is going to get another sack. I don't know.... Very irritating to watch, not enjoyable at all. This shouldn't have been a game.
I thought the point of having 2 offensive coaches in the box was to improve play calling....
I believe the Buckeyes will look completely different from a year ago. That belief has nothing to do with the number of fresh faces and coaches in different places and so on and so forth. I believe we will see a different team because there are only a few positions on the field that are truly set in stone. You have 12 defensive lineman who want to start and are said to be playing tomorrow. No one is set to really be a starter, so you have an open competition and guys aren't going to want to lose their spot. Besides Kwon, I really don't believe the linebacker crew is set. Even though I'm sure they have their preferred choices, that isn't set. Coombs has already said he wants to play 4 corners. No one can have a bad game and expect to still be the starter next weekend. It's the same offensively as well. A young receiving corps, and other than Brown, playing time is up for grabs. It will be interesting to see who solidifies himself on the line and who pushes for playing time. How well does Weber do, and can Williams or Samuel give him a push. The best part of this season could be the fact players can not have an off game. There is too much talent available to choose from. There aren't any expectations of who will play no matter what. Everything has to be earned. I would expect a lot of scoring tomorrow. I hope anyway, and a comfortable win.
I'm glad this is over and he got paid, that being said.... He better ball this year. He will take so much heat if he has a "bust" year because everyone will blame it on this contract issue. I know that San Diego low balled him, and was being petty over the language of the contract, but it always seems to fall back on the player.
I don't think Chancellor liked being hit like that. Proved it on the little pass over the middle when he got his shot on Zeke. It was great to see Zeke look for him again, lay his own shot and roll off of Chancellor's. It is going to be really fun to watch Zeke this year. Looking forward to it. Its also nice to see he hasnt forgotten how to pass block. Romo will like that.
Any ideas of what happened?
I wonder how much the assistant coaches took over due to Thad's health issues. Maybe Thad is at a point now where he is finally feeling physically and mentally well enough to put his foot down and say enough is enough. I know that sounds bad, and if a head coach loses control of his team, including the coaches, then maybe it's time for him to go. But, his record speaks for itself and I believe the last few years are the anomaly. Telling kids that you know they are transferring and not wanting a hand shake is harsh, but necessary when dealing with kid's who act entitled. Good for Thad! Him and Jent can get this turned around. By no means looking at a deep tourney run, but more consistency would be a great start.
Its really interesting to see how incoming freshman react when they get their butts kicked. 5 incoming freshman, who all played. 5 freshman, who through out their high school careers may not have lost as many games combined as they did this year. 4 sophomores who did not have a good example of what leadership looks like. Then there was one Junior, Marc Loving, who is the oldest and by default leader. He was a quiet leader. I could be wrong, but he doesn't see to be the one to get in a teammates face. I would wager to say there weren't to many teammates checking each other's egos because they never saw it from the upper class man they played with.
Next year will say a lot. I think I heard Coach Izzo say this during an interview. He was worried earlier in the year because his Seniors weren't coaching the younger players. I believe you need to have that in any system. If the seniors aren't coaching and leading the team, keeping the young players straight, then winning isn't going to happen. On a team with no leaders, and no one that seems to want to step up, 24 pt losses can be the norm. The team has a lot of talent, but leadership doesn't always accompany talent. The coaches can only do so much, at some point the players have to cross that line and make the decision to win. So, it's not all on Lyle. He'll learn, he'll have too. Just like the rest of the team. A leader needs to emerge. And said leader cant be afraid to get in a teammates face when they do something wrong in practice, team meeting, and on the court in a game.
Powell running a 4.46 just got himself drafted
For DE and DT, the 10 split time is the most important. Bosa, 10 split was a 1.8 I believe. Which puts him with Watt. Quite honestly, the 40 is pointless for lineman. If they want to see them run, have them do a 20. I believe that is a much better way to measure explosiveness than a 40. Miller's time really surprised me. However, I'll take it with a grain of "salt" due to his game being more about making guys miss than running away from them. Although, he did do that as well. Marshall may be kicking himself for the decision to leave early. He may be looking at a round 5 pick.
It was nice to see the balanced scoring from the team. I didn't notice until the end of the game when Diop made his last two free throws that he only had 6 pts. for the game. We need his scoring down the stretch and he definitely has the ability. But when you have a young team get 5 players in double figures, that's great. Really good win and hoping they take the momentum into the Nebraska game.
I've had the pleasure of listening to Hall and Smith give their stories at the church I attend. It's great to hear these guys stories and the lives they lived before and after football. It's amazing the work they are doing now and the lives they are able to affect in a positive way. Clarrett has also been involved with Driven. He came with Hall and gave his story. It was an amazing talk and I know Clarrett messed up recently but I would say he has done a 180 from where he was and is now.
Even with the odds, I cant imagine the players really believe that. There is a lot to prove on this young team and any players coming in thinking their $hit dont stink has issues. Rae and Barrett will have each side of the ball focused. I'm not buying it, but everyone thought we were a year away two years ago. Maybe we get surprised again.